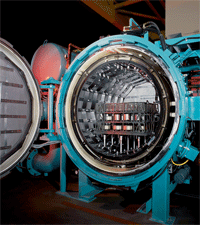 This is the first of a series of articles in our Vacuum Heat-Treatment Series. It is designed to explore the nature of vacuum, how it is used throughout the thermal-processing industry and the processes and applications that benefit most from its use.
Design features, operational issues and maintenance practices will be covered, all of which are necessary to produce quality component parts in captive and commercial heat-treat shops servicing the aerospace, automotive and industrial markets. A vacuum system (Fig. 1) provides a space in which the pressure can be maintained below atmospheric pressure at all times. The primary advantage of vacuum heat treatment is its versatility. In almost all cases it provides a "safe" environment with respect to the surface of the components being treated, is self-contained and uses cycles/recipes that can be reproduced consistently. When not in use, like an electric light, it is simply turned off. When turned back on, minimal conditioning time is required.
A principal difference between vacuum heat treating and all other forms of heat treatment is the absence of or the precise control of surface reactions. In addition, vacuum processing can remove contaminants and, under certain circumstances, degas or convert oxides found on the surface of a material. The word vacuum comes from the Latin "vacuus" meaning empty or "vacare" meaning to be empty. When we think of an empty space, what comes to mind is something entirely devoid of matter. Such a space does not exist, nor can it be produced. In practical terms, a vacuum must be considered a space with a highly reduced gas density. In heat treating, gas molecules and contaminants are removed from a vacuum vessel using a pump. Air (Table 1) is the most important of all gases to be eliminated since it is present in every system. By Dan Herring
---
A New Book by Dan Herring, The Heat Treat Doctor TM
NOW AVAILABLE! CLICK HERE
Vacuum Heat Treatment is a comprehensive introduction and technical resource for vacuum processes and equipment, focusing on subjects that engineers, heat treaters, quality assurance personnel and metallurgists need to know. This book also serves as a practical guide by offering numerous tips and techniques on vacuum operation, vacuum controls, vacuum component operation and vacuum maintenance/repair. Each topic is covered in sufficient depth so that the reader understands why the subject is important and how to use this information in determining equipment choices, how furnaces should be run, how process recipes are designed, and what troubleshooting steps are needed.
Table of Contents
Chapter 25: Vacuum Heat Treat Applications, Part Three: Carburizing, Carbonitriding and Other Case Hardening Methods
Chapter 28: Vacuum Terminology & Useful Reference Data
Daniel H. Herring / Tel: (630) 834-3017) /E-mail: This e-mail address is being protected from spambots. You need JavaScript enabled to view it.
Dan Herring is president of THE HERRING GROUP Inc., which specializes in consulting services (heat treatment and metallurgy) and technical services (industrial education/training and process/equipment assistance. He is also a research associate professor at the Illinois Institute of Technology/Thermal Processing Technology Center.