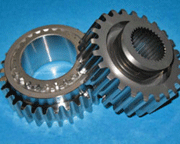 This article, the 26th in our Vacuum Heat-Treatment Series, focuses on applications involving less common or special vacuum processes.
In this part, we focus on examples of certain standard and special processes run every day in vacuum equipment. The types of materials, products and processes vary depending on the needs of the industry being serviced, but they all take advantage of vacuum's unique ability with respect to quality and repeatability of cycles and results.
Annealing: Annealing treatments are undertaken primarily to soften a material, to relieve internal stresses and/or to modify the grain structure. These operations are carried out by heating to the required temperature and soaking at this temperature for sufficient time to allow the material to stabilize, usually followed by a slow cooling at a predetermined rate. The choice of vacuum annealing is primarily influenced by the cleanliness and high quality of surface finish that can be obtained relatively easily compared to other controlled atmosphere heat treatment operations. By Dan Herring
---
A New Book by Dan Herring, The Heat Treat Doctor TM
NOW AVAILABLE! CLICK HERE
Vacuum Heat Treatment is a comprehensive introduction and technical resource for vacuum processes and equipment, focusing on subjects that engineers, heat treaters, quality assurance personnel and metallurgists need to know. This book also serves as a practical guide by offering numerous tips and techniques on vacuum operation, vacuum controls, vacuum component operation and vacuum maintenance/repair. Each topic is covered in sufficient depth so that the reader understands why the subject is important and how to use this information in determining equipment choices, how furnaces should be run, how process recipes are designed, and what troubleshooting steps are needed.
Table of Contents
Chapter 25: Vacuum Heat Treat Applications, Part Three: Carburizing, Carbonitriding and Other Case Hardening Methods
Chapter 28: Vacuum Terminology & Useful Reference Data
Daniel H. Herring / Tel: (630) 834-3017) /E-mail: This e-mail address is being protected from spambots. You need JavaScript enabled to view it.
Dan Herring is president of THE HERRING GROUP Inc., which specializes in consulting services (heat treatment and metallurgy) and technical services (industrial education/training and process/equipment assistance. He is also a research associate professor at the Illinois Institute of Technology/Thermal Processing Technology Center.