VAC AERO offers a wide range of vacuum heat treating and brazing furnaces, from small laboratory models to large vertical furnaces, as well as equipment for other specialized applications.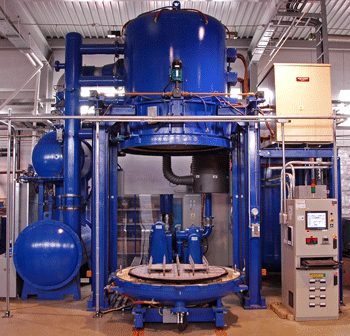 VAC AERO's experience, proven through decades of service in aerospace and commercial heat treating, has provided us with valuable insight into the changing needs and rigorous demands of our furnace customers. As a result, VAC AERO has developed a keen understanding of the design and performance of atmosphere and vacuum furnace systems built to meet the most stringent requirements for reliability, productivity and cost-efficiency.
Furnace Control Systems
VAC AERO's state-of-the-art furnace control systems use the Honeywell HC900 Hybrid Controller to regulate thermal cycles and monitor all electrical and mechanical functions of the furnace ensuring consistent repeatability with reduced dependence on human operators. The HC900 built-in safety interlock and alarm features protect both the furnace and the load from overheating or loss of vacuum or other unsafe operating conditions.
Horizontal Vacuum Furnace Specifications

Vertical Vacuum Furnace Specifications

VAC AERO builds furnaces for general heat treating applications as well as for other specialized applications, including the following:

With pressure ratings of 2 bar, 6 bar, 10 bar and higher, our vacuum furnace designs are based on extensive research into gas quenching. A variety of models are available in horizontal or vertical configurations with standard or high pressure gas quench capabilities.

We offer engineering and equipment system solutions for the most complex vacuum processing applications. Please Contact Us about your special processing applications.

VAC AERO's Dayton Process® Fluoride Ion Cleaning systems are used by airlines and engine overhaul facilities around the world.

Interested in Pricing for your specific Vacuum Furnace? Request for a quote by filling out our REQUEST FOR QUOTE FORM