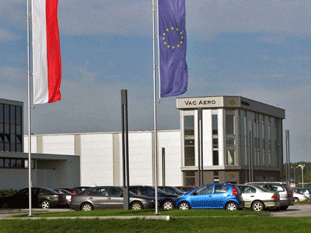 Thermal Processing, Coatings & Laboratory Services
Tajecina 114, 36-002 Jasionka near Rzeszow - Poland
Tel: (48) 17 771-39-80 / Fax: (48) 17 771-39-80
VAC AERO Rzeszow is the second facility in Poland to provides specialized metallurgical processing services.
Profile & Specialization
VAC AERO's technologically advanced special processes are performed on numerous materials including steels, stainless steel, titanium, ceramics, alloys, superalloys etc.

VAC AERO offers the highest quality services to aerospace and other high technology industries, including:
Vacuum heat treating and brazing
Vacuum carburizing
Air Plasma Spray coatings (APS)
High velocity Oxygen Fuel coatings (HVOF)
Organic and inorganic paint coatings
Metallographic laboratory tests
Selective nickel plating
Shot peening
State-of-the Art High Velocity Oxygen Fuel system based on a new generation Carbide Jet System.
Vacuum Heat Treating and Brazing
High temperature vacuum brazing of stainless steel, copper alloys, titanium and ceramics
Vacuum carburizing (uniform carburizing on complex shapes and deep holes)
Tempering and stress relieving
Custom processes
Coating Services

Air-plasma spray coatings (APS)
Clearance control low temperature abradables
High temperature abradables
Nickel and cobalt base coatings
Thermal barrier coatings (TBC)
Organic and inorganic paint coatings
Basic and multilayered
Hardened and sealed
High velocity oxygen fuel coatings (HVOF)
Wear resistant tungsten carbides for electrolytic hard chrome replacement
High temperature protection
Approvals
Selected processes and laboratory tests performed at VAC AERO (Poland) are approved by Pratt & Whitney Canada, Sikorsky Aircraft Corporation, Hamilton Sundstrand and Honeywell Aerospace, to name a few.
BC EN ISO 9001:2000
EN9100:2003
AS9100B (Certificate No Pl7000477)
NADCAP accreditation