By Dan Herring
We continue our discussion of ways to improve vacuum performance by understanding how to maximize the operation of our vacuum systems.
Tip #6: Controlling Partial Pressure Additions.
Introducing a partial pressure gas into a vacuum furnace at a pressure in excess of the materials vapor pressure will help avoid significant evaporation or "boiling away" of elemental constituents in the materials being processed. Without this control, surface integrity and in some cases the chemical composition of metal (or filler metal) can be affected.
Stainless steels, tool steels and more exotic alloys are often processed in vacuum. If chromium is present in these materials it can evaporate at temperatures and pressures within normal heat treatment ranges. When processing above 990°C (1815°F) chromium will vaporize if the vacuum level is less 1 x 10-4 torr and/or parts are held for a prolonged time. Heat treaters often observe a greenish discoloration (chromium oxide, Cr2O3) on the interior of their vacuum furnaces, the result of chromium vapor reacting with air leaking into the hot zone. Otherwise, the evaporation deposit is bright and mirror-like. To avoid this, an operating partial pressure between 0.3 and 5 torr is typical for most chromium bearing steels.
For vacuum brazing (silver, copper, nickel) depletion of the filler metal alloy can be avoided by raising the pressure in the furnace to a level above the vapor pressure of the alloy at brazing temperature. For example, copper having an equilibrium vapor pressure at 1120°C (2050°F) of 1 x 10-3 torr is usually run at a partial pressure between 1 and 10 torr. Nickel brazing normally is done in the 10-3 to 10-4 range. However, in the 10-5 to 10-6 torr regime you run the risk losing some of the nickel which has an equilibrium vapor pressure of 1 x 10-4 torr at 1190°C.
Argon and nitrogen are the most common partial pressure gases. Often, argon is selected since it tends to "sweep" the hot zone, that is, being a heavier molecule it tends to reduce evaporation more effectively than say nitrogen (or hydrogen). Specialized applications such as those in the electronics industry may use helium or even neon (if an ionizing gas is needed). Gases with a minimum purity of 99.99% and a dew point of -60°C or lower should be specified.Which gases can we use?
The use of partial pressure of hydrogen in vacuum furnaces, as both a process gas (for example in re-brazing applications) and especially for furnace and fixture cleanup cycles is increasing in popularity once again. Safety interlocks on the furnace and control of the delivery, use and discharge of hydrogen throughout the operation is MANDATORY to ensure both employee and equipment safety.
Certain other cautions are also in order. For example, nitrogen may react with certain stainless steels or titanium bearing alloys resulting in surface nitriding. In the case of hydrogen, the normally near neutral vacuum atmosphere can be shifted sharply to a reducing atmosphere and embrittlement by hydrogen is a concern for certain materials such as titanium, tantalum and zirconium.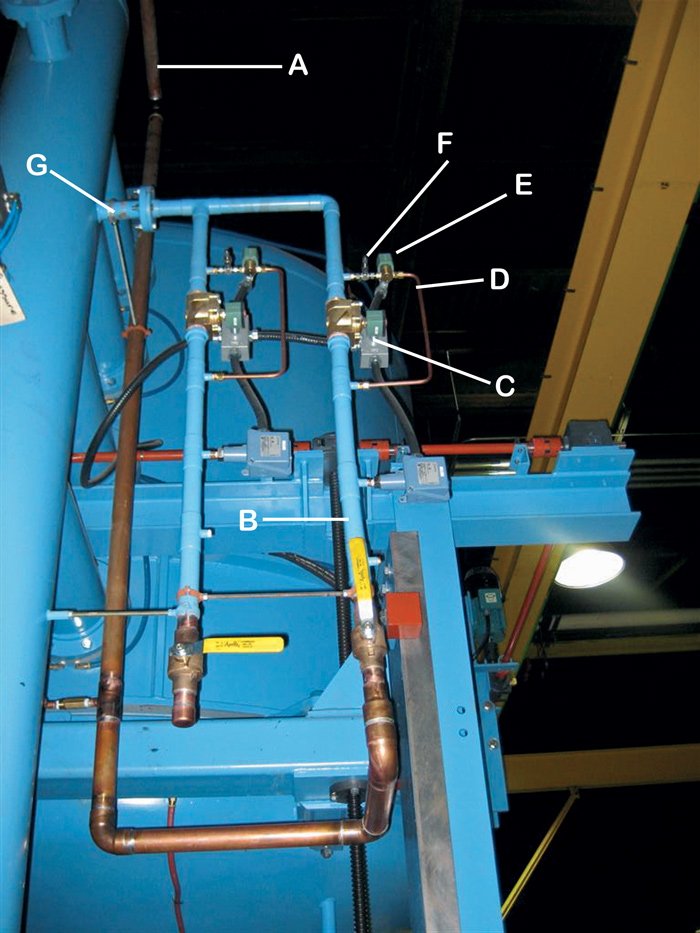 Key:
A: Incoming Gas Supply Line
B: Backfill Line No. 1
C: Quench Solenoid
D: Partial Pressure Line
E: Partial Pressure Solenoid Valve
F: Partial Pressure (Micrometer) Needle Valve
G: Inlet Into Furnace
Measurement and Control
It is critical to know the exact pressure, flow, and type of gas being injected into the vacuum furnace so that the process being run is under control (Fig. 1). It is not uncommon to believe, for example, that you are running an argon partial pressure at 1 torr when in reality you are running at 0.4 torr or with hydrogen (or helium) that you are at 10 torr when you are really at 1 torr. Absolute pressure gauges should be used to determine precise partial pressure values since thermocouple gauges are affected by gas species (since they are calibrated for air).
For flow accuracy, flowmeters should have a micrometer needle valve installed in the downstream line. On many units the gas is pulsed in using a solenoid valve and set point control on the vacuum gauge, akin to continuous flow with a needle valve installed. Also, it is extremely important to inject the partial pressure gas directly into the hot zone so that the gas does not short circuit the work area.
In Conclusion…
Partial pressure is recommended for many heat treating and brazing processes to achieve the results we expect. Introduction of the partial pressure gas into the furnace hot zone at one or more locations, having the gas enter as a continuous flow stream and holding pressure over a predetermined range (rather than trying to operate at a single pressure) are important. The choice of partial pressure gas is also important both from a cost and quality standpoint.
Tips For Improving Vacuum Performance & Operation, Part 1, Part 2, Part 3, Part 4, Part 5, Part 6, Part 7.
References
Jones, William R., Partial Pressure Vacuum Processing – Part I and II, Industrial Heating Magazine, September/October 1997.
Fabian, Roger, ed., Vacuum Technology: Practical Heat Treating and Brazing, ASM International, 1993.
Practical Vacuum Systems Design, The Boeing Company.
Private correspondence, Mr. William R. Jones, CEO, Solar Atmospheres, Inc.
Private correspondence, Mr. Richard L. Houghton Jr., Hayes Heat Treating.
---
Daniel H. Herring / Tel: (630) 834-3017) /E-mail: [email protected]
Dan Herring is president of THE HERRING GROUP Inc., which specializes in consulting services (heat treatment and metallurgy) and technical services (industrial education/training and process/equipment assistance. He is also a research associate professor at the Illinois Institute of Technology/Thermal Processing Technology Center.