By Dan Herring
We continue our discussion of ways to improve vacuum performance by understanding how to maximize the operation of our vacuum systems.
Tip #7: Materials Selection for Grids, Baskets & Fixtures
General Design Considerations
To obtain the most cost effective design requires a thorough understanding of the service conditions under which the material will be exposed. Important considerations include:
Normal operating (exposure) temperature as well as the maximum (and minimum) usage temperatures;
Metallurgical stability over the expected duty/thermal cycle (period, frequency, and rate of heating/cooling);
Thermal expansion characteristics;
Fabrication (or casting) methods (with respect to development of thermal or chemical gradients in the material);
Design with respect to applied load(s), repetitive force and transfer of the load to the load bearing members;
Manner of loading, type of support, and external constraints;
Required versus desired life;
Environment(s) to which the material will be exposed;
Availability;
Cost versus life.
In addition, designers must also be concerned with (a) room temperature properties (e.g. strength and ductility, machinability and weldability), (b) elevated temperature properties (e.g. hot strength, ductility and creep resistance, thermal shock and thermal fatigue resistance, hot hardness and resistance to carbon pickup), (c) physical properties (e.g. modulus of elasticity, electrical resistivity, coefficient of thermal expansion and thermal conductivity); (d) operating environment (e.g. type of quenchant, exposure of partial pressure species such as carbon or nitrogen, sulfur or chlorine, etc.) and perhaps (e) cast properties (e.g. fluidity).
Alloy Materials
High temperature alloys encompasses both cast and wrought products that are available from a number of qualified suppliers. Heat resistant alloys are primarily selected for their ability to perform a function over a wide range of application temperatures. However, the measure of performance is different in each case and varies as the use factors change.
In many applications, high temperature creep data (e.g. 1% creep in 10,000 hours) and/or stress rupture data provided by manufacturers is the best comparison of the differences between alloys used for heat treating applications. Over time however, creep may lead to excessive deformation, and even failure (fracture) at stress levels much lower than those determined at room temperature and at elevated temperature short duration tensile conditions. When the degree (rate) of deformation is the limiting factor, the design stress at temperature should be chosen below that which produces that limiting rate (limiting creep stress) or below the stress which will produce that limiting degree of deformation in a given time.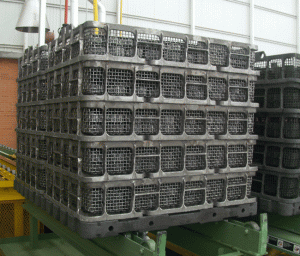 Carrier or base grids are available in a number of styles including serpentine, cast alloys and fabricated wrought alloy designs. Choice of design is a function of application and is primarily dependent on hot strength, that is, the measure of strength at the operating temperature and the ability to resist deformation, or attack of various gases present in the vacuum system in a given thermal environment and creep, a measure of a combination of failures such as distortion, thermal fatigue, thermal shock, carburization, and elemental attack on the metal matrix.
Selection, loading and maintenance of baskets and fixtures (Fig. 1) is equally important. Selection of a basket material is often (but not always) influenced first by cost, then service environment and finally compatibility with the workpiece and furnace hearth.
Common in the industry are rod framework baskets constructed from alloy bars typically 9.5mm – 16 mm (0.375" – 0.625") in diameter, with woven wire mesh liners (Fig. 4). For vacuum service temperatures to 980°C (1800°), austenitic stainless steels (e.g. 304, 309, 310 and 330) are commonly used. However, these alloys can become embrittled from long exposure to temperatures in the range of 595°C to 815°C (1100°F to 1500°F) due to carbide precipitation and sigma formation. In this temperature range, more expensive alloys such as 35Ni-15Cr or Inconel® 600 have been reported to be more stable and may justify the extra cost. For even higher temperatures, alloys like Haynes 230 or MA 956 (a nickel-based oxide-dispersed alloy) or molybdenum alloys are reported to provide good life. Care must be taken in handling any baskets but especially those made from molybdenum since they become brittle after initial exposure to high temperatures.
A fine grain size is preferred to resist thermal fatigue damage (ASTM 5 or finer). If welded, fully penetrated joints are necessary such as by pressure welding (cross-wire resistance welding) the frame members.
Graphite Materials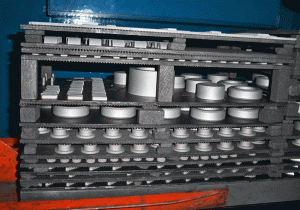 For certain vacuum applications graphite fixtures (Fig. 2) are preferred due in large part to the strength of graphite, which increases with temperature and graphite's good thermal shock resistance, conductivity and the fact that it is relatively inexpensive.
Graphite fixtures are typically used by the heat treating industry in the form of solid flat plates, plates with milled cavities or plates with holes for passage of cooling gases. Normally the thickness for solid plates will range from 3mm – 19 mm (0.125" – 0.75") while milled plates can be up to 100 mm (4") or thicker. Many graphite fixtures are designed to be stackable.
Graphite fixtures should be made of high-purity, high-density graphite. It is difficult to cite specific property levels for commercially available carbon and graphite materials since each manufacturer offers a variety of sizes, shapes, and grades depending on the application, thermal conditions, fixture design, loading, life expectancy, and the amount of labor required for loading. When the price is an issue, and application does not require extended life, medium grades or isostatically pressed lower grades of graphite may be considered. Ultra fine (ultra high purity) and super dense grades of graphite can significantly extend the life of a graphite fixture.
Carbon/Composite Materials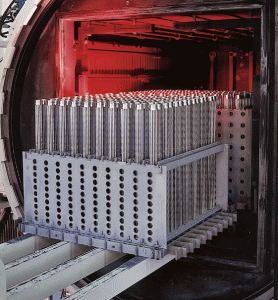 Carbon/carbon composite (C/C) fixtures and grids (Fig. 3) have become an attractive alternative to conventional alloy materials. A carbon/carbon composite contains from two (2) primary components, carbon fibers and a carbon matrix (or binder). Carbon fibers are extremely thin, typically 0.005 mm – 0.010 mm (0.0002" – 0.0004") diameter and are strands of carbon atoms. They are interlaced in such a way as to provide mechanical strength, stiffness, and thermal conductivity. The carbon matrix allows for uniform weight transfer and chemical resistance to attack. Properties can vary depending on whether they are measured parallel or perpendicular to the surface.
Carbon/carbon composite material has low thermal mass (specific heat), high strength-to-weight ratio at temperature and negligible thermal deformation creating favorable net/tare weight ratios. This allows for rapid heating and cooling rates, heavy part loading, and, in many cases, improved part distortion. C/C also has excellent fatigue resistance minimizing issues with crack propagation.
As with graphite materials, each manufacturer offers a variety of sizes, shapes, and grades. Purity levels in the range of 300 ppm total impurities are acceptable for general purpose heat treating with specialty applications available to as low as 10 ppm. A fully densified C/C material will be around 1.50 g/cm3 or higher. Once again, it is important to view all properties together when evaluating the quality of a composite material.
It should be noted that eutectic melting is possible at temperatures exceeding 1050°C (1922°F) but this is highly dependent on the alloy being treated. For example, it has been reported that while melting of certain tool steels (e.g. M50) has occurred when placed in direct contact with C/C materials other materials such as superalloy turbine blades processed at temperatures in the range of 1290°C (2350°F) show no reaction. Ceramic barrier layers or alloy mesh screens can be used to avoid this problem. Care must also be taken when attempting to unload these materials into open air at temperatures above 350°C (662°F) as C/C readily oxidizes over time thus destroying or severely degrading mechanical properties.
Low pressure vacuum carburizing with high-pressure gas quenching is an example of where C/C fixtures and/or combination designs with alloy posts are common. The oxygen-free vacuum environment coupled with inert quenching gases, avoids surface reactions with the fixtures.
In Conclusion …
As a whole, the heat treat industry must become better educated on materials for grids, baskets and fixtures in order to extend the useful life of these components.  We must be able to fully understand how to apply the alloys we have, and work as partners in the development of new alloys to keep pace with the changing nature of the heat-treating industry. In particular, more sharing of practical information about high temperature material performance over the full spectrum of heat-treating applications is needed throughout the industry.
For his part the heat treater must keep better records of the service history of his grids, baskets, fixtures, and internal furnace components including a history of duty cycles as a function of application, performance life and failure modes of the alloys. For their part, the alloy fabricators and casters must help interpret this field data, adding their technical expertise on material design and help design more meaningful tests.
Tips For Improving Vacuum Performance & Operation, Part 1, Part 2, Part 3, Part 4, Part 5, Part 6, Part 7.
References
Herring, Daniel H., Vacuum Heat Treatment, BNP Custom Media II, 2012.
---
Daniel H. Herring / Tel: (630) 834-3017) /E-mail: [email protected]
Dan Herring is president of THE HERRING GROUP Inc., which specializes in consulting services (heat treatment and metallurgy) and technical services (industrial education/training and process/equipment assistance. He is also a research associate professor at the Illinois Institute of Technology/Thermal Processing Technology Center.