We continue our discussion on the maintenance of vacuum furnaces. Part One talked about establishing a sound maintenance strategy and once this has been determined, the real maintenance work can begin. Let's talk about the specifics on what, when, how and why we maintain certain critical components on our vacuum furnaces.
Vacuum furnaces come in all shapes and sizes (Fig. Nos. 1 – 4) and have many common features and operational/maintenance needs. However, it is important to understand the particular needs of the vacuum furnaces in your shop to have an effective maintenance program.
| | |
| --- | --- |
| Figure 1 – Typical Horizontal Vacuum Furnace – (Photograph Courtesy of Vac-Aero International) | Figure 2 – Typical Top Loading Vertical Vacuum Furnace – (Photograph Courtesy of Lindberg/TPS) |
| Figure 3 – Typical Bottom Loading Vertical Vacuum Furnace – (Photograph Courtesy of Vac-Aero International) | Figure 4 – Typical Semi-Continuous Vacuum Furnace – (Photograph Courtesy of C. I. Hayes) |
The most common maintenance items include:
Dirty door seals (Fig. 5a)
Damaged "O" rings (Fig. 5b)
Broken thermocouples (Fig. 5c)
Contaminated Hot Zones (Fig. 5d)
Dirty Heat Exchangers (Fig. 5e)
Dirt & Debris Buildup (Fig. 5f)
Leaky fittings (Fig. 6a)
Sludge buildup (Fig. 6b)
Hot zone deposits (Fig. 6c)
Hot Zone damage (Fig. 6d)
Short to ground (Fig. 6e)
Insulation damage (Fig. 6f)
Dirty Pump Oil (Fig. 7a)
Damaged/melted element feedthurs (Fig. 7b)
General corrosion (Fig. 7c)
Damaged element supports (Fig. 7d)
Loose power connections (Fig. 7e)
Collection of Foreign Material inside the furnace (Fig. 7f)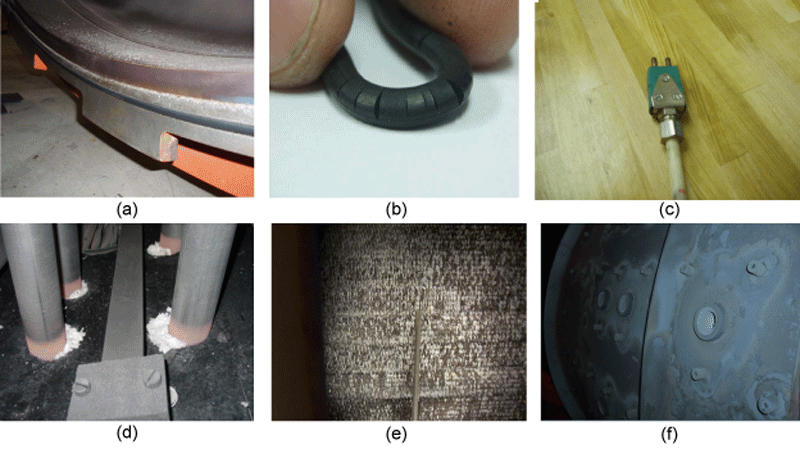 The frequency of maintenance (i.e. interval between routine repairs) is highly dependent on such factors as:
Type and number of heat-treating processes performed.
Skill level of the operators and maintenance personnel.
Equipment design.
Quality of prior maintenance and type of spare parts used.
Quality of the water system, gas system, etc.
When performing maintenance it is important to have a written plan defining the specific task to be performed, and the reason why a particular task is necessary (i.e. purpose of the task). A work order should be issued and the work signed off upon completion (which includes testing to ensure that the repair was successful).
The following conditions should be met before any repairs are undertaken:
Power should be switched off for any repairs not directly involved with the electrical systems, controls or instrumentation. Lockout/Tagout procedures should be in place and checked by all personnel preforming the maintenance.
Disconnect all utilities including gases, water, and air. Lockout/Tagout procedures should be followed.
The furnace should be cool, less than 50°C (120°F).
The furnace door(s) should be in the open position and secured so that they cannot be closed.
Check that the furnace environment is safe and if working inside the unit that adequate ventilation is in place and functioning properly. The oxygen level must be checked and confirmed to be safe for human exposure before entry into the unit by both the safety team and the personnel performing the maintenance functions.
Wear protective clothing including safety glasses and safety shoes.
Be sure that all Confined Entry procedures are thoroughly understood and followed without exception.
Use the buddy system.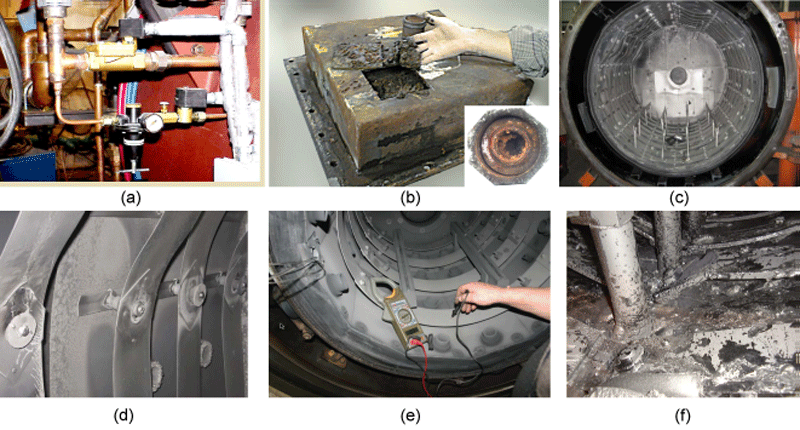 Safety
Safety is MANDATORY and cannot be compromised during any maintenance activity. Safety interlocks must never be bypassed and verification that all potentially hazardous energy sources have been isolated and disabled is a necessary first step in the maintenance process (reference NFPA 86 and NFPA 70).
Lockout/Tagout procedures are required to disable machines or equipment during maintenance to prevent injury as part of OSHA code (Regulation 1910.147). A vacuum furnace may have different places in which electrical power must be disconnected; a single main electrical disconnect (i.e. circuit breaker) for the entire furnace or power supplied from several electrical sources each with a separate disconnect device. The electrical drawings for the specific unit in question should be reviewed as well as physical inspections conducted in the event that undocumented changes have taken place.
In addition, a vacuum furnace may also have pneumatic or hydraulic systems including sources of compressed air, inert gases, and process (reactive) gases that must be isolated from the system.
Confined Entry Space restrictions also apply.
All safety interlocks present in normal equipment operation should be tested on a regular basis to ensure proper operation. These include:
Over temperature instrumentation (test monthly)
Process interlocks (test semi-annually)
Water interlocks (test semi-annually)
Air interlocks (test semi-annually)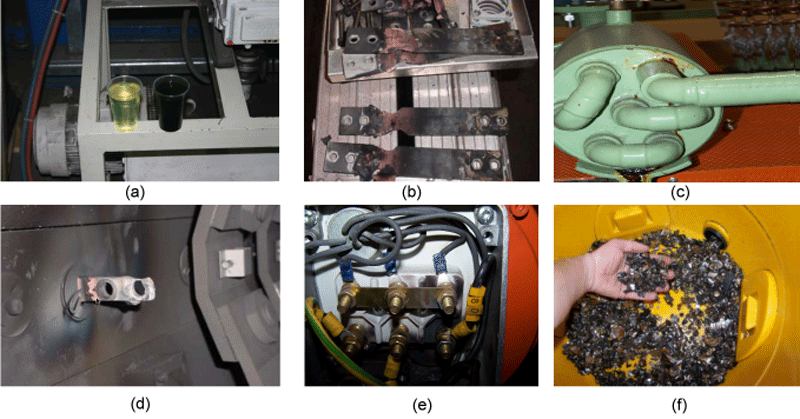 General Maintenance
Vacuum maintenance includes and requires awareness of the following:
Part (and fixture/basket) cleanliness is essential prior to running a load;
Part placement and location (whether in baskets or on grids) must restrict movement into unwanted areas;
Care/caution in loading and unloading the equipment to avoid physical damage;
Quality of the backfill gas and backfill piping – from the supply to the equipment;
Small parts in loads must be adequately constrained;
Maintenance must be done with extreme care not to damage adjacent components or systems.
Vacuum Vessel Maintenance
The most common maintenance practice performed on the vacuum vessel is leak detection. For most furnaces the front door "O" ring or door seal is the area most prone to leaks. Inspect and wipe clean this seal each time the door is opened after a furnace cycle. On "O" ring seals look for cracks, lack of elasticity, flat spots, dirt and metallic fines. Wipe the door "O" ring and flange with a clean "lint free" rag before closing the door. Reapply a thin coating of vacuum grease as necessary. Once a week, wipe the door "O" ring and mating flange with a clean rag soaked in denatured alcohol. Reapply just enough vacuum grease to produce a sheen on the "O" ring surface and check that a rubber-gloved finger glides freely along the surface (c.f. The Ubiquitous O-Ring, Industrial Heating, November 2009).
Vacuum Pumping System Maintenance
In most cases, the vacuum pumping system requires the most maintenance of any area on the vacuum furnace.
Mechanical Pump
Mechanical (wet) pumps rely on oil for proper operation and the correct oil type for the pump in question should be used. The oil level and the condition of the oil must be checked daily, usually at the beginning of the first shift of the day. The correct oil level for most pumps is at the center of the site glass or just below center when the pump is operating at high vacuum. Oil should be added when the pump is stopped, however, it can be added in some instances during operation if the vacuum level is below 1 Torr. Overfilling will cause a loss of efficiency as well as create the potential for backstreaming of oil into the hot zone.
The oil condition should be checked daily. Good oil is translucent and clean. Cloudy or milky oil indicates the presence of moisture. If this is observed the pump should be ballasted "offline" in accordance with manufacturers instructions. Dark or discolored oil indicates the presence of dirt, carbon (often in the form of soot) or other contaminants. If this is observed, the oil should be changed as needed or after 300 operating hours (whichever comes first). Every six (6) months or when the oil is excessively dirty, the oil reservoir should be drained and the oil reservoir cleaned with denatured alcohol and clean lint-free rags. At the same time the exhaust valve springs (poppet valves) and all discs should be replaced.
Observe and check the oil temperature under normal operating conditions. Normal operating temperature is between 140°F and 160°F as indicated by the gauge on the side of the vacuum pump.
Monthly, check the drive belts for wear and adjust for proper tension. The pump manufacturer's instructions should be followed regarding proper belt tension settings. A useful tip is that, with a new belt, at the belt midpoint (between the drive and motor pulleys) apply pressure (typically 5 – 7 pounds) to the belts. Record the resulting deflection and use this value for future adjustments. If the belt tension is too tight, damage can occur to shaft bearings. If the belts are too loose, slippage will occur causing excessive wear.
The gas ballast valve and spring should be checked and replaced, if necessary, every three (3) months.
Booster Pump
The booster pump does not normally require a great deal of maintenance. However, the oil level in all reservoirs should be checked weekly and drive belts checked monthly for wear and adjusted for proper tension, similar to the mechanical pump belts. Every 2000 hours of operation, the oil in the bearing and gear oil reservoirs must be changed.
Diffusion Pump
The diffusion pump should be taken down, jet assembly pulled and thoroughly cleaned as well as the inside of the pump and recharged with oil annually.
The oil level on the diffusion pump should be checked weekly. Oil must only be added to a cold (< 130°F oil temperature) pump and only to the cold mark on the site glass. Never open the drain plug when the pump is hot (CAUTION: there is a risk of explosion). An oil change is recommended every six (6) months or immediately if discoloration or contamination are observed. One very common mistake found in industry is to not use the correct diffusion pump oil.
Cooling water to the pump must be checked daily for adequate flow. If proper cooling is not provided to the diffusion pump the oil can fractionate (i.e. breakdown and form solid carbon deposits) damaging the pump, which will need to be factory repaired. The heating elements should be checked for tightness and proper operation at least once a year. A common cause of diffusion pump failure is heater burnout so the diffusion pump heater current should be checked regularly.
Holding Pump
On holding pumps, the oil level and condition of the oil are critical for efficient operation. The correct oil level is at the center of the site glass or just below center with the pump operating at high vacuum. Oil should be added only when the pump is stopped. The oil condition should be checked weekly and, similar to the mechanical pump, the holding pump should be ballasted or replaced if the oil is not translucent and clean.
Next Time: In the final part of our discussion on vacuum maintenance we will continue to talk about critical maintenance areas (hot zone, water system, record keeping, training and provide a preventative maintenance checklist showing the activities and frequency of common maintenance items).
Summing Up…
The goal of any maintenance performed on a vacuum furnace is return the equipment to full operational service. Making sure that all problems are uncovered, root cause of the problem has been correctly determined and that repairs don't involve "band aid" fixes is critical to achieving our goal.
READ MORE: Maintenance of Vacuum Furnaces – Part  One | Part Two | Part Three
References
Herring, Daniel H., Equipment Maintenance Presentation, Furnaces North America 2014, Nashville, TN, October 2014.
Herring, Daniel H., Vacuum Heat Treatment, BNP Media Group, 2012.
---
Daniel H. Herring / Tel: (630) 834-3017) /E-mail: [email protected]
Dan Herring is president of THE HERRING GROUP Inc., which specializes in consulting services (heat treatment and metallurgy) and technical services (industrial education/training and process/equipment assistance. He is also a research associate professor at the Illinois Institute of Technology/Thermal Processing Technology Center.