We continue our discussion on the maintenance of vacuum furnaces. In Parts One and Two we talked about establishing a sound maintenance strategy, implementing that strategy and working on critical components of the vacuum system to return the unit to full operational status. Let's continue this discussion.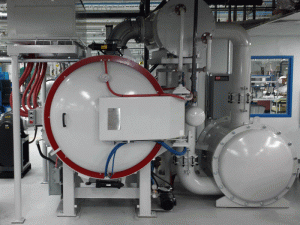 General Maintenance
The following additional topics comprise the critical areas and systems that routinely require maintenance to ensure they operate correctly.
Hot Zone Maintenance
After ensuring proper ventilation and following all safety guidelines with respect to asphyxiation and confined space entry, the interior of the hot zone should be inspected after every load. The bottom of the hot zone should be cleaned
of all debris and foreign matter and the heating elements and heating element connections inspected for damage and tightness.
Graphite heating elements can in some instances be patched and the damaged section replaced with a new element section. Molybdenum heating elements can be repaired although no more than three (3) repairs are recommended per element band.
Special procedures are required since molybdenum is brittle and molybdenum dioxide fumes should not be inhaled. Once a month, heating element resistance to ground should be checked with a volt/ohm meter. A good reading is between 90 – 100 ohms for most furnaces. As molybdenum elements age or the element standoff metalizes, their resistance to ground drops. A failed reading would be 10 ohms or less.
Low resistance to ground is an indication of metallized ceramic insulators and an indicator for the need of replacement or cleaning otherwise heating elements will arc and fail. In some cases, the ceramic insulators can be removed and baked out in air to remove contaminants.
A hot zone bake-out cycle should be run every 200 hours or when deemed necessary by the performance of the equipment.
Several additional points regarding hot zone maintenance can be summarized as:
Checking for insulation degradation
Maintain proper tension on electrical connections (e.g. heating elements, power feedthrus)
Measure resistance to ground
Inspection of heating elements for wear and/or oxidation (e.g. thinning or a "sugar cube" appearance – indicating attack by oxygen)
Check that thermocouples and controls are functioning properly.
Vacuum Valve Maintenance
Vacuum valves require the least amount of routine maintenance of any component on a vacuum furnace due in large part to their design. In most cases, no lubrication or adjustments are required. However, maintenance is not only necessary but also critical at certain intervals in a valves operating life. For example,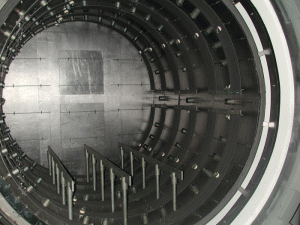 Butterfly type roughing and foreline valves should be removed from the vacuum line every two (2) years to inspect their rubber seats for cracking and dryness. When the valve is replaced between flanges in a vacuum line, the disc should be rotated to the open position before the flange bolts are tightened.
Poppet valve pistons and shafts should be lubricated monthly with vacuum grease through the fitting on the cylinder mounting block. Semi-annually the valve disc "O" ring should be cleaned and lightly lubricated. Annually, it should be
replaced.
Water System Maintenance
Most vacuum furnaces are cold wall designs with an annular spacing between an inner and outer shell. As such, proper conditioning of the water is important for effective cooling. Water should be treated for pH, hardness, bacteriological agents and (if appropriate) have rust inhibitors present to help minimize sediment and scale build-up, particularly in the bottom portions of the shell. A blockage of the vessel wall will result in a "hot" spot, so the shell should be periodically checked since most blockages occur slowly over time.
Several additional points regarding water system maintenance can be summarized as:
Checking water quality;
Cleaning/maintenance of the heat exchanger(s);
Establishing corrosion protection;
Maintaining coolant levels to various subsystems (e.g. pumps power feedthrus, vessel)
Record Keeping
Accurate record keeping is an often over-looked aspect of a successful maintenance program. It is at the heart of any efficient and effective maintenance plan. Record keeping should start on equipment installation and document any and all changes to the equipment over its lifetime. After the unit is put into service it is essential to create and maintain a performance log containing information such as:
Blank-off pressures (esp. mechanical pumps)
Pumpdown time to a given pressure.
Ultimate vacuum and the time required to achieve it.
Leak-up rate when the chamber is blanked off.
Heating rate (empty, fully loaded) to processing temperature.
This type of data is invaluable when evaluating a future problem or when trying to determine if the vacuum system has deteriorated.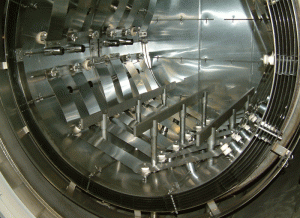 Training
The value of training should never by underestimated. Over the years, the majority of vacuum furnace failures can be traced to the following causes:
Inadequate training of operators;
Lack or proper maintenance;
Improper use of the equipment;
Improper record keeping.
All operating personnel, supervisors, maintenance and quality control individuals should have a good understanding of what heat treating is, how vacuum technology differs from other types of heat treatment and how the equipment should be operated and maintained to ensure safety, efficiency and proper results. It is further recommended that annual retraining be conducted to maintain a high level of proficiency and effectiveness.
Preventative Maintenance Checks
Setting up a planned preventative maintenance program will minimize equipment downtime; ensure that proper spares are on hand for repairs, and simply the overall maintenance effort. As a minimum, the following checks should be performed:
Each Run
The following activities should be performed before each run:
Inspect the front door "O" ring for cleanliness and damage. Clean and regrease as necessary.
Inspect hot zone insulation and heating elements for signs of damage, deterioration and that are connections are snug and secure.
(If appropriate) Inspect the load thermocouple(s) for damage.
Daily
The following activities should be performed daily:
Inspect the exterior and interior of the vacuum furnace for indications of damage, discoloration, dripping fluids, and the presence of foreign material (e.g. dirt, grease, oil).
Check the water flow and temperature from each drain line.
Check the oil level on all pumps.
Ballast the vacuum pump (15 – 20 minutes minimum) before processing the first workload of the day.
During operation, inspect for hot spots, leaking fluids, excessive noise and/or vibration.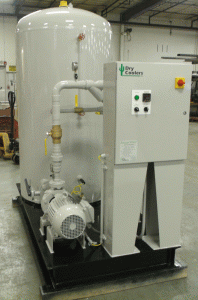 Weekly
The following activities should be performed weekly:
Perform a leak (rate-of-rise) test on the main vacuum vessel and pumping system. The furnace should be clean, dry, empty and outgassed before testing.
Check mechanical pump oil for contamination (e.g. dirt, particulates, water).
Check instruments for functionality.
Inspect the pumping system (pumps, valves, piping).
Visually inspect control and over temperature thermocouples for damage.
Monthly
The following activities should be performed monthly:
Check for hot zone deterioration (insulation and heating elements) including doors.
Check calibration of vacuum instruments.
Check all thermocouples (e.g. control, overtemperature, load)
Change vacuum pump oil.
Check belts for proper tension (e.g. mechanical pump)
Change all filter elements.
Semi-Annually
Replace or recalibrate all thermocouples.
Flush all cooling lines and clean all in-line filters, strainers, etc.
(If applicable) Clean and replace diffusion pump oil.
Inspect all vacuum gauges.
Replace door gasket or "O" ring seals.
Remove, clean and reinstall thermocouple vacuum gauges.
Test the pressure relief valve in accordance with manufacturers instructions.
Make all necessary repairs to hot zone components (including power feedthrus)
Clean all mating flanges.
Annually
Drain and inspect the cooling water system (including temperature sensors)
Check all electrical connections. (Caution: a licensed electrician trained in the procedure should only perform this activity).
Service all motors.
(If applicable) Clean the furnace heat exchanger.
(If applicable) Drain and filter quench oil.
(If applicable) Check the convection fan and/or oil agitators for proper operation.
(If applicable) Check, remove and inspect vacuum valves for proper operation, sealing and wear.
Summing Up…
Maintenance should be performed in such a manner as to return the equipment to full operational service. Never compromise; a job worth doing is worth doing right. This will ensure years of productive service from your vacuum furnace!
READ MORE: Maintenance of Vacuum Furnaces – Part  One | Part Two | Part Three
References
Herring, Daniel H., Equipment Maintenance Presentation, Furnaces North America 2014, Nashville, TN, October 2014.
Herring, Daniel H., Vacuum Heat Treatment, BNP Media Group, 2012.
---
Daniel H. Herring / Tel: (630) 834-3017) /E-mail: [email protected]
Dan Herring is president of THE HERRING GROUP Inc., which specializes in consulting services (heat treatment and metallurgy) and technical services (industrial education/training and process/equipment assistance. He is also a research associate professor at the Illinois Institute of Technology/Thermal Processing Technology Center.