Because of its light weight and good thermal conductivity, aluminum is often the material of choice for assemblies that house or cool electronics. These complex assemblies often are manufactured from numerous individual components that must be joined. There are many ways to join aluminum including mechanical fastening (screws, rivets, etc.), adhesive bonding, welding and brazing.
The selection of a joining process must be based on a careful analysis of the service requirements and the materials involved. For example, the joint's mechanical strength is usually critical. A structural joint requires good tensile and shear strength as well as resistance to fatigue from cyclic vibrations. Furthermore, the thermal conductivity of the joint is essential in applications requiring heat dissipation. Brazing of aluminum can meet all of these requirements.
The traditional approach to brazing aluminum is dip brazing, where the assembly is immersed in a bath of molten salt that acts as a flux to promote braze alloy flow. It is the best brazing process for fabricating aluminum boxes or enclosures with long vertical joints. Because the salt supports the structure, the braze alloy tends to stay in the joint rather than pooling at a low point. However, dip brazing presents a significant risk of residual salt becoming entrapped in braze joints or hidden recesses within the structure. This can cause serious corrosion problems if the salt is subsequently exposed to moisture. A thorough post-braze cleaning operation is a necessity, usually involving large volumes of de-ionized water.  This is often followed by exposure to a humidified environment to try to leach out entrapped salt residues.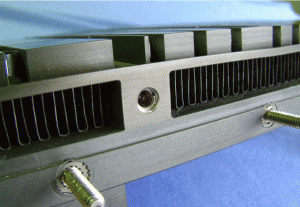 Vacuum brazing of aluminum does not involve the use of flux so eliminates any risk of corrosion.  It is also much more environmentally friendly than dip brazing. However, the process requires specially designed furnaces which must pump to harder vacuum levels than those required for many other vacuum brazing processes. The furnaces must have hot zone designs that permit rapid heating while maintaining excellent temperature uniformity. Many aluminum alloys are brazed at temperatures within a few degrees of their solidus temperatures. Careful control of ramp rate and temperature uniformity is essential to prevent melting of the base metal. Furthermore, brazing temperatures are below the red heat range where heating in vacuum becomes most efficient. As a result, hot zones must be designed with low thermal mass and sufficient heating element surface area. Aluminum vacuum brazing furnaces can also be equipped with gas quench systems to reduce cycle times.
Please read our technical paper on Joining Aluminum for Airborne Electronics.