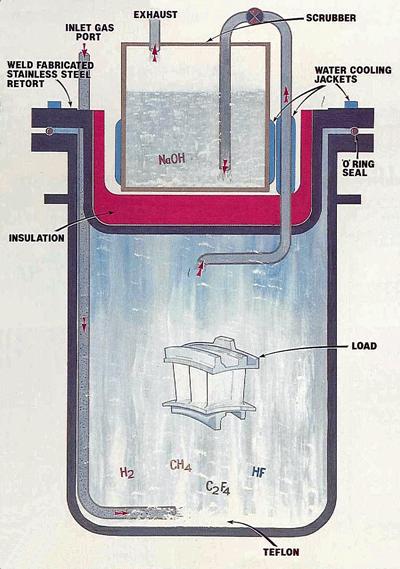 The Ultimate Cleaning Treatment For Superalloy Repair
All gas turbine engines require regular overhaul to ensure continued safe operation. During engine overhaul, decisions must be made on whether to replace deteriorated individual parts and assemblies with new components or to repair them. The ultimate decision depends on both technical and commercial criteria. That is, is there a technically sound repair available and, if so, is it economically favorable compared to the cost of a replacement component? Sometimes lack of availability of replacement components may override purely economic criteria.
The complexity of many modern turbine section components, both in design and material, makes them very expensive and therefore economically prime candidates for repair. This is particularly true for many hot section airfoils.  Service deterioration of this type of component is mainly of thermal origin, which manifests itself as cracking and/or loss of material caused by a combination of the following mechanisms: sulphidation, oxidation, hot corrosion, foreign object damage and thermal fatigue. Internal damage or deterioration by creep and micro-structural degradation may also occur.
While the extent and recoverability of internal structural deterioration must always be taken into account in assessing the viability of any repair, halide cleaning is particularly relevant to the rectification of external damage through the healing of cracks and restoration of component shape and form. Such rectification can only be achieved by the local addition of new material. This requires the application of a fusion process and may be accomplished by direct welding and/or brazing, or by inserting a patch which itself requires welding or brazing.
However even before addressing the problems of choosing or developing suitable weld or braze filler alloys and application techniques, there are major difficulties to resolve:
1) Many of the alloys encountered are virtually unweldable and are impossible to braze by conventional means.
2) Cracks cannot be cleaned of oxides and other contaminants to allow braze infill or defect free welds.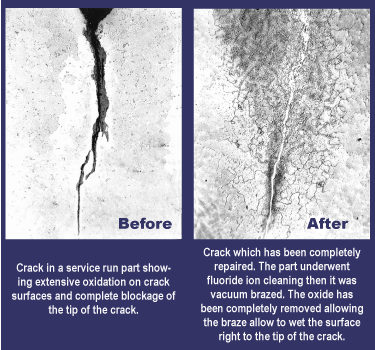 Therefore, It is evident that some sort of enabling process is required to prepare and condition damaged service-exposed superalloy components prior to attempting braze or weld repairs. A necessary requirement of such a process is the ability to completely remove all traces of surface oxides and entrapped oxide in deep tight cracks. While many metal oxides may be reduced by hydrogen or vacuum treatment at high temperature, stable oxides such as the oxides of aluminum and titanium cannot be reduced in this manner. These elements are present in significant quantities in the gamma prime hardened nickel-based superalloys and form complex stable oxides that cannot be removed by such means.
Fortunately, these oxides can be removed by treatment in a halide cleaning process such as the Dayton Process Fluorocarbon Cleaning Process (FCP). In addition, the FCP depletes surfaces in a controlled manner, even deep tight crack surfaces, of the strong oxide formers like aluminum and titanium thus altering the surface chemistry and actively promoting braze wetting and crack infill of the normally unbrazeable superalloys. The benefits of fluorocarbon cleaning are not confined to the braze repair of gamma prime nickel-based superalloys. Cobalt-based superalloys, for instance, do not contain aluminum or titanium and may be cleaned and brazed by conventional hydrogen or vacuum techniques. However in practice, difficulty is experienced in removing all traces of oxide and contaminants from engine induced cracks by such treatments, while FCP treatment results in 100% crack cleaning.
Of all the known cleaning processes and systems currently available, the Dayton Process Fluorocarbon Cleaning Process is the most effective, most reliable and most attractive from health, safety and environmental aspects.  Furthermore, the Dayton Process FCP is a unique 'dry' process that completely eliminates the problem of inter-granular attack often associated with other cleaning processes. It is the most effective process for the removal of surface and sub-surface complex stable metal oxides from cracks and free surfaces on nickel- and cobalt-based superalloy service-exposed components.
Controlled surface depletion of strong oxide forming elements like aluminum and titanium actively promotes good braze wetting and infill of even the most complex superalloys. This unique combination of cleaning and surface conditioning without attendant inter-granular attack makes the Dayton Process FCP an ideal enabling process for the braze repair of superalloy components.  VAC AERO has sold Dayton Process Fluorocarbon Cleaning equipment to engine repair facilities around the world.  Our engineers are experts in developing cleaning and repair techniques for even the most advanced superalloy components.
Click here for more information on the Dayton Process BV.
VISIT our Fluoride ion Cleaning Page.
Contact Us to discuss your unique application.