Tips for Selecting Vacuum Furnace Equipment – Part One | Part Two | Part Three
We continue our discussion on the many factors that must go into the decision-making process during the acquisition phase of a vacuum furnace. Part One focused on how one goes about choosing the right furnace for the job and talked about the various choices for hot zones (e.g. insulation, heating elements, etc.). We now continue this discussion by looking at other common vacuum furnace features and options. Recall that the four common elements of any vacuum furnace are:
Once decisions have been made in these areas, other ancillary items (e.g. partial pressure control, loaders, etc.) must also be considered and will be talked about here as well.
Pumping Systems
Vacuum pumps are the heart of a vacuum system. In order to create a vacuum within a closed container, or vessel, we need to remove the molecules of air and other gases that reside inside by means of a pump. The vacuum vessel and pumps (mechanical, booster, diffusion, holding) together with the associated piping manifolds, valves (mechanical pump, high vacuum isolation, vacuum (break) release, backing), vacuum measurement equipment (molecule counters) and traps comprise a typical vacuum system.
While mechanical pumps have the ability to work against atmospheric backpressure and booster pumps improve the speed and level to which we pump down, these pumps lose efficiency as the system pressure drops. In order to reach extremely low-pressure levels (e.g. 10-5 to 10-6 Torr or lower) the use of diffusion pumps is required. For furnaces using mechanical pumps (wet or dry) an ultimate vacuum in the range of 5 x 10-2 Torr to 1 x 10-1 Torr is typical. When a blower (booster) pump is added, the ultimate pressure will drop into the range of 2 x 10-2 Torr and the speed of pump-down will be significantly increased.
To reach these various vacuum levels, different vacuum pumping systems are required. The foundation of any of these systems is the positive displacement mechanical or roughing pump (Fig 1). The roughing pump, so-called because it is used to produce a "rough" vacuum, is used for the initial pump-down from atmospheric pressure. Mechanical pumps operate under the principle that they take in a large volume of air at the beginning of the cycle, compress it to a small volume and then exhaust it to the outside atmosphere. In a "wet" pump, a thin layer or film of oil creates the actual seal between the moving parts. Gas is exhausted under pressure against a valve disc at the outlet.
| | | |
| --- | --- | --- |
| Figure 1 – Typical Mechanical Pump. (Photograph Courtesy of Vac Aero International) | Figure 2 Typical Booster Pump. (Photograph Courtesy of Vac Aero International) | Figure 3 Typical Diffusion Pump. (Photograph Courtesy of Vac Aero International) |
The booster pump (Fig. 2), or blower, is a different type of mechanical pump that is placed in series with the roughing pump and designed to "cut in", or start at anywhere from 20 to 50 Torr. It provides higher speeds from this pressure range to 1 x10-3 Torr. A booster pump is necessary for this intermediate pressure range because the roughing pump is losing efficiency while the diffusion (vapor) pump has yet to start to reach full efficiency. For systems equipped with diffusion pumps, the pump-down time to high vacuum crossover is often important, a target of 10 – 15 minutes being typical.
The diffusion pump (Fig. 3) consists of a boiler plate system in which a high-grade silicon fluid is heated and then subsequently vaporized during boiling typically by means of an external heating element and a stack assembly, or chimney (commonly referred to in the industry as a "Jet Stack" assembly) up through which the vapors pass, exiting the chimney through one or more levels of annular converging/diverging nozzles directed radially outward and downward at an angle of approximately 45 degrees and at speeds well in excess of 400 km/hr (250 miles/hr). The hot vapors are accelerated by the action of the compression stacks within the diffusion pump that serves as a venturi creating supersonic velocities. As they travel outward and downward they collide with molecules of the gases being drawn into the pump inlet by the pressure differential created during the boiling of the oils thus giving them an effective downward velocity toward the exit (foreline) from which they are removed efficiently by the mechanical pumping system.
Diffusion pumps are, therefore, a type of vapor pump (without moving parts) and are used to help achieve lower system pressures than can be achieved by a mechanical pump/blower combination alone. The diffusion pump is capable of pumping gas loads with full efficiency with/at inlet pressures not exceeding 8 x 10-2 Torr and discharge (or foreline) pressures not exceeding 3 x 10-1 Torr. The diffusion pump cannot operate independently, it requires a separate pump to reduce the chamber pressure to or below the maximum intake pressure of the pump before it will operate. Also, while operating, a separate or holding pump is required to maintain the discharge pressure below the maximum tolerable pressure.
Controls technology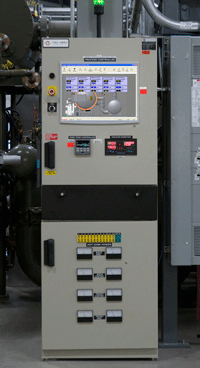 Figure 4 Typical Vacuum Furnace Instrumentation Package. (Photograph Courtesy of Vac-Aero International)
Instrumentation and process controls (Fig. 4) used on vacuum furnaces in the heat treatment industry are extremely diverse due in large part to the fact that the life of a vacuum furnace can range from 20 to 50 years! These packages range from simple controllers to sophisticated HMI (Human Machine Interface) systems.
It is important to recognize that furnace instrumentation and control packages are constantly evolving with constant advances in hardware and software. Even basic control packages now often include easy-to-understand touchscreens with graphics displaying operating indicators and alarms. Where more advanced data management applications justify the higher cost, the PC-based control system is a user-friendly and versatile tool. Perhaps its biggest advantage is an access capability that allows the user to analyze, adjust and download operating parameters from remote locations. These systems can be connected to local networks for multiple user access and even to the Internet via secure connections.
Digital data recorders are an advanced data collection system allowing storage and report of process and equipment variables that allows one to monitor conditions over time and observe trends, as well as create a historical record and backup of the data. These types of records help predict when maintenance will be required and avoid unexpected downtime.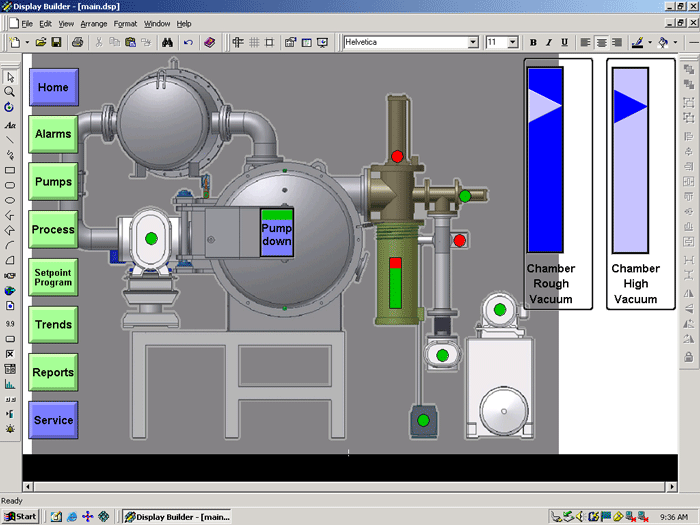 Supervisory Control and Data Acquisition (SCADA) systems (Fig. 5) allow furnace users to view data and operational settings for multiple furnaces at the same time on a single display, thus providing more flexibility for collecting and reporting data in one central location.
Network connectivity allows one to review, in real time, critical data about the heat treatment process being run. Features such as email notifications of alarms, monitoring of the Programmable Logic Controller (PLC) inputs and outputs and advanced firewall capabilities make this an attractive option. These types of systems allow engineers and field service technicians to remotely view the equipment and recommend adjustments helping to avoid prolonged downtime and maintenance expense.
Finally, with all the available controls technology on the market, it is critical to choose the package that is right for the type of furnace and application being run.
Other Considerations
Grids, Baskets & Fixtures
Component parts that are to be heat-treated must be properly loaded and are usually placed into baskets if relatively small or directly onto grids if larger (Fig. 6). The baskets can either be placed on a grid or in some cases directly onto the hearth rails of the furnace. Today, fixtures are made from either stainless steel alloys (e.g. RA330® or Inconel 600®), carbon/carbon composite materials or graphite.
Work grids can be cast or fabricated, being manufactured from stainless steels or high-temperature alloys such as molybdenum, which is particularly well suited for high-temperature service. Graphite plates are common, but care must be taken to insulate the plate from the metallic workpiece if there is a concern over eutectic melting.
Figure 6 Typical Loading Arrangement for Parts Placed Directly Onto a Grid

(a) Alloy Fixture.

(b) Truck Heat Exchangers Placed on Carbon/Carbon Composite Fixtures for Vacuum Brazing. (Photograph Courtesy of Schunk Graphite Technology, LLC)

(c) Cemented Carbide Drill Bit Inserts Placed on Graphite Plates.
Typically, several sets of baskets or fixtures are required for each vacuum furnace in operation (while one set is in the furnace, the second set is being prepared for the next cycle). Often alloy baskets and fixtures require periodic maintenance such as straightening or weld repair.
Water Recirculation Systems
Water systems (Fig. 7) are an excellent short and long-term way of protecting your vacuum furnace. Most plant systems fall into one of three general categories (or combinations thereof), namely single or multiple pass or recirculation type.
The water source can be city water or well/river water, which can vary in hardness and mineral content, all of which leads to premature issues with hot spots on the vacuum vessel, loss of shell integrity (thickness) due to rusting and/or shorter component life (e.g. power feedthrus). All of which can reduce vacuum chamber life dramatically, in some instances from a normal 30 – 40 year life to as little as 10 – 15 years.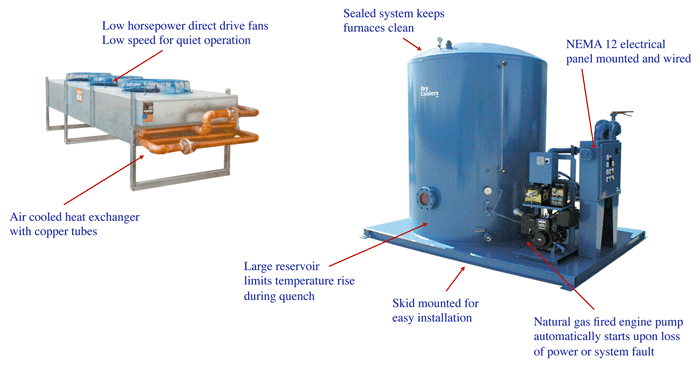 In a single pass system, the cooling/process water is used only once and then discharged from the system. Today, it must often be treated before being discharged into the sewer system and is subject to a number of EPA, federal, state and local codes. Many consider this the least expensive type of system and it is perhaps the most common (although, in this writer's opinion, not the best). In areas where the water has high hardness levels or large amounts of total dissolved solids, the rate at which rust or scale will form and other problems occur increases exponentially thus necessitating more frequent cleaning or flushing of the cooling system and associated piping.
Recirculation systems are those in which the cooling medium is reused and recycled. Three basic types are: (1) additive systems, (2) open systems and (3) closed systems. An additive system uses make-up water to maintain a specific temperature or temperature range for the cooling system. Higher temperature water is discharged from the system to help maintain temperature control. The advantage over a single pass system is that the amount of water used is minimized. A typical system requires a recirculation pump, sump tank, and automatic water temperature control system.
Open recirculation systems utilize evaporative cooling in a cooling tower, evaporative condenser, sump tank or spray pond to remove large amounts of heat with small amounts of water loss. One concern with this type of system is the tendency to concentrate contaminants and must be dealt with by regulating the amount of water that is bled off the system and by monitoring the condition of the water present in the system. The issue of dissolved oxygen in the water is also a great concern.
Closed recirculation systems with water/water, water/liquid or water/air heat exchangers have become popular methods of controlled cooling especially when water treatment costs are to be minimized or "zero" discharge situations are required.
Ancillary Items
There are a variety of options available on most vacuum furnaces. The list varies by manufacturer and personal preference but some of the more common include:
Furnace loaders can be manual, electric motor, pneumatic or hydraulically operated and usually include a feature which allows someone to load parts with precision and avoid breaking or damaging the furnace hot zone.
Accumulator (surge) tanks allow an adequate gas supply, at the right pressure and volume to be delivered to the furnace on-demand.
Convection heating is a convenient option for those who process dense loads and depending on the part geometry and load configuration, this feature may help achieve better uniformity in heating parts and help to decrease cycle times.
Spare parts kits can help minimize downtime by keeping critical or long-lead spare parts and maintenance items in inventory.
Next Time: We conclude our discussion with a look at maintenance needs and what the manufacturers offer for support services at the time of purchase, including installation and/or installation supervision, start-up, training and aftermarket parts support.
Tips for Selecting Vacuum Furnace Equipment – Part One | Part Two | Part Three
References
Herring, Daniel H., Vacuum Heat Treatment, BNP Media Group, 2014.
"New Considerations When Buying a Vacuum Furnace", White Paper, Vac-Aero International.
"Choosing the Right Furnace to Stay Ahead of the Curve", The Ipsen, Harold, November 2014.
"Important Considerations for Establishing a New Vacuum Heat Treating Capability", White Paper, Vac-Aero International.
"Important Considerations When Purchasing a Vacuum Furnace", Vacuum Furnace Reference Series, No. 6, Solar Atmospheres, 2012.