As with any piece of equipment, proper maintenance at regular intervals is essential for long service life and trouble free operation.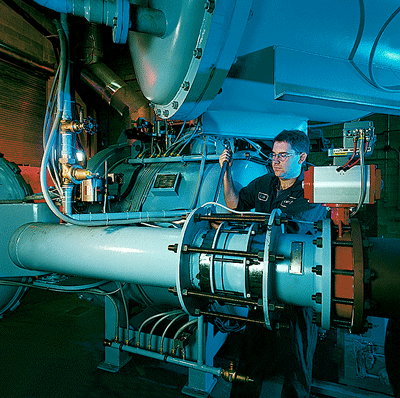 The mechanical components in a vacuum furnace require standard maintenance practices (ie. cleaning, lubrication, etc.).  However, successful use of a vacuum furnace depends on the purity and reliability of its vacuum.  Additional maintenance activities are required to ensure good vacuum levels in the system.  Leaks in joints and contamination of furnace internals will greatly affect operating vacuum levels and the quality of the processing.  Leaks are the most time-consuming and troublesome of the maintenance items.  Small leaks can only be isolated using helium leak detectors.  However, by keeping track of where leaks most frequently occur, preventative measures can be taken to minimize the problem.  The operating manuals supplied with VAC AERO furnaces provide detailed information on maintenance and trouble shooting.  All maintenance manuals should be read and understood before commencing furnace operation.
There are a number of safety issues that must be considered when maintaining vacuum furnaces.  Standard safety practices must be adhered to in order to avoid injury, burns and electrocution.  In addition to these, there are several special considerations specific to vacuum furnace equipment.  On furnaces equipped with oil diffusion pumps, maintenance should only be attempted after the pump has been allowed to cool to ambient temperature.  The diffusion pump works by boiling oil to form a vapour.  Heated by coils in the base of the pump, oil temperatures reach 240ºC (464ºF) and higher.  At these temperatures, vapours from hydrocarbon-based oils can react explosively with air.  As a result, the fill port in the pump should never be opened while the pump is operating.  Silicone-based pump oils eliminate this explosive risk.
Maintenance of furnace chamber internals should only be conducted using approved confined space entry and electrical lockout procedures.  Residual quench gases remaining in the tank even after the door is opened can cause asphyxiation.  Particular care should be taken entering furnace chambers after argon has been used as a quench gas.  Argon is heavier than air and can remain in low lying areas for some time.  It has no discernable odour and there is usually no advanced warning before unconsciousness occurs.  Vacuum conditions in a furnace tank are even more lethal.  Lockout procedures to prevent furnace operation must be in place before entering any furnace chamber.
This is the last in a series of four articles on Vacuum Furnace Maintenance. (read part 1) / (read part 2) / (read part 3) / (read part 4)
For more information on VAC AERO's Furnace Manufacturing please click here.