During construction, all welded joints in a vacuum furnace are inspected for hermetic integrity and should remain intact for the life of the furnace.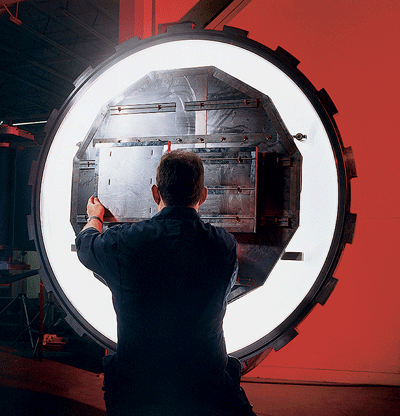 However, there are also a number of demountable connections that can be separated and reconnected for component changing or repair access reasons. These connections are generally sealed with a gasket sandwiched between two flanges. Though different gasket materials are used depending on the vacuum level required, most seals in a standard vacuum furnace incorporate an o-ring made of natural or synthetic rubber. Buna-N, silicone and Viton o-rings are readily available in many sizes.
These materials are resilient and can be used repeatedly without loss of integrity. The common squish rates of 20% to 50% of the original cross section will not stress o-ring materials past their elastic limits. O-rings must be properly retained within the connection to prevent being sucked into the vacuum system. Usually, they are set in a groove machined into a flange on one side of the connection. They are then squeezed against the opposite flange as the flanges are tightened together. A less common method of o-ring retention involves a retaining ring that is thinner than the o-ring cross section. The retaining ring fits inside the inner diameter of the o-ring.
The surface finish on the flanges between which the o-ring is squeezed should be no more than 125 RMS. A coarser finish may result in gas penetrating through the seal. Flange faces should be inspected for burrs or scratches prior to assembly. Standard practice is to coat the o-ring with a thin layer of vacuum sealing grease prior to assembly to improve its sealing properties. A common cause of leakage in o-ring sealed joints arises from damage to the o-ring. O-rings should never be removed from grooves using sharp objects, such as screwdrivers or knives. Not only can these objects cut the o-ring, they may also cause scratches in the bottom of the o-ring groove which will provide another path for gas penetration. O-rings should be regularly inspected for damage and cleaned of all dirt and particulate matter.
Because of frequent opening and closing, door o-rings are most susceptible to damage and should be inspected prior to every run. They should be checked for nicks, cuts or flat spots. Both o-ring and door flanges should be wiped clean before the door is closed. Re-coating of the o-ring with a thin layer of vacuum grease should be performed at regular intervals though any build up of vacuum grease must be avoided. Improperly assembled feedthru seals may also be a source for leaks. When changing control or overtemperature safety thermocouples, feedthru seals must be properly tightened to ensure vacuum integrity. Small leaks may be temporarily overcome by applying a sealing compound on external surfaces of the vacuum joint. However, this not a permanent corrective measure.
This is the last in a series of four articles on Vacuum Furnace Maintenance. (read part 1) / (read part 2) / (read part 3) / (read part 4)
For more information on VAC AERO's Furnace Manufacturing please click here.