Brazing involves the joining of two or more base metal components by melting a thin layer of filler metal into the space between them. 
Bonding results from the intimate contact produced by the dissolution of a small amount of base metal into the filler metal, without melting of the base metal. Brazing differs from welding, in which the joint is formed through melting of the base metal. Brazing is similar to soldering but, by definition, is performed at higher temperatures. In brazing, the filler metal can be placed within the joint as a foil, or placed over the joint in the form of paste or wire. Joint clearances must be very carefully controlled and usually do not exceed .12mm (.005″). Capillary action draws the molten filler metal into the joint and holds it there. The base metal components must be designed to enhance the capillary action. Brazing is a process that has been well adapted to vacuum heating methods.
There are several factors that must be considered when selecting a brazing filler metal, or braze alloy, for a particular application. The melting points of the base metal and braze alloy are perhaps the most important. Pure metals transform from the solid to the liquid state (melt) at a single temperature. However, many metallic materials are alloyed by adding of other elements to produce certain desired characteristics. Rather than completely melting at a single temperature, most alloys melt over a temperature range. The temperature at which they begin to melt is known at the solidus temperature. The temperature at which they become completely molten is called the liquidus temperature. While at temperatures in the melting range between the solidus and liquidus, both solid and liquid phases are present. When selecting a braze alloy, it is important to ensure that the melting range of the braze alloy does not overlap that of the base metal. As a general rule, the solidus of the base metal should be at least 55ºC (100ºF) higher than the liquidus of the braze alloy. For brazing stainless steels and materials intended for use at high temperatures, there are a wide variety of commercially available braze alloys that meet these criteria. Some compositions are designed with narrow melting ranges for ease of use in applications where joint clearances are adequately controlled. Others have wider melting ranges and can be used to fill large joint clearances.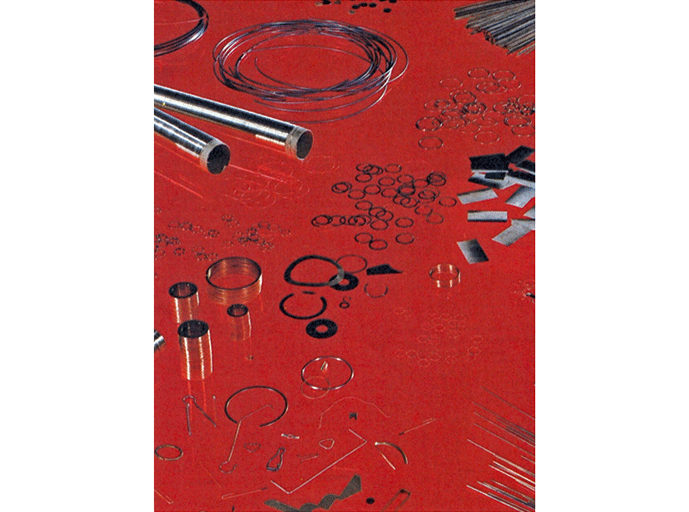 The compatibility of the braze alloy with the base metal must also be considered. There is almost always some interaction between the braze alloy and base metal, the extent of which varies depending on compositions and the thermal cycle. Under certain conditions, molten braze alloy can dissolve base metals creating an undesirable condition known as erosion. The constituents of the braze alloy can also diffuse into the base metal causing a change to base metal properties such as embrittlement. This can be particularly damaging if the base metal is thin. Whenever excessive base metal dissolution is likely to occur, brazing should be performed in as short a time and at as low a temperature as possible. Sufficient braze alloy should be present to completely fill the joint, but excessive amounts should be avoided.
Braze alloys containing appreciable amounts of volatile elements may need to be brazed under a partial pressure of a gas such as hydrogen or argon. Copper base braze alloys and those containing zinc, cadmium and manganese as melting point suppressants are typical examples. Some silver base and even nickel base braze alloys also require the use of partial pressures to prevent vaporization of key alloying elements.
When selecting a braze alloy, it is important to consider the manner in which the alloy will be introduced into the joint and the form in which it is commercially available. Ductile metals such as copper, silver and gold base braze alloys are available in the form of wire, shim, sheet and powder. Shim and sheet can be pre-placed directly in the joint during assembly of the components to be brazed. Nickel base braze alloys are brittle and are usually supplied in the form of powder. These can be mixed with binders to form a paste that is easily applied over the joint. Joint design has some influence over which form of braze alloy is preferred. For thick joints, pre-placement of the braze alloy may be necessary to ensure the joint is completely filled. Also, different braze alloys often require different joint clearances for effective capillary flow.
VAC AERO's Thermal Processing Divisions are expert in vacuum brazing of a wide variety of materials, including stainless steels, superalloys, titanium and ceramics.
Contact us for assistance with your difficult brazing applications.
Determining "Brazeability"

Selecting filler metal

Preparation for Brazing" (ie. cleaning)
For more information on VAC AERO's Heat Treating Services please click here.
This is the last in a series of four articles on Vacuum Brazing Tecniques. (read part 1) / (read part 2) / (read part 3) / (read part 4)