Whenever the door to a vacuum furnace chamber is open, humidity from the air will enter the chamber and condense in a very thin film on the chamber walls or be absorbed into the hot zone materials.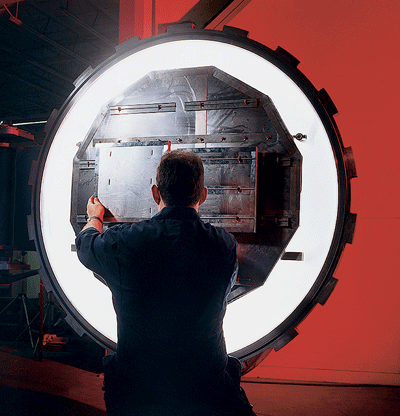 When the chamber is subsequently evacuated (before heating) and the furnace internals are exposed to this lower pressure, "outgassing" of the entrapped moisture will occur. If sufficient moisture has been entrapped (such as in very humid environments), the outgassing effect will slow the pumpdown process and may even give the appearance of a malfunction in the pumping system. Eventually, the outgassed moisture will be pulled out of the chamber by the pumping system and evacuation rates will improve. This same effect will be apparent when oily or contaminated workloads are placed in the furnace. It may be more pronounced in furnaces with graphite-based hot zone insulation materials.
To minimize the outgassing effect, it is important to keep the chamber door closed whenever possible. Ideally, the chamber should also be kept at least partially evacuated whenever the furnace is not in use. Maintaining the recommended temperature of the coolant entering the chamber cooling jacket is also important. Condensation of moisture is more pronounced on cooler surfaces.
In addition to problems created by moisture, vaporization of volatile elements when heated under vacuum will eventually contaminate the furnace internals with undesirable residues. The evolution of this condition may become apparent by deteriorating ultimate vacuum levels. Deposits of metallic residues can also cause electrical short circuits. Often, however, considerable amounts of contaminants can be present with no discernable change in operating pressures. Regular dry run cycles must be performed to burn off contaminants before they begin affecting load quality or create electrical problems.
The furnace maintenance manual will provide detailed instructions for performing a dry run cycle. As a minimum, at least one dry run cycle should be performed each week. Depending on the cleanliness of the work processed previously, a dry run cycle may also be required immediately prior to processing a critical workload or materials that are particularly prone to contamination (ie. titanium alloys).
This is the last in a series of four articles on Vacuum Furnace Maintenance. (read part 1) / (read part 2) / (read part 3) / (read part 4)
For more information on VAC AERO's Furnace Manufacturing please click here.