As shown in my last two articles, there are a number of very important steps that must be followed in order to ensure good brazing, as shown here once again in Table 1. We've looked at some proper design criteria for brazing, and last month we began looking at the very important topic of cleanliness in brazing.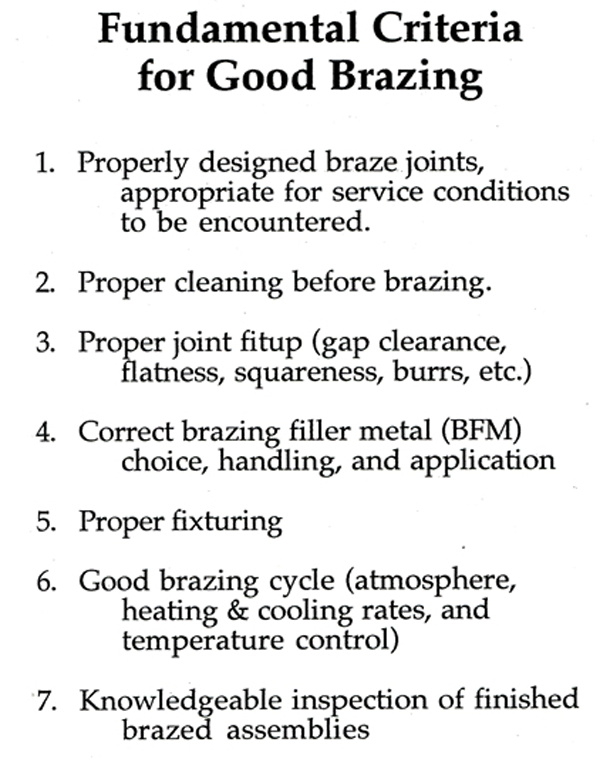 As we saw, parts must be clean BEFORE they are brazed, and part of that cleanness-issue, as we will examine in this month's column, involves the handling of parts during assembly and the application of brazing filler metal (BFM) to those parts. It's at this point that many shops fail in their understanding of what it takes to keep parts clean prior to brazing. Namely, bare hands are too often used to assemble parts, resulting in contamination of surfaces that are to be brazed. Let's take a closer look at the role of the cleanliness of the brazer's hands and how to prevent contamination of the parts by the brazing personnel themselves.
CLEAN HANDS. Our hands are often a major source of contamination of the parts that are to be brazed. Look at Fig. 1.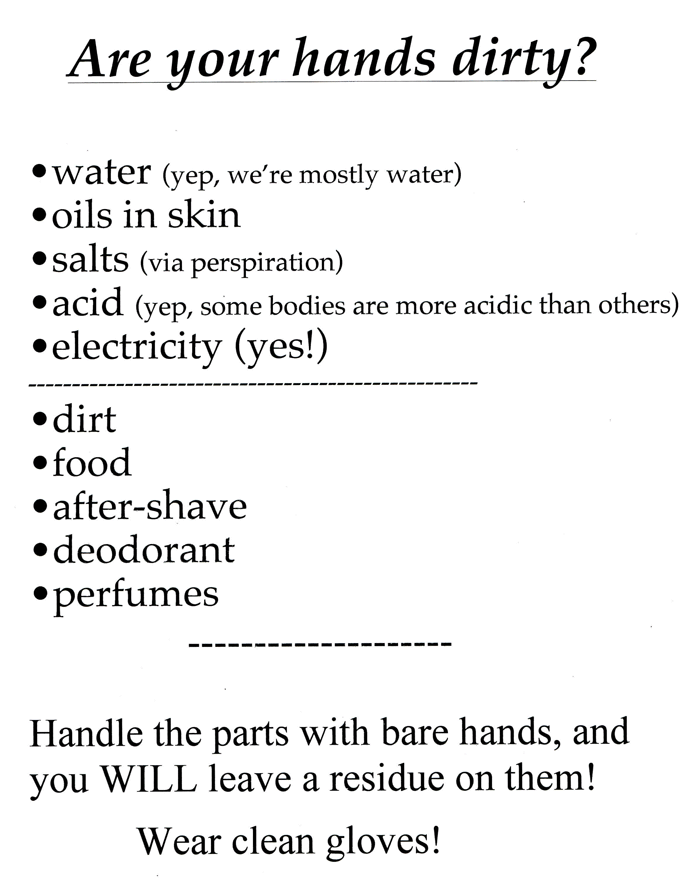 People often tell me that they take a lot of care to be sure their hands are very clean when handling parts. But, what kind of contaminants remain on your hands, even after you have washed them thoroughly? Figure 1 shows that your hands will always have oil from your skin, perspiration (water, as well as body salts, perhaps slightly acidic, too), and electricity (yes, we are an electrical being as well). So, even if you thoroughly washed your hands just prior to brazing, then walked out to your brazing shop, by the time you got to the parts you were going to handle, your hands would once again have water, salt, acid, oil, electricity, etc., on its surface.
People have often told me: "Well, even if that is true, I don't ever touch the actual brazing surfaces with my fingers." If you believe that statement, then I have bridge I'd like to sell to you. People make mistakes, and I've often seen people touch critical brazing surfaces by mistake, even though they did not intend to do so. Therefore, it is important to always wear gloves when assembling parts for brazing!
GLOVES. There are many types of gloves out there that can be effectively used for brazing. The important thing is to choose and use one of them! The gloves can be lint-free cotton, vinyl, latex, nitrile-rubber, linen, etc., as long as they are comfortable and keep your hands/fingers from touching the critical surfaces to be brazed.
A. Latex, vinyl, or nitrile-rubber gloves. As many of us have experienced, latex gloves (as shown in Fig. 2) are light-weight, conform nicely to the shape of our hands and fingers, and are easy to use to help set up parts, enabling us to do so without any contamination from our hands.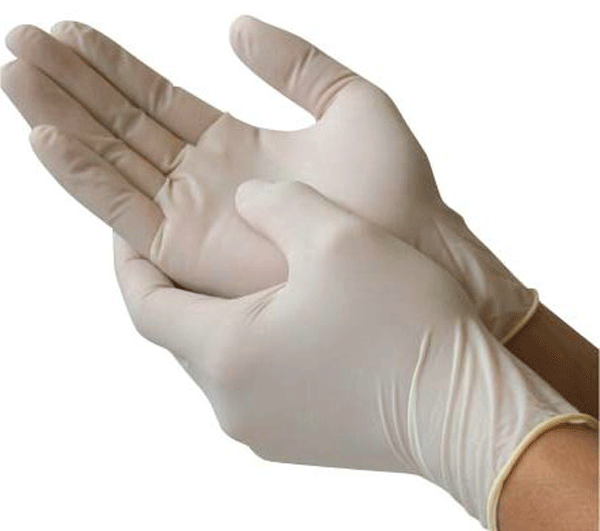 CAUTION: Do NOT use any rubberized, latex, or nitrile-rubber gloves if you are involved in any kind of assembly work, or actual brazing, that involves any kind of flames (such as a torch brazing, or gas-fired furnace equipment with which you may come in contact. These types of gloves can melt under very high heat, and badly burn your skin! When flames of any kind are involved, use only cotton gloves!
B. Cotton gloves. There are a number of different types of cotton gloves available, from light weight to very heavy. Fig. 3 shows an excellent type of cotton glove to use when assembling parts for brazing; they're soft, comfortable, and should always be of a lint-free variety, since lint from the gloves can get into braze-joint areas during assembly and potentially contaminate them.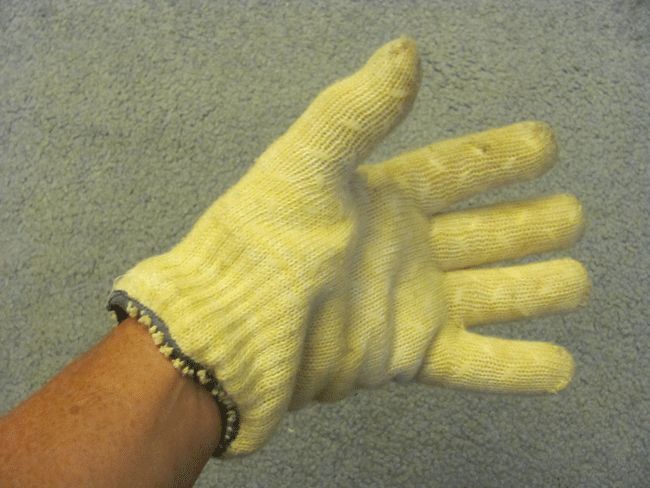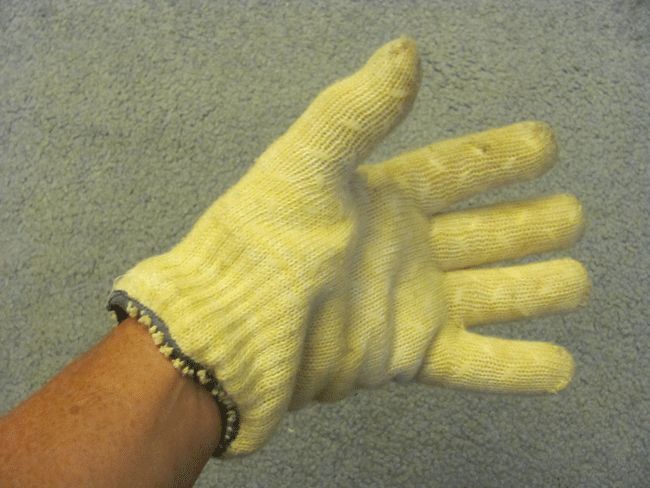 Some people enjoy using the "siliconized" cotton gloves to unload parts from a brazing furnace, to protect their hands from the hot surfaces being handled. Please be sure the surface of the gloves are kept clean, so that the hot surfaces do not pick up dirt and oils from the glove-surfaces, thus contaminating the surfaces of the brazed components and possibly resulting in their rejection for cosmetic issues!
Such a "siliconized" glove is shown in Fig. 4, and is often used for handling dishes and plates coming out of the cooking ovens or grills at home.
C. Leather gloves. Welders often use heavy leather gloves, as shown in Fig. 5 so as to avoid weld-spatter from being able to get to their hands, wrists, or lower arms, thus protecting them from potentially bad burns. Such heavy gloves are not needed, or recommended, for use in brazing processes.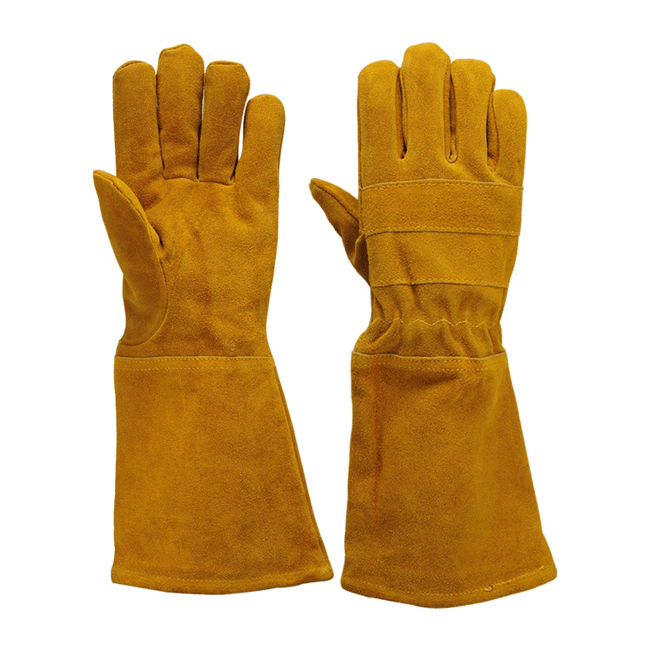 KEEP GLOVES CLEAN! I am sometimes amazed to see that the gloves being worn by brazers are filthy, and potentially more contaminating to brazing-surfaces than bare-hands would be! When you are using gloves, it should be obvious that those gloves are being used primarily to keep surfaces clean and free of contamination so that they can be readily brazed. Be careful, therefore, that gloves themselves also be kept reasonably clean, and changed out often enough to prevent the gloves themselves from being a potential source of braze-contamination. The gloves shown in Fig. 6 are too dirty and should be changed out for clean ones.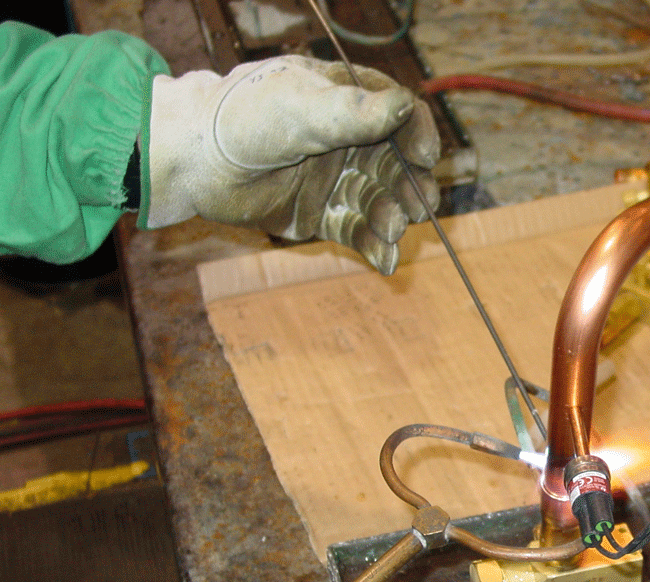 CONCLUSION: Gloves are an important part of braze-assembly since they can be very effective at keeping your hands off the surfaces to be brazed, and thus keep the surfaces clean. So, take the time to optimize the type of glove that will allow you to easily and safely assemble part for brazing, but also be sure to keep those gloves clean (or change them out frequently) since improper glove use can negatively affect your brazing process too.
In the next article in this series; "Essential Criteria for Brazing: Item 2 – Proper cleaning—role of grit blasting in surface-prep (Part C)", we look at grit-blasting as a cleaning method and as a surface-prep for parts that are then to be assembled and brazed. There are a number of grit-blasting materials commonly used, and we'll see which ones are good, and which ones are questionable.
---
DAN KAY BRAZING SEMINARS: 3-Day seminars provide intensive training in "The Fundamentals of Brazing", covering the brazing of materials ranging from aluminum to titanium to ceramics! FIND OUT MORE
Dan Kay – Tel: 860-651-5595: – Dan Kay operates his own brazing consulting/training company, and has been involved full-time in brazing for more than 40-years. Dan regularly consults in areas of vacuum and atmosphere brazing, as well as in torch (flame) and induction brazing. His brazing seminars, held a number of times each year help people learn how to apply the fundamentals of brazing to improve their productivity and lower their costs. Contact information for Dan Kay (e-mail, phone, fax, etc.), can be found by visiting his company's website at: http://www.kaybrazing.com/
To View a listing of all Dan's articles please click here
Read Dan Kay's Biography
© Copyright Dan Kay 2016