In my last two articles, we explored the definitions of the words "brazing", "passivation" and "defect". Each of these words has also been mentioned and discussed in this column in years past, but I am bringing them out again to help a new generation of brazing personnel to understand them correctly. Another word that needs to be explored once again, because of its misuse by many brazing personnel today, is the word "brittle".
Brittle
Particularly when referring to parts that have been brazed with a nickel-based brazing filler metal (BFM), I still hear some people say that those nickel-brazed joints are "brittle" joints, and thus are probably not suitable for certain applications. Be careful! This is not true! Early in my metallurgical training (I am a graduate Metallurgical Engineer from Rensselaer Polytechnic Institute) I learned that "brittle" is not a word describing "a state of being", but instead, is used to describe a mode of failure, as in the words: "…that joint failed in a brittle manner".
Look at the photos in Fig. 1. Notice that "ductile" and "brittle" are both used as descriptive terms when looking at failure-modes.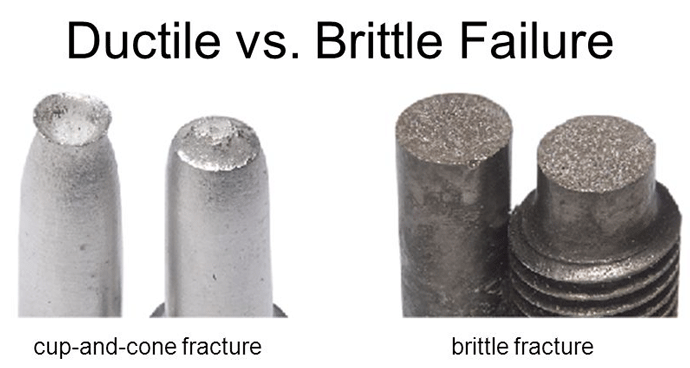 Let me ask you this: When you picture the word "brittle" in YOUR mind, what do you see? I'll venture to say that most of you will be picturing something that is shattering, or cracking, or breaking. Yes, your mental-picture accurately illustrates what that word is, and what it actually means. I dare say that when you think about the word "brittle" very few of you merely picture a solid piece of metal sitting on a table or bench. And yet, when you call a nickel-brazed joint "brittle" just because it was nickel-brazed, then, in my opinion (based on both my metallurgical training and on my many years of brazing experience), you are truly misusing that word. What you probably mean is that nickel-based brazing filler metals (BFMs) can produce joints that have high-hardness (on the Rockwell scale), and could therefore perhaps perform in a "non-ductile" manner, and which, under certain conditions of shock/stress, etc., might fail, i.e., crack, in a brittle manner. Yes, you would be correct in using those precise types of words. BUT —- as to nickel-brazed joints being, by nature, non-ductile — that is true ONLY under certain conditions — conditions in which the brazed joint had a wide-gap (large joint clearance), thus allowing the formation of a continuous centerline-eutectic down the center of the joint, perhaps resulting in a crack down the center of that joint when put under stress, such as that shown in Fig. 2. These continuous centerline-eutectics have been discussed in great detail in some of my earlier articles on this website, and I suggest you search out those articles by typing in "centerline eutectics" in the "Search" box at the top of this article.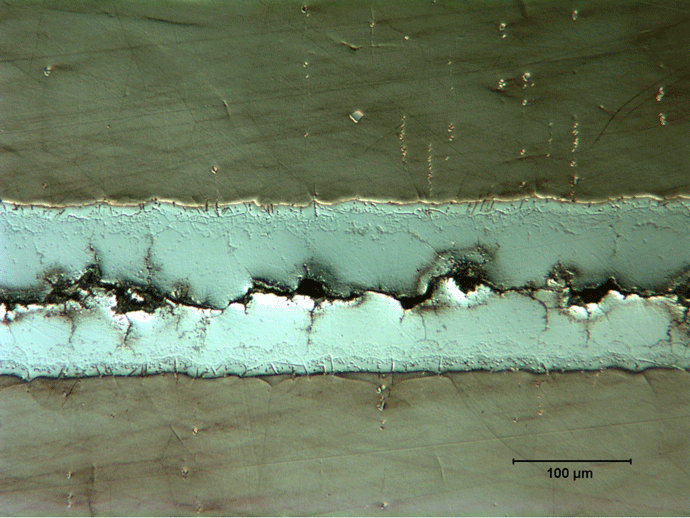 Take a look now at Fig. 3, which shows a twisted nickel-brazed joint between two pieces of 304-stainless. This nickel-brazed joint has been twisted through 720-degrees of torque-bending (one end of the sample was held in a vice while the sample was then twisted using hand-held pliers). When you see that twisted part, I would ask you: "Is that ductile enough for you?" The brazed joint on that twisted specimen was kept very tight (less than about 0.002"). Another brazed sample, similar to the twist-specimen is shown on the table directly below the twisted one. Joint clearance is VERY important!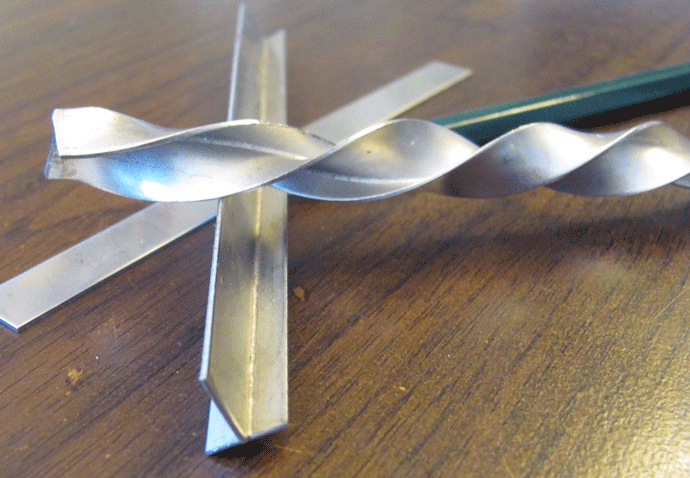 When a nickel-brazed joint is kept very thin (0.002"/0.05mm) or less, this can help to prevent the formation of a continuous centerline-eutectic microstructure down the center of the joint, such as that which was shown in Fig. 2.
This can be further seen in the photo shown in Fig. 4, in which you can see an excellent comparison of an ideal nickel-brazed joint at the right-side of the photo, as compared to the bad portion of that same joint at the left-side of the photo. This photo is of a metal pin brazed into a hole. Because the diameter of the hole was much larger than the diameter of the pin, the pin drifted to one side of the hole during brazing, resulting in a fairly tight gap on one side (shown on right) and a wide-gap on the other (shown on left). During solidification, the right side of that photo shows ideal joint microstructure, with isolated hard centerline spots (those dark spots are solid eutectic-material structures, not holes/voids) surrounded by the light-colored, softer Ni-Cr solid solution material. By comparison, you can see that the centerline eutectic material in the joint on the left side of the photo has formed a continuous matrix of that hard, non-ductile material along the entire length of that joint. Also, notice the cracks that are propagating through that hard structure. Notice, too, that there are no cracks in the thin, tight joint on the right side of the photo.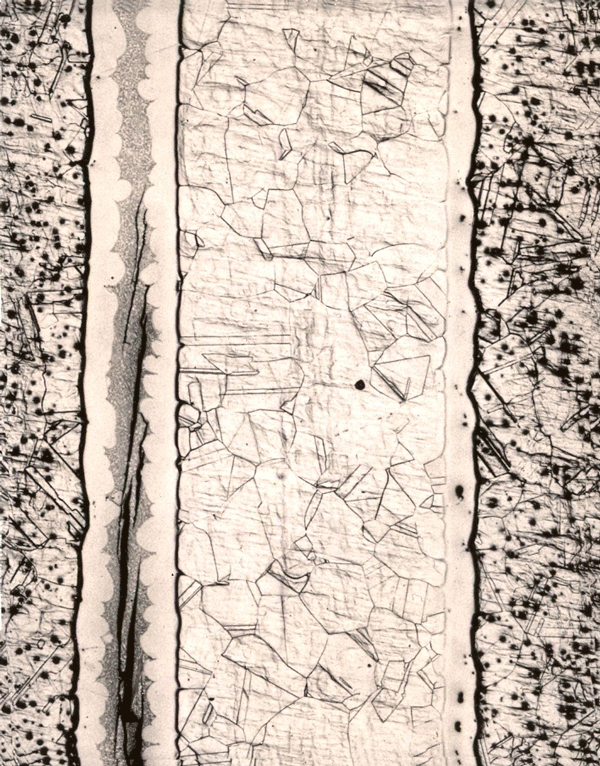 CONCLUSION: When a nickel-brazed joint is very thin, the hard, centerline eutectic material (e.g., chromium-borides or silicides in the center of the joint) will solidify in isolated spots in the center of the joint surrounded by ductile Ni-Cr solid-solution material, and the joint can, and will, perform in service in a ductile manner, just as shown by the sample in Fig. 3.
Based on this, please be very careful as to how you use the word "brittle" when referring to any kind of brazed joint. Always remember then that "brittleness" is not "a state of being", but rather a description of a failure mode, and is highly dependent on factors related to joint fit-up, and NOT on the type of BFM being used!
---
DAN KAY BRAZING-TRAINING SEMINARS: 3-Day seminars provide intensive training in "The Fundamentals of Brazing", covering the brazing of materials ranging from aluminum to titanium to ceramics! FIND OUT MORE
Dan Kay – Tel: (860) 651-5595 – Dan Kay operates his own brazing consulting/training company, and has been involved full-time in brazing for 46-years. Dan regularly consults in areas of vacuum and atmosphere brazing, as well as in torch (flame) and induction brazing. His brazing seminars, held a number of times each year help people learn how to apply the fundamentals of brazing to improve their productivity and lower their costs. Dan can be reached via e-mail at dan.kay@kaybrazing.com, and his website can be visited at http://www.kaybrazing.com/
To View a listing of all Dan's articles please click here
Read Dan Kay's Biography
© Copyright Dan Kay 2018