Although liquid-penetrant inspection, such as dye penetrant inspection (DPI) and fluorescent penetrant inspection (FPI), are useful tools for inspecting fusion-welds, they should NOT be used for inspecting brazed joints.  This is especially true for any parts on which subsequent braze-repair may be required, such as many aerospace components that are vacuum-brazed, then placed in service for long periods of time, and then come back for later repair or rebuilding and then sent back out for more field-service.
DPI and FPI have long been used in the welding industry, and should certainly continue to do so, since weld-cracks and surface imperfections can readily be seen by these techniques and subsequently repaired without difficulties.
But, such a procedure does not work for joints in brazing.  Braze fillets (especially those from nickel-brazing, a high-temperature brazing process often done in vacuum-furnaces), can contain some surface roughness and porosity that would readily show up in DPI or FPI, but such surface indications have virtually no relationship whatsoever to the quality or soundness of the braze joint itself down between the faying surfaces of the joint.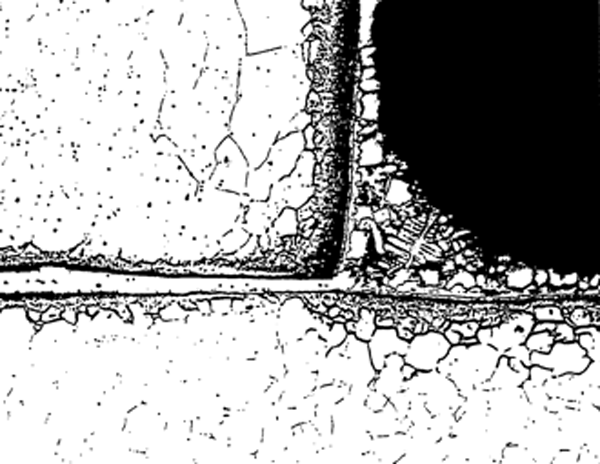 Look at the following cross-sectional (photo on top) view of a nickel-based brazing filler metal "fillet" and  brazed joint.  As you can see in the photograph, the brazed joint itself is fine, with no porosity or cracks, even those the top surface of the braze fillet appears to be a bit rough.  An FPI or DPI inspection of that joint would probably reveal many "surface anomalies" or "indications", and an untrained inspector might believe the brazed joint itself to be imperfect and needing to be repaired or scrapped.  That is not the case at all.  The joint is fine.
Additionally, DPI and FPI chemical residues are virtually impossible to remove from any of the surface porosity and small cracks in the fillet of a brazed joint that might subsequently need to be repaired.  This is not a problem in welding, since weld-repair implies grinding out the weld-metal in the area of a crack all the way down to clean, fresh base metal (which would also then get rid of all the DPI or FPI chemical residues).  This would then be followed up in welding by putting in a new weld fillet bead.  That is totally impractical in brazing!  Surface imperfections and/or cracks in a brazed joint fillet cannot be removed to the point of exposing only fresh new base metal for re-brazing.
Look at the photo on the left of a crack in a braze fillet and joint shown below.  If that joint were subjected to DPI or FPI, the chemicals from those processes would penetrate deep down into the joint, and could not be removed at all, thus ruining that brazement.  Instead, if that crack were found by using visual inspection only (including up to 5x or 10x magnifier), this cracked joint might then be sent back for re-brazing, with the molten brazing filler metal (BFM) that was used in the repair process then flowing by capillary action into that crack and "healing" it for possible subsequent end-use service.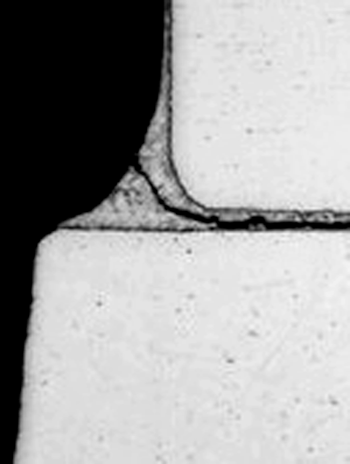 Some brazing companies have told their inspectors to use FPI or DPI on large surface areas, even though they contain braze joints, in an effort to locate any small surface cracks that might exist on flat surfaces with large surface area.  Then, if cracks were found in any of the brazed joint areas, the parts would then need to be scrapped, because, as mentioned earlier, braze repair cannot usually be made on such DPI or FPI contaminated joints.
My recommendations re FPI and DPI are, therefore:
Never use DPI or FPI as an inspection method in brazing, especially if parts might need to be repaired after any inspection process is performed on them; and
If someone were to tell you that the goal of DPI or FPI is merely to identify the presence of any tiny surface cracks, then politely suggest to them that any such cracks can perhaps be more easily found using 10X or 20X visual magnification, without contaminating the surface with DPI or FPI chemicals, thus allowing subsequent repair of the brazed-joint, if needed!
---
DAN KAY BRAZING SEMINARS: 3-Day seminars provide intensive training in "The Fundamentals of Brazing", covering the brazing of materials ranging from aluminum to titanium to ceramics! FIND OUT MORE
Dan Kay – Tel: (860) 651-5595 – Dan Kay operates his own brazing consulting/training company, and has been involved full-time in brazing for 40-years. Dan regularly consults in areas of vacuum and atmosphere brazing, as well as in torch (flame) and induction brazing. His brazing seminars, held a number of times each year help people learn how to apply the fundamentals of brazing to improve their productivity and lower their costs. Dan can be reached via e-mail at dan@kaybrazing.com, and his website can be visited at: http://www.kaybrazing.com/
To View a listing of all Dan's articles please click here
Read Dan Kay's Biography
© Copyright Dan Kay 2013