This question is one being asked in many brazing shops today, and the answer is a resounding "Yes!" — carbon-fiber reinforced carbon (C/C) fixtures are being used more and more frequently in brazing shops around the world due to their lightweight, high strength, and dimensional stability over a wide temperature range as compared to similar fixtures made from steel.
As shown in Fig. 1, carbon-fibers are long filaments made of carbon, that when blended/woven in a matrix of carbon, creates a reinforced carbon structure that is very strong, lightweight, and has some flexibility.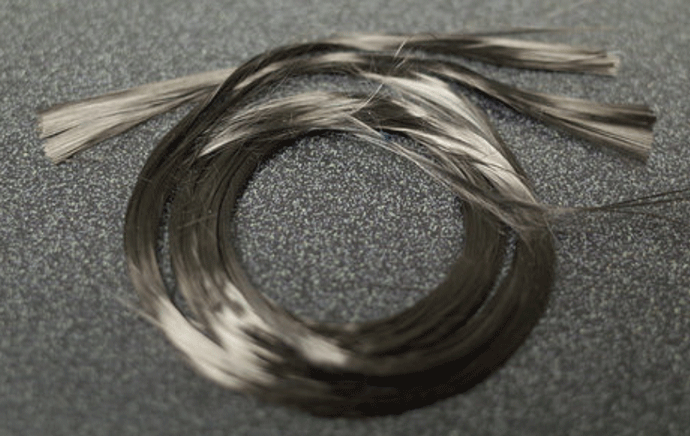 When woven into a carbon-fiber reinforced carbon structure, the material looks like that shown in Fig. 2, where the visible "weave" resulting from reinforcing carbon fibers is clearly evident. When such structures are stacked into a fixture for use in a brazing furnace, it would look similar to that shown in Fig. 3.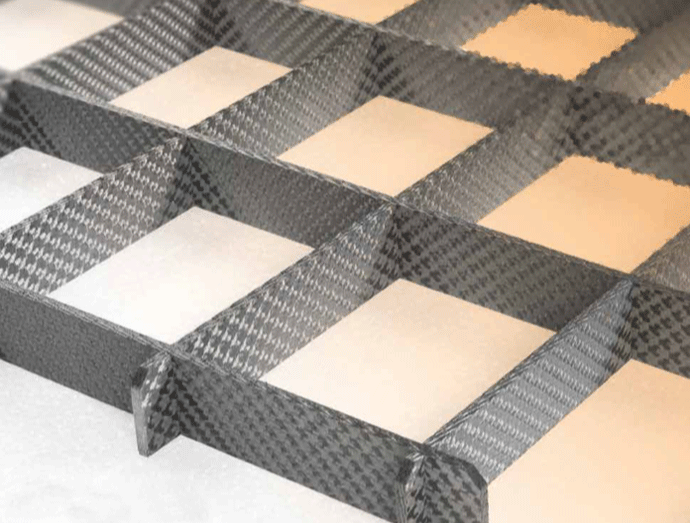 Can C/C fixturing be stacked?
Yes, as shown in Fig. 3, C/C fixtures come in a wide variety of sizes and shapes so that they can be stacked to provide several levels of fixturing on which to place multiple parts. But some people ask: "Are those grates strong?" The answer is again "yes". Consider the strength of equipment made from C/C material in daily life with which many of you may be familiar. Have any of you seen C/C material being used in tennis rackets or golf clubs? Both of these applications must absorb large amounts of shock and vibration and are very strong. In reality, this does, in fact, carry over into the high-temp regions of fixturing used in high-temperature brazing and heat-treating.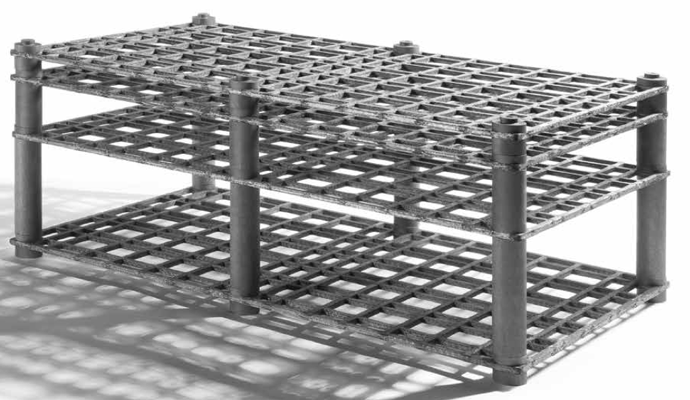 Weight Savings.
A major advantage of the C/C type fixturing is that it is much lighter in weight than a similar fixture made from steel. As shown in Fig. 4 and Fig. 5, the C/C fixture weighs less than 10% of the weight of the steel grate used for the same purpose. Such weight savings are HUGE when it comes to the cost of brazing operations because every pound (or kg) you put into a furnace cycle costs you money! There is NO free-ride, so to speak. Each pound/kg takes a lot of thermal energy (heat) to bring it up to brazing temp, which not only costs you a lot of money for that energy expended, but all that extra weight also mandates a longer amount of time for the entire brazing cycle in order to bring that extra thermal mass up to brazing temp. Tying up your furnace for longer cycle times is also another cost factor that must be considered.
Distortion Resistance.
As shown in Fig. 4, a typical steel fixture that was run through many thermal cycles over a long period of time shows significant distortion, whereas another fixture, shown in Fig. 5, made from C/C material, has remained distortion-free when thermal-cycled the same way.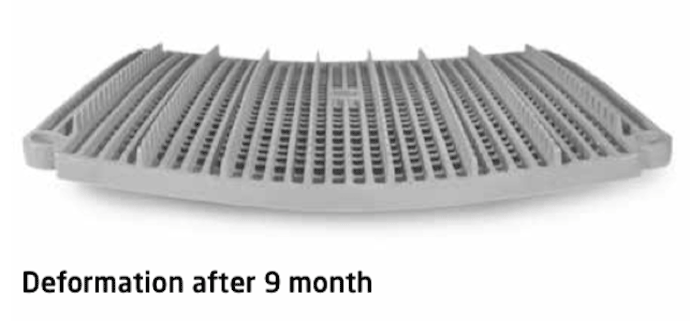 Are C/C fixtures fragile?
Yes! Be careful – although they are strong and have some degree of flexibility in their structure, they must be considered "fragile" from a handling point of view. It is important that shop personnel not handle these fixtures roughly, or throw them around, or bounce them onto the ground, etc. We have all seen this happen with regular metal fixtures, which can cause some distortion, bending, etc., but those can then be perhaps bent back into shape as needed. Not so with C/C fixtures. If they break or snap, they must be replaced, not merely bent back into shape!
Can C/C fixtures be used for spring-loading in furnaces?
One of the unique applications for C/C fixturing is when they are formed into springs, either round or flat, as shown in Fig. 6 and 7, to put increasing pressure on assemblies while they are being heated, so that a lot of "dead weight" fixturing is not needed.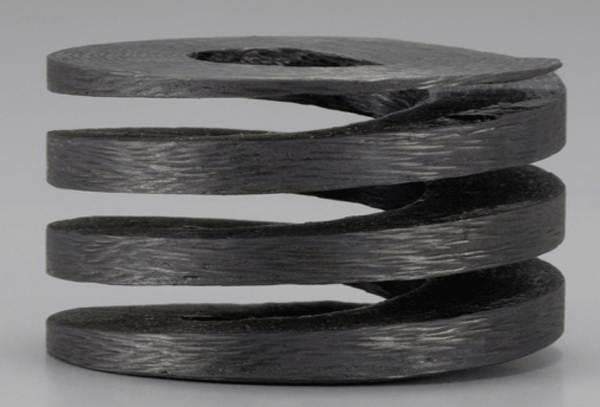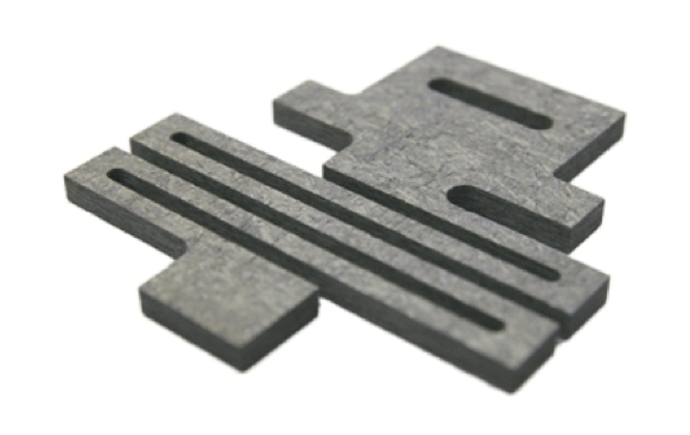 Shown in Fig. 8 is an example of a spring loaded fixture that will apply increasing pressure against the load in the center of the fixture during heating. Since graphite does not expand as rapidly as most metals, during the brazing cycle the metal assembly being brazed will grow. As it expands it will meet increasing resistance from the C/C fixture which isn't growing fast at all, thereby resulting in more and more pressure being applied to the assembly. In some cases the amount of pressure will cause deformation of some of the internal components in the assembly, thus assuring intimate contact between each of the internal surfaces that need to be brazed together. Aluminum heat exchangers are an example of this, in which the internal corrugations of fin-and-plate heat exchanger assemblies can be pressed together very well during heating, thus assuring good intimate contact between the many layers of the heat exchanger, and thus, excellent braze results.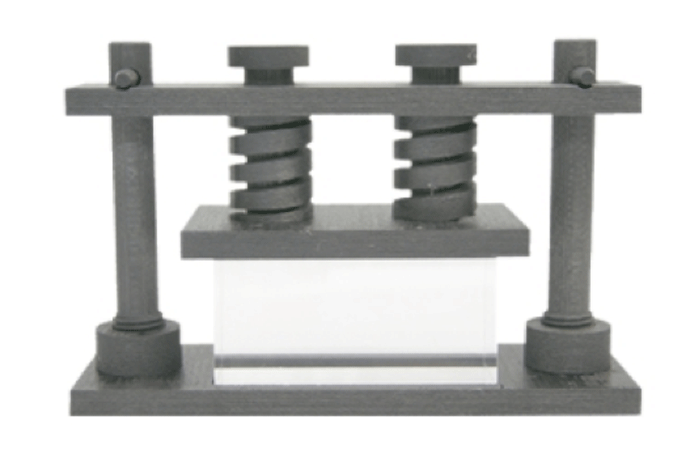 What happens if C/C fixtures contact the metal during brazing?
For some metals, direct contact between the C/C fixture and the metal being brazed is not acceptable. This is especially the case with stainless steels, in which contact with the C/C fixture (which is carbon) could result in large carbon-pickup by the stainless, which can cause two problems: (1) loss of corrosion resistance if the carbon from the fixture reacts with the chromium in the stainless to form chromium-carbides, which then migrate to the grain boundaries and this, in turn, robs the surface of needed chromium-oxide protection — this is discussed at length in another article I've written previously; and (2) if carbon infiltrates the stainless it is possible that the iron in the stainless steel can form low-melting eutectics with carbon, thus literally causing some portions of the base-metal assembly to sag or melt during brazing! Be careful of this!
Therefore, to prevent both of these problems from occurring, it is always wise to coat the C/C fixture with a stop-off material or lay a thin ceramic-fiber blanket on the C/C fixture, in order to eliminate the possibility of any contact between the fixture and the base-metal being brazed.
An example of a special ceramic insert that is laid in place on top of the C/C fixture legs is shown in Fig. 9, which helps to ensure non-contact between the fixture and the metals being brazed. This is very important that separation between those two be maintained.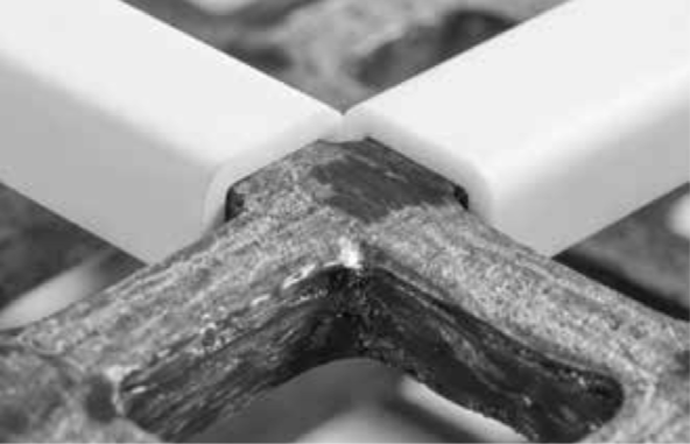 Conclusion
C/C fixturing is here to stay. It is a great product, just making its way into brazing production, and has a great future. Consider its benefits of strength, durability, light weight, and lack of distortion when you are designing fixtures for your brazing needs. You will be glad you did.
---
DAN KAY BRAZING-TRAINING SEMINARS: 3-Day seminars provide intensive training in "The Fundamentals of Brazing", covering the brazing of materials ranging from aluminum to titanium to ceramics! FIND OUT MORE
Dan Kay – Tel: (860) 651-5595 – Dan Kay operates his own brazing consulting/training company, and has been involved full-time in brazing for 46-years. Dan regularly consults in areas of vacuum and atmosphere brazing, as well as in torch (flame) and induction brazing. His brazing seminars, held a number of times each year help people learn how to apply the fundamentals of brazing to improve their productivity and lower their costs. Dan can be reached via e-mail at dan.kay@kaybrazing.com, and his website can be visited at http://www.kaybrazing.com/
To View a listing of all Dan's articles please click here
Read Dan Kay's Biography
© Copyright Dan Kay 2018