As shown in my last four articles, there are a number of very important steps that must be followed in order to ensure good brazing, as shown here once again in Table 1. We've looked at some proper design criteria for brazing, and the last three articles have covered some important aspects of cleanliness in brazing. In this current article, we will explore tumble-deburring as an excellent method to use to prepare surfaces prior to their being assembled for subsequent brazing, but with some strong precautions.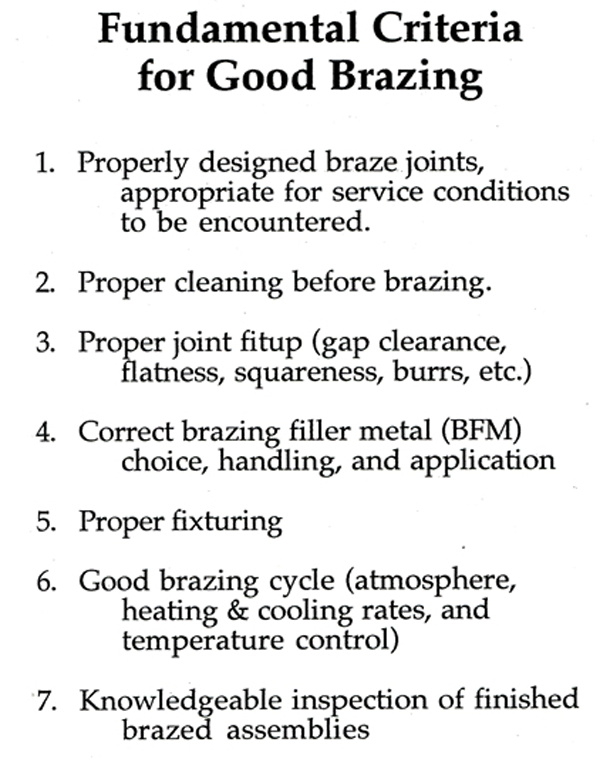 Tumble Deburring
Tumble-deburring surfaces involves placing a number of parts in a special container and then causing those parts to literally "tumble" many times onto each other, or within a special media (for gentler tumbling) so that any burrs on the edges of each part can be removed prior to those parts being subsequently assembled for brazing.
Tumble-deburring equipment usually is of two types, either a container that can be closed and then tumbled over and over on a rack such as shown in Fig. 1, or the deburring can be done in an open container (with rounded inner walls) which is then vibrated (agitated) causing the parts to move up the rounded walls of the container and then fall back into the tumbler, as shown in Fig. 2 through Fig. 4.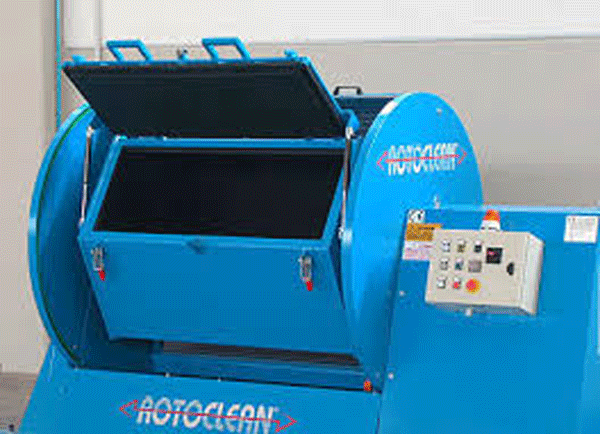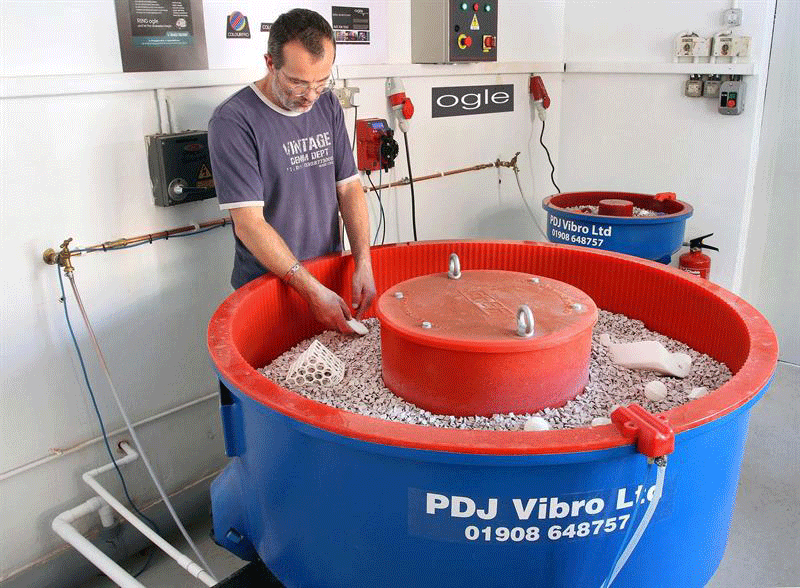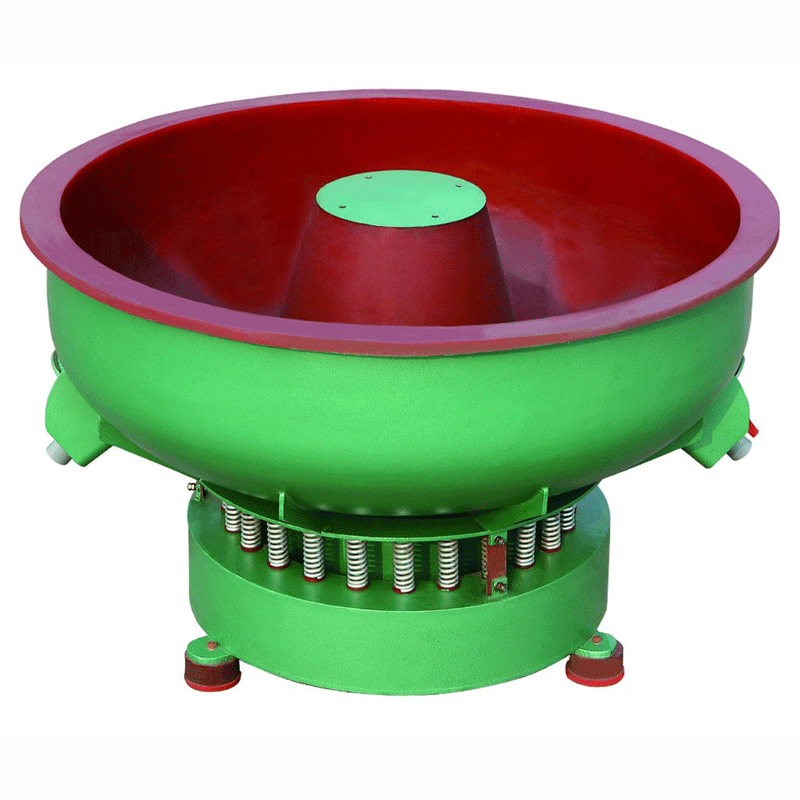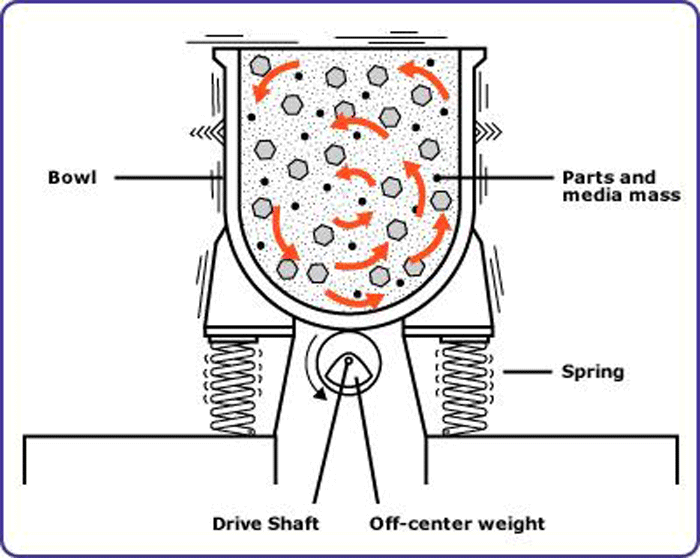 Tumble-deburring Media
Some commonly used tumbling media are:
1. aluminum-oxide cones
2. stones
3. corn cobs
4. walnut shells
5. metal spheres (e.g., stainless BB's)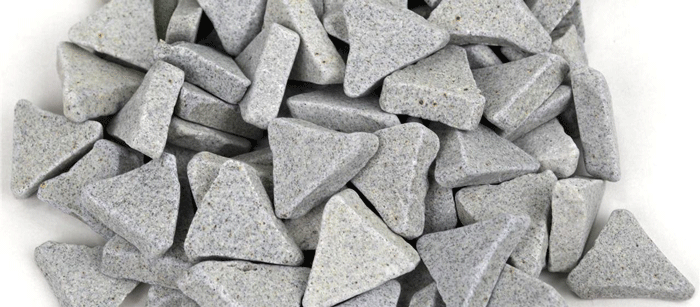 Shown in Fig. 5 are typical tumble-deburring stone-media, which can, and will, leave some residue on the surfaces of the parts being deburred.
The first four (4) mediums in the listing above can leave non-brazeable residue on the surface of the parts being deburred, and therefore should NOT be used as tumbling media for braze-prep. For tumbling parts as a braze-prep, I strongly recommend that you should use only metallic pieces, such as metal spheres (BB's), made from stainless steel, since any metallic residue from these stainless BB's can be readily brazed. See an example of this in Fig. 6. Some companies use manganese (Mn) spheres, which may be okay, but please be very careful about manganese, since it tends to latch onto, and hold onto, oxygen much more than regular stainless steel metal does. Manganese residues can, therefore, be more difficult to braze, and require a much better atmosphere (or vacuum) to work properly for brazing than standard grades of stainless steel.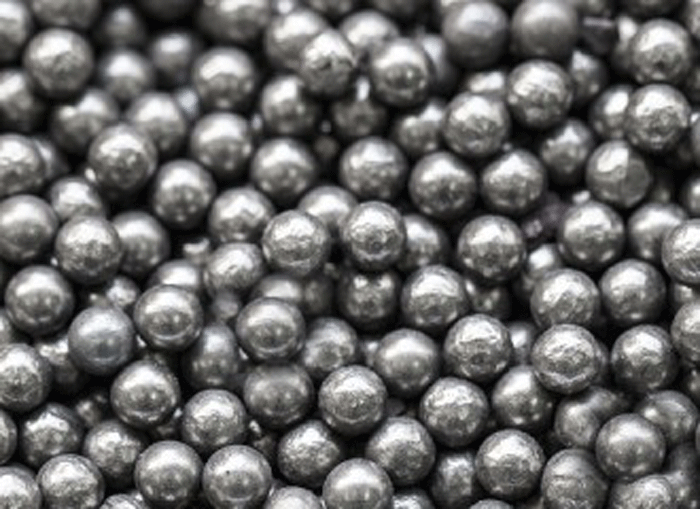 If you have any problems obtaining stainless steel BB's, then go to your local hardware store and buy some boxes of small stainless screws, which will work very well (or order it online).
CONCLUSION
Grit-blasting and tumble-deburring are two very effective methods by which metallic surfaces can be prepared for brazing, to remove surface oxides, and also to deburr part-edges. Because of the softness of aluminum parts, and many copper parts, these procedures may not be common for either of those two soft metals. But for steel parts, stainless, super-alloys, etc., these procedures are excellent and commonly used.
As discussed in this article, be careful that any non-metallic blasting grit or tumble-deburring media are NOT used, since they can leave a non-brazeable residue on the surface of the parts. Instead, use a stainless or nickel-alloy metallic grit when grit-blasting, and stainless spheres for tumbling.
Finally, remember that neither of these two processes is designed to remove oils and lubricants, which can only be done with effective degreasing solutions, prior to proceeding with any grit-blasting or tumble-deburr operations.
Next month we'll look at Item#3 in Table 1, namely, some thoughts about proper fit-up and gap-clearances for brazed components.
---
DAN KAY BRAZING SEMINARS: 3-Day seminars provide intensive training in "The Fundamentals of Brazing", covering the brazing of materials ranging from aluminum to titanium to ceramics! FIND OUT MORE
Dan Kay – Tel: 860-651-5595: – Dan Kay operates his own brazing consulting/training company, and has been involved full-time in brazing for more than 40-years. Dan regularly consults in areas of vacuum and atmosphere brazing, as well as in torch (flame) and induction brazing. His brazing seminars, held a number of times each year help people learn how to apply the fundamentals of brazing to improve their productivity and lower their costs. Contact information for Dan Kay (e-mail, phone, fax, etc.), can be found by visiting his company's website at: http://www.kaybrazing.com/
To View a listing of all Dan's articles please click here
Read Dan Kay's Biography
© Copyright Dan Kay 2016