It is very important that any company operating a brazing furnace (be it an atmosphere furnace or a vacuum furnace) should know how uniform the temperature is throughout their brazing furnace during the entire brazing cycle. This temperature uniformity is typically measured by placing a special test-rack into the furnace chamber, as shown in Fig. 1, to which thermocouples (TC's) are attached.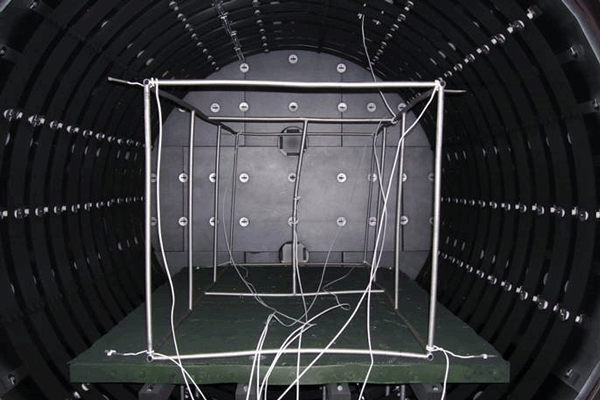 Accurately controlling temperature (and temp-uniformity) throughout a brazing cycle is essential, and you would think that anyone involved in operating brazing furnaces would not only understand this but would also take needed steps to ensure the accuracy and control of temperature throughout each of their brazing cycles. Surprisingly that is not always the case, as I have seen over the years.
To be able to accurately monitor (and then control) temperatures throughout the brazing process, I firmly believe that you must first know what you are starting with, i.e., you need to know how well your furnace can maintain uniform temperatures throughout your furnace chamber when it is empty, i.e., before you put any brazing-load into it at all; and then, you need to know how well your furnace can maintain that uniform temperature control (front to back, top to bottom) throughout the heating and cooling cycles that will be used in your brazing process.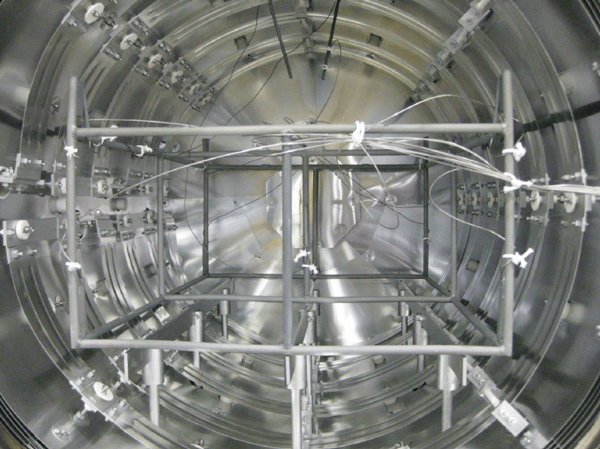 If you don't know what your furnace is capable of (i.e., how uniform in temp your brazing zones are) prior to putting any heavy brazing loads into the furnace, then you may have a hard time trying to control temperature-uniformity when the furnace is fully loaded with parts to be brazed!
A number of years ago I was discussing temperature-uniformity with the owner of a company who manufactured specialized vacuum-furnaces for brazing aluminum. He told me that their goal was to manufacture their furnaces in such a way that the brazing-chamber would be controllable to +/- 1°F front to back, and top to bottom, in the empty state, during a test cycle of heating/cooling. And because 1°F is smaller than 1°C, he was certainly setting a very high standard for his company! He truly understood that because brazing temps for aluminum were so very close to the melting points of many of the aluminum base metals that were being joined, he therefore needed to be sure that the expected temperature spread in a heavily-loaded vacuum-furnace hot zone needed to be kept within a very narrow tolerance band from the outside surfaces of the load to the center of the load being brazed. Thus, he built his furnaces to be able to maintain a very narrow, uniform temperature spread in the empty furnace chamber, which would then enable maintenance of closely controlled, uniform temperatures when using appropriate heating/cooling rates during the brazing of heavily loaded furnaces.
Obviously, maintaining a temperature control of +/- 1°F front to back, and top to bottom, in the empty state would be very difficult when you take into consideration the "stack-up of tolerances" that exists during each furnace run, including the furnace heating-equipment tolerances, thermocouple (TC) tolerances, the temperature monitoring/recording instrumentation tolerances, etc., to name just a few.
But, as mentioned earlier, I strongly believe it is essential to know what you are starting with, i.e., what kind of temperature uniformity your furnace is capable of in the "empty-state" (i.e., when there is no significant load in the furnace chamber) as determined by a Temperature Uniformity Survey (TUS) of your furnace chamber.
Figures 1 and 2 show lightweight tubular frame structures put together as TUS-fixtures, constructed so that thermocouples (TC's) can be attached to each of the corners of the TUS-fixture, as well as inside the frame near its center, etc. By using lightweight tubular TUS-fixtures, the very small amount of fixture-mass inside the chamber will minimize any temperature-distortion that might be caused in that zone due to the absorption of heat by large thermal-masses inside the chamber that could cause "cold spots" to be registered during heating, or "hot spots" to be registered during cooling.
By contrast, the TUS-fixture shown in Fig. 3, being much more massive than those shown in Fig. 1 or 2, can be an effective fixture to help develop optimal heating and cooling rates for a particular brazing process that might involve similar thermal-mass during a brazing cycle.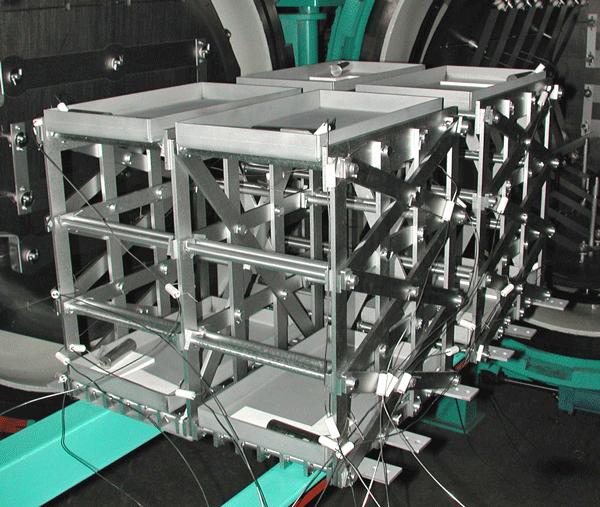 Indeed, due to its massive structure, it can quickly show large variations in temperature from an outside corner to the center of that fixture since it will take much longer for the heat to reach the center of that fixture than it does to reach (and heat up) each of the top outside corners. Thus this type of more massive TUS-fixture could be effectively used for developing optimal heating/cooling rates for a particular load.
Should TC's be placed on the surface, or buried inside fixture? It should be readily apparent, too, that a large difference in temperature can be expected if the TC's are attached to the outside surfaces of each of the TUS-fixture legs, or if any of the TC's are buried inside the tubular structure or buried in holes drilled into a heavy-metal leg of a fixture. For survey purposes, I would suggest that TC's be attached only to the outside surfaces of any TUS-fixturing.
CONCLUSION: My own recommendations then regarding TUS-fixturing is twofold:
Use very lightweight tubular stock (metal or carbon-fiber reinforced carbon) to determine temp-uniformity capabilities of your brazing furnace when it is empty (no load) so that you know what you are starting with.
Use heavy TUS-fixturing to develop appropriate heating and cooling rates for your actual brazing cycles, so as to keep the temperature fairly uniform during heat-up or cool-down of a heavy load, in order to prevent distortion of the load due to large temp-differentials that could occur within the heavy load if it is heated/cooled too rapidly.
---
DAN KAY BRAZING-TRAINING SEMINARS: 3-Day seminars provide intensive training in "The Fundamentals of Brazing", covering the brazing of materials ranging from aluminum to titanium to ceramics! FIND OUT MORE
Dan Kay – Tel: (860) 651-5595 – Dan Kay operates his own brazing consulting/training company, and has been involved full-time in brazing for 47-years. Dan regularly consults in areas of vacuum and atmosphere brazing, as well as in torch (flame) and induction brazing. His brazing seminars, held a number of times each year help people learn how to apply the fundamentals of brazing to improve their productivity and lower their costs. Dan can be reached via e-mail at dan.kay@kaybrazing.com, and his website can be visited at http://www.kaybrazing.com/
To View a listing of all Dan's articles please click here
Read Dan Kay's Biography
© Copyright Dan Kay 2019