We have a winner in the brazing-drawing challenge that I presented to you last month in this column. Congratulations to Peter Ditzel, Principal Engineer (M&P) at Parker Hannifin in Mentor, Ohio, who was the first respondent to find at least seven (7) brazing errors in the drawing as it relates to vacuum-brazing of aluminum alloys, and thus qualifies to receive a 10% discount on a registration for himself (or for a fellow employee there at Parker in Mentor, Ohio) to either one of my two upcoming 3-day brazing-training seminars in Spartanburg, SC (October 1-3) or in Simsbury, CT (Nov. 12-14, 2019). Congratulations, Peter! Please contact me at dan.kay@kaybrazing.com to take advantage of this discount for yourself or for a co-worker!
Fig. 1 shows the challenge-drawing once again. A friend of mine in the brazing world created this unusual brazing assembly-drawing as a "spoof" or "gag", and intentionally included at least seven (7) brazing "no-no's" (he actually put in more than that) based on what he himself had learned during a seminar that he attended earlier that year. He sent this "gag" assembly-drawing to me, humorously suggesting it might be a tool that I could use in my teaching to help other people learn what they should NOT do when vacuum-brazing aluminum alloys!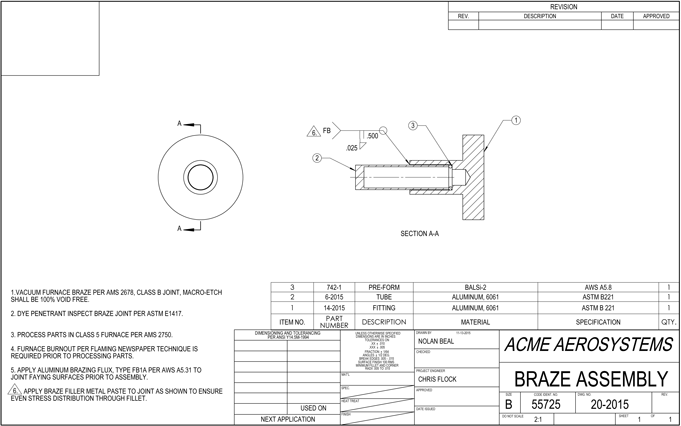 Please realize that this contest was ONLY related to brazing. Some readers responded with critiques re how the drawing was made or laid-out, a potential violation here or there of current drafting principles, etc., which was not at all the point of this exercise. The contest was only about proper methods of brazing, about how to properly specify on drawings items related to brazing-design, brazing filler metal (BFM) application, capillary action, etc., and specifically how those items applied to the vacuum brazing of aluminum alloys.
So let's look at the drawing once again, and discuss some of the errors shown on that drawing. There are at least seven (7), and actually a few more! The following list is not in any particular order:
Starting with the first drawing note, here's my list of brazing-mistakes found in the drawing:
1. Brazed joint shall be 100% void-free (Note 1 on drawing).
Violation#1 — There is no such thing as a "100% void-free" brazed joint when dealing with the production world of brazing! Even under lab-conditions, there will always be some voids in a brazed joint, tiny though they may be. These come from outgassing (contaminants in the joint, or base-metals volatilizing under vacuum conditions, etc.), or perhaps from trapped atmosphere gases not fully evacuated during vacuum brazing.
2. Dye-penetrant inspect braze joint (Note 2).
Violation#2 — It is NOT recommended that dye-penetrant ever be used for inspection of brazed joints since the dye-penetrant cannot be effectively removed from a crack or imperfection found in the joint. In the welding world, dye-penetrant is not a problem because any cracks that are found in a weld by this technique are completely removed by grinding. The grinding process not only removes the crack but also all of the dye-penetrant. Such grinding is never practiced in brazing, and thus significant amounts of the dye-penetrant would be left in the crack or joint-imperfection, thus preventing any successful re-braze of the joint. If there is any desire to find and repair any braze-joint cracks/imperfections, then dye-penetrant is NOT the way to achieve this. People have used dye-penetrant inspection as an accept/reject criterion for some brazed parts in which any "positive" indication from such inspection results in the immediate rejection/scrapping of the part in question since effective braze-repair cannot be done.
3. Braze this part as an AMS 2750 "Class 5" furnace braze (Note 3).
Violation#3 — The AMS 2750 Pyrometry specification can be used for all types of vacuum furnace brazing and does offer temperature-control options from extremely tight control (Class 1) to very loose temp-control (Class 6), as shown in Table 1. When brazing aluminum, the actual brazing temperatures required are often literally within a few degrees of the melting point of the base metals being joined, and therefore the furnace must be capable of very tight temperature control, such as that shown in Class 1 (or class 2 at worst). No one should ever attempt to braze aluminum in a Class 5 type furnace since uncontrolled melting of the base metals being joined could often result.

4. Use "Flaming Newspaper" technique for cleaning furnace (Note 4).
Violation#4 — The flaming-newspaper technique has indeed been used to help clean out magnesium from the inner walls of vacuum furnaces used for aluminum brazing, but is extremely dangerous, and, in my firm opinion, should NEVER be used!
Magnesium is a stronger "getter" of oxygen than aluminum and is therefore added into the aluminum brazing process as part of the chemistry of either the brazing filler metal (BFM), or the base-metal. It can also be added as mag-chips in a little container placed in the furnace, too.
Because aluminum alloys always have a thin aluminum-oxide layer on its surface, magnesium is added to the furnace process to take advantage of the expansion differences between aluminum and the slow-growing oxide layer on its surface. During furnace heating, the aluminum-alloy base-metal will expand much faster than the aluminum-oxide coating on its surface. This will cause the oxide layer to break up during heating, opening up many tiny cracks in the oxide surface, exposing pure, clean aluminum below that oxide layer for the molten brazing filler metal (BFM) to bond with. However, oxygen (that is always present to some extent in any vacuum furnace atmosphere) will try to quickly "heal" those cracks by trying to form more aluminum-oxide to close-up those cracks. But the magnesium that is present will latch onto the oxygen first (thus forming mag-oxide which can condense on the colder inner walls of the vacuum furnace) thus preventing the oxygen from bonding/healing the aluminum oxide layer on the aluminum assemblies being brazed.
But, this condensed magnesium and mag-oxide layer buildup on the furnace walls is not good and must be removed. Remember that magnesium is highly pyrophoric— it's the stuff that rocket engines use! Thus it can be easily ignited by a spark or a flame and can aggressively burn in an explosive manner instantaneously!
Therefore, rolling up a newspaper into a tight roll and then burning the end of it to form a torch to throw into the furnace to burn off the magnesium is NOT a safe practice, and is therefore frowned on greatly!
Instead, coat the walls of the furnace with a special high-temp coating from which the condensing mag-oxide layer can be easily removed using a plastic scraper or other non-metallic scrapers.
5. Applying flux to parts prior to vacuum brazing (Note 5).
Violation#5 — A flux should NEVER be used in a vacuum furnace. PERIOD! A brazing flux should only be used to protect surfaces from oxidation during torch-brazing or induction-brazing out in open air. The chemistry of the flux is such that it will readily and rapidly react with oxygen around the parts being brazed in order to protect the parts from oxidation. Additionally, since many of the aluminum fluxes contain chlorides or fluorides (strongly acidic), these acidic-fluxes could turn to highly erosive gases at brazing temp that could aggressively corrode/erode the metal structures in the vacuum chamber itself. Even the so-called "non-corrosive" Nokolok-type fluxes could still create residues that will contaminate and build-up in the pumps and pipe-lines throughout the vacuum system, affecting their performance, and creating a clean-up nightmare. Obviously flux would also leave a surface residue on the parts being brazed that would strongly detract from its appearance.
It's VERY important to remember that the vacuum in the furnace is supposed to be sufficient all by itself to prevent any damaging surface oxidation. A rule of brazing: Never, EVER, use flux in a vacuum furnace!
6. Apply extra brazing paste on the outside of the joint (Note 6).
Violation#6 — Do not apply brazing filler metal (BFM) at each end of the joint to be brazed. Note from the drawing that there is already a round, preform ring of BFM inside the joint. By putting paste on the outside of the joint, it is quite possible to trap air in the joint to form a large void as molten BFM tries to enter the joint from each end! Rule of brazing: Feed the BFM from one side of the joint only, and inspect the joint at the other end to verify that the BFM has flowed through the joint completely and reached that opposite end!
Violation#7 — Do not use braze-fillets for stress-relief! Some designers have told me that they add large braze-fillets in sharp corners so that the braze fillet will help to spread the stresses that can build up in those sharp corners. WRONG! Braze fillets are castings and are often filled with casting imperfections. The larger the fillet, the more potential imperfections in those fillets that can be become stress-raisers rather than relievers. A rule of brazing should ALWAYS be to try to keep the fillets as small as possible. It is the job of the designer, NOT the fillet, to properly design a joint so that the edge of the joint does not become a stress-concentration spot to the extent that crack-initiation can begin at that point. Thus, it is wise for designers to slope/contour the edge of a joint, rather than have sharp corners, as shown in Fig. 2a and 2b.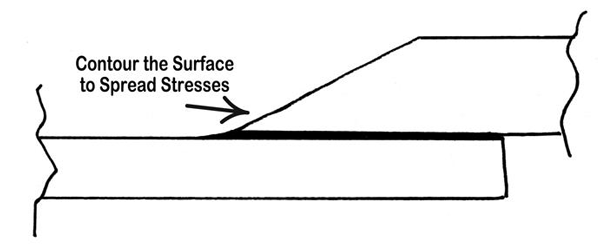 7. Do not EVER put dimensions on a braze fillet! (See Section A-A on drawing).
Violation#8 — The "welding fillet symbol" is used here to specify the size of a brazing fillet, which is unrealistic, since brazing fillets are a completely non-controlled part of a brazing process (especially so in a furnace braze), and can easily get a brazing shop into trouble due to non-compliance. I've done lots of braze-auditing over the years, and I smile when I ask quality-control personnel to show me the tools they use to measure the fillet size of each joint on the parts, etc. I've never found a shop that actually complies with such a drawing requirement, and if it is on the drawing, it is usually ignored. If you are a designer, NEVER put dimensions on a braze fillet.
Violation#9 — The "weld all-around" circle shown at the bend in the arrow should not be used when brazing. Obviously, in the welding world, that circle tells you that either the welder (person) or the welding-equipment must go completely around the joint to make a full, circular weld. In brazing that is not needed, since capillary action will take the molten BFM completely around and through the joint. Thus, the circle should not be shown on the bend in the arrow. Fig. 3 illustrates this correctly.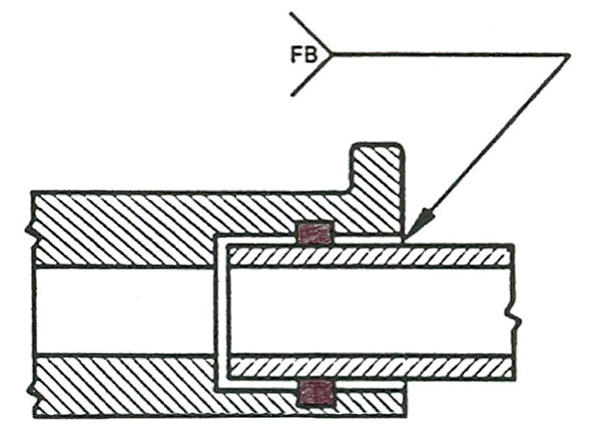 8. Use the correct BFM for the base metal being brazed. (Drawing callout, Item#3).
Violation#10 – Don't use BAlSi-2 for 6061. Notice that Item No. 3 in the boxes shown on the right side of the Challenge Drawing specifies the use of BAlSi-2 for brazing the 6061 parts. BAlSi-2 is not recommended for brazing 6061 aluminum because that BFM melts/flows at too high a temp for this application. BAlSi-2 has a solidus temp (begins to melt) at 1070F (577C) and a liquidus temp of 1135F (613C). 6061 has a solidus (depending on the info source) that ranges anywhere from a low of 1080F (582C) to as high as 1140F (615C). Thus, the BFM becomes fully liquid at the same temp where the 6061 itself is about to start melting. That's much too close for comfort! Look at the chart in Figure 4. Seeing the info for 6061 on the left side of that chart, what BFM on the right side of that chart do YOU think would be most appropriate for brazing 6061? Which one are YOU using at the present time? Why?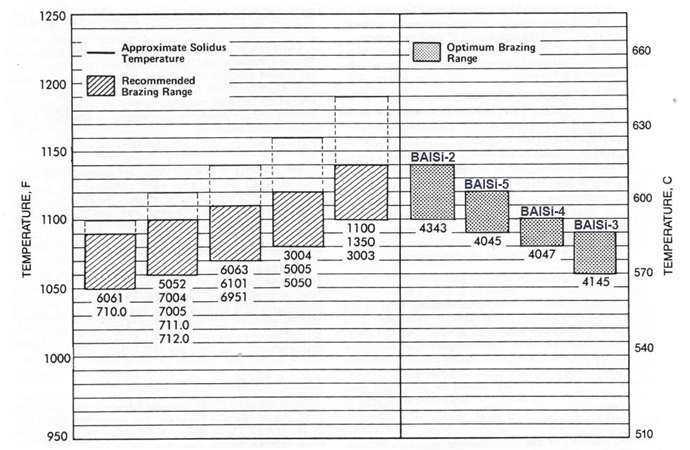 The form of BFM used in vacuum brazing of aluminum is not that critical. You can quite successfully use paste, solid-metal preform rings, sheets, clad-sheet, etc. when vacuum brazing aluminum. Obviously, with paste BFMs the binders must be completely volatilized during brazing so as not to leave any residues. But please know that all these different forms of BFM can work very well in a vacuum brazing environment. The choice is yours.
IMPORTANT: The shaded area on the left side of Table 2 shows recommended temps for brazing a specific aluminum alloy, whereas the shaded areas on the right show suggested, optimal brazing temp-ranges for a particular BFM. Try to match appropriate "ranges" on the left with those on the right. Based on what you see in the chart — which BAlSi-alloy would you recommend for brazing 6061?
Violation#11 – Aluminum tube joint-length is too long for BFM flow. Remember the brazing rule specified in "Violation#6 that states that you should feed the BFM from one end of the joint and inspect the joint at the other end, thus requiring the BFM to flow through the entire length of the joint to ensure its completeness. But aluminum-based BFMs don't really flow long distances through brazed joints, but instead, prefer to quickly alloy with the base metal, thus limiting capillary flow through the joint. Some of you may recall from my seminars that instead of designing joint lengths of about 3T-to-6T (where T is the thickness of the thinner of the two members being joined) which applies to most metals, aluminum is different due to the extreme reactivity of the aluminum BFM and base metal due to their closeness in melting temps. Thus, for an aluminum joint design we recommend an overlap of only about 1-3T instead. Notice that the length of the joint (0.500" +/- 0.005") is far more than the recommended 1-3T joint-overlap for aluminum tubing, and thus, it may be very difficult for the BFM-ring at the right side of the joint to melt and flow out all the way to the left side of the joint. If there were an end-use service condition that required such a long joint for the stability of the tube in the fitting, then brazing the full length of the joint may be incomplete.
OTHER THOUGHTS/IDEAS TO IMPROVE THE DRAWING:
1. Machine a tubular extension. It would probably have been wiser to merely machine a long tubular extension as part of the base (and then braze a cap on it), rather than brazing that long hollow cylinder into the fitting. A small BFM ring could then have been placed on top of that tubular extension to braze a cap on the end, which would have allowed the 1-3T guideline to be easily met, and would have easily sealed the top of the tube, as needed.
Although not specified on the drawing, it would be assumed that the assembly would be furnace brazed in the vertical position, making such a braze quite simple.
2. Lack of a vent-hole in joint. As metals are heated during brazing, the metals expand, and so does any trapped air inside the assembly. In vacuum brazing, the expanding air inside a system is usually able to escape from the inner areas, either through the joint clearance-gaps or through the metal walls of the parts that make up the assembly. We have seen this happen in vacuum brazing applications as well as in atmosphere furnace brazing. At brazing temp, the atoms of the metals have usually opened up enough so that the air-atoms trapped in the assembly can literally make their way out of the assembly through the wide-open lattice-structure of the metal at brazing temp since the atoms in air (oxygen, nitrogen, etc.) are so tiny.
IMPORTANT NOTE: Lack of vent-hole IS very important, however, in torch and induction brazing, especially when flux is used, but is not nearly as critical in most vacuum brazing applications, depending on the heating rate used! If heated too rapidly, trapped air might expand fast enough to disturb part fit-up. But, with slow heating, the air can usually escape without any real issues. If you feel this may be a problem, then put a vent-hole in your product design to prevent trapped air problems.
3. Gap clearance not specified. It is not the purpose of the drawing to go into detail on all of the sizes and dimensions of each of the parts. The drawing was only intended to include items that demonstrated brazing errors in design or brazing-procedures. Obviously, gap dimensions would need to be shown on the drawing.
4. AMS 2678. Does this spec have a Class B? What does the spec say re voids in the joint?
CONCLUSION. So there you have it! I've shown you eleven (11) items on the Challenge-Drawing that are not good from a brazing perspective. I hope many of you found the drawing an interesting challenge. Feel free to contact me and let me know your further thoughts about what you found on the drawing.
---
DAN KAY BRAZING-TRAINING SEMINARS: 3-Day seminars provide intensive training in "The Fundamentals of Brazing", covering the brazing of materials ranging from aluminum to titanium to ceramics! FIND OUT MORE
Dan Kay – Tel: (860) 651-5595 – Dan Kay operates his own brazing consulting/training company, and has been involved full-time in brazing for 47-years. Dan regularly consults in areas of vacuum and atmosphere brazing, as well as in torch (flame) and induction brazing. His brazing seminars, held a number of times each year help people learn how to apply the fundamentals of brazing to improve their productivity and lower their costs. Dan can be reached via e-mail at dan.kay@kaybrazing.com, and his website can be visited at http://www.kaybrazing.com/
To view a listing of all Dan's articles please click here
Read Dan Kay's Biography
© Copyright Dan Kay 2019