Earlier this year, I wrote an article on this website about the use of Zinc (Zn) in brazing, and strongly warned readers to never vacuum-braze any metals/alloys that contained any Zn in their chemistry or if they had Zn-plating on their surface. The same warnings apply to Cadmium (Cd).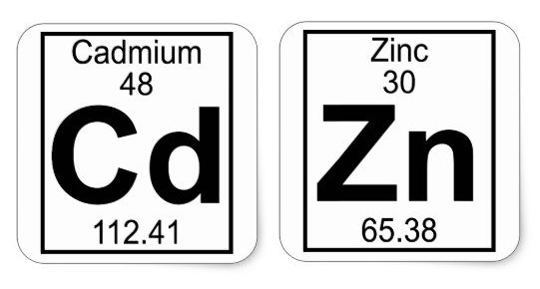 Zn and Cd are added to some brazing filler metals (BFMs) to help lower the melting point of those particular BFMs. Both Zn and Cd are very effective "temperature-depressants", i.e., they significantly lower the melting temp of any silver-based BFMs into which they are added, and they also help those BFMs to "wet" (i.e., to diffuse into and spread out over) the clean base-metal surfaces that are being brazed. Thus, both of these elements began being added to silver-based BFMs early in the last century in order to enable low-temp torch-brazing (flame-brazing) that was not only easy to perform but produced high-quality joints. This is still the case today. However, both Zn and Cd are highly volatile, and can easily outgas from BFMs when heated. This must be clearly understood when considering which brazing methods to use for such BFMs so that the resulting brazed joints will be properly made.
Examples of Zn/Cd containing BFMs.
The American Welding Society (AWS) has published a brazing filler metal (BFM) specification, AWS A5.8, that lists many of the BFMs commonly being used today, and which also includes a lot of information about the composition of those BFMs along with numerous guidelines for their proper use. A few examples of such BFMs (classified as BAg-1 through BAg-8a, are shown in Table 1.

Notice in Table 1 how much Zinc (Zn) and Cadmium (Cd) are contained in those brazing filler metals (BFMs). In some cases, the Zn and Cd account for more than 50% of the total chemistry of that particular BFM, such as in BAg-5.
Cd use in brazing and other industries today.
Cd is primarily obtained as a byproduct when mining zinc ores. Besides its use in brazing, Cd has been widely used in many industrial applications, such as in Nickel-Cadmium (Ni-Cd) batteries, and in solar-panels. However, the use of cadmium has been decreasing significantly amongst European Union (EU) member nations, where the "Restriction of Hazardous Substances" (RoHS) Directive, which originally took effect in July 2006, has severely restricted the use of a number of substances, including cadmium. As a result, the European brazing industry has essentially abandoned the use of any BFMs that contain cadmium (Cd), as shown in Fig. 1, which (in my opinion) is very unfortunate, since Cd-containing BFMs have unique characteristics for lowering the brazing-temp and increasing the fluidity and wetting characteristics of those BFMs that cannot be truly reproduced by replacing the Cd with any other metallic element.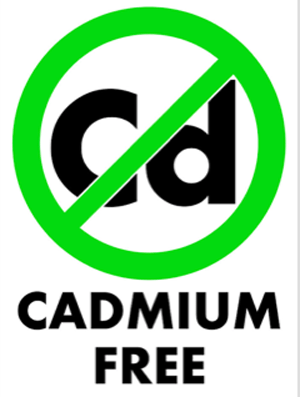 Are Zn and Cd harmful to humans?
Extensive biological lab-testing in Europe and the US with rats has shown that Cd can be carcinogenic, and potentially deadly when breathed in, or when found in large concentrations in the food those test animals ate. But I have never found the slightest bit of actual data to show that either Zn or Cd is dangerous if found in any of the products we physically touch (use and handle) in our daily lives. I have known people who are afraid to even touch products containing these elements because of the EU's RoHS-Directive and laws similar to it, thinking that skin contact with such materials is dangerous. Such rumors are totally false and misleading. The only reason why warnings are made about items containing such elements is because of soil-contamination issues that might occur when such products are disposed of, which might then affect groundwater, etc., and thus get into the human body via the water or the food grown in those regions, etc.. However, please understand that it would take a huge amount of such contamination to actually affect peoples' health in those areas. Please understand, too, that the greater risk is in Zn and Cd fumes, which are not good to breathe at all, and should thus be avoided via appropriation ventilation.
Zinc (Zn), however, although dangerous to breathe, is (for some reason) apparently not one of the dangerous metals listed in the EU's RoHS-directive, even though Zn can, like other easily-volatilized metals, be dangerous to human health when found in heavy concentrations in the air being breathed.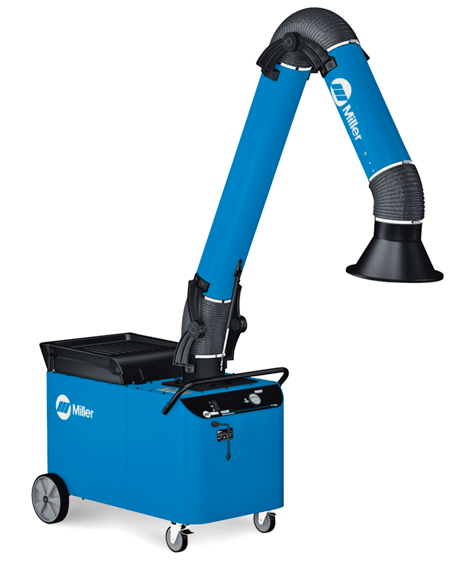 Thus, appropriate fume-extraction equipment, such as that shown in Fig. 2, is essential when torch-brazing in areas where volatile BFM fumes can accumulate in a worker's breathing zone.
High Vapor Pressure Metals.
As discussed in my article earlier this year about the outgassing-problem of Zinc (Zn) in a brazing furnace, Cadmium (Cd), too, will easily outgas when heated by torch or in any type of brazing furnace, since Zn and Cd are both "high vapor pressure" metals (i.e., easily volatilized when heated), and those noxious fumes should not be allowed to be breathed-in by torch-brazers and other workers. An old, but interesting drawing illustrating the potential danger of breathing such fumes is shown in Fig. 3.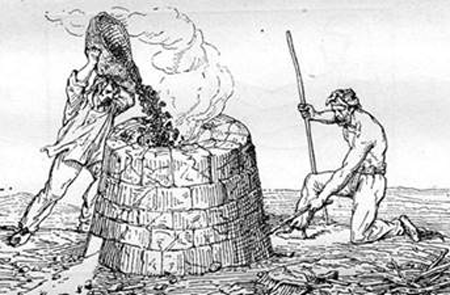 Thus, whenever heating high-vapor-pressure metals today in air with a torch, personal breathing protection is required to protect workers from breathing such fumes! Such protection can be provided by fume-extractors, such as that shown earlier in Fig. 2, or by exhaust-hoods located on shop walls, or via respirators, etc., or by the use of fans blowing the fumes away from a worker's immediate breathing zone when brazing in very large open spaces.
Increased void content in brazed-joints?
Because Zn and Cd will readily outgas when heated to brazing temperatures, this outgassing can potentially result in an increased number of voids (bubbles) in the joint if the joint is not brazed properly. There is, unfortunately, some erroneous information floating around in the brazing industry claiming that the use of any Cd-containing BFMs will always result in poor quality joints containing lots of voids. That is completely and totally false! Such problems would only occur if someone did not know how to properly torch-braze and grossly overheated a brazed joint with their brazing-torch. Proper torch-brazing of Zn/Cd-containing BFMs can actually make torch-brazing a lot easier and more effective since such BFMs can be brazed at lower temperatures, and have greater ability to wet the base metals being brazed than many other BFMs! Period! I've torch-brazed with many Zn/Cd-containing BFMs for many decades with NO problems whatsoever either to the parts being brazed or to myself!
CONCLUSIONS:
Never furnace-braze any metals (base-metals or BFMs) that contain any Zn or Cd — since Zn and Cd, being high-vapor-pressure metals, will readily outgas when being heated in a furnace, even if the furnace uses a gaseous atmosphere. Therefore, furnace brazing is NEVER recommended when using any BFMs containing Zn or Cd! If any BFM contains Zn or CD, such BFMs should ONLY be brazed out in open air, using a torch or induction setup (manual or automated), using flux to prevent oxidation of the parts, and with proper breathing-protection being provided to the brazers. Additionally, when such torch/induction brazing is done correctly by knowledgeable brazers who truly know and understand how to torch-braze using BFMs containing Zn and Cd, the brazed-joints created by those brazers will be of high quality with very few voids in them, will be strong and ductile, and easily meet the end-use service conditions of the assemblies being brazed. I still strongly recommend the use of Cd-containing BFMs for torch brazing, as I do for Zn-containing BFMs.
---
DAN KAY BRAZING-TRAINING SEMINARS: 3-Day seminars provide intensive training in "The Fundamentals of Brazing", covering the brazing of materials ranging from aluminum to titanium to ceramics! FIND OUT MORE
Dan Kay – Tel: (860) 651-5595 – Dan Kay operates his own brazing consulting/training company, and has been involved full-time in brazing for 47-years. Dan regularly consults in areas of vacuum and atmosphere brazing, as well as in torch (flame) and induction brazing. His brazing seminars, held a number of times each year help people learn how to apply the fundamentals of brazing to improve their productivity and lower their costs. Dan can be reached via e-mail at dan.kay@kaybrazing.com, and his website can be visited at http://www.kaybrazing.com/
To view a listing of all Dan's articles please click here
Read Dan Kay's Biography
© Copyright Dan Kay 2019