We look now at the third of the seven important criteria that should be followed in order to insure good brazing, namely, the importance of good gap clearance (joint fit-up). We'll see how reasonably tight joint clearances can significantly improve overall joint quality, whereas poor fit-up often yields poor brazing results (which could then hurt the reputation of the company doing the brazing.)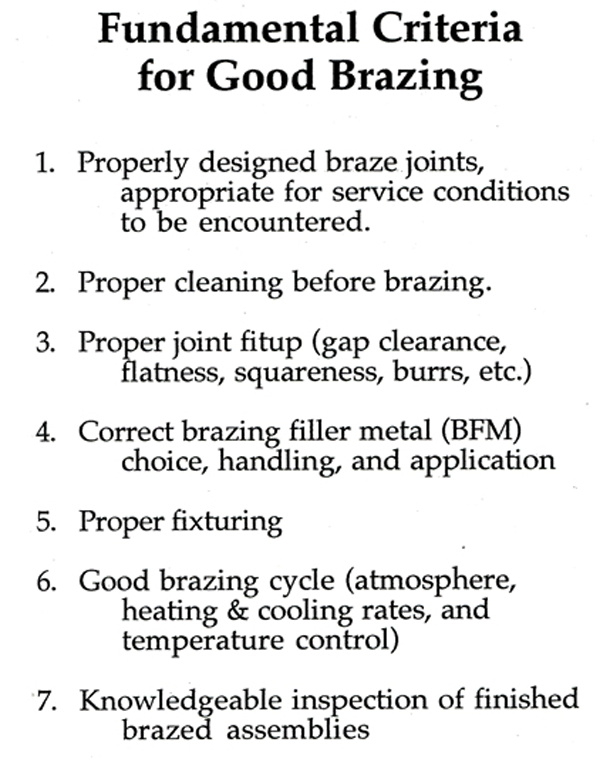 Gap Clearance
The "gap clearance" (joint fit-up), shown as the third very important brazing consideration in Table 1, is defined as the distance between the mating (faying) surfaces inside the joint. As has been mentioned in previous articles, all the "goodness" of a brazed joint actually comes from what goes on inside the joint being brazed, i.e., between the faying surfaces inside the joint, as shown in Fig. 1.

Those surfaces inside the joint (the faying surfaces) must be clean (free from any oil, dirt, grease, lubricants, or oxides), they should be parallel, and the gap between them needs to be kept quite close, i.e., tight. When that is done properly, as shown in Fig. 2, a beautiful brazed joint will result.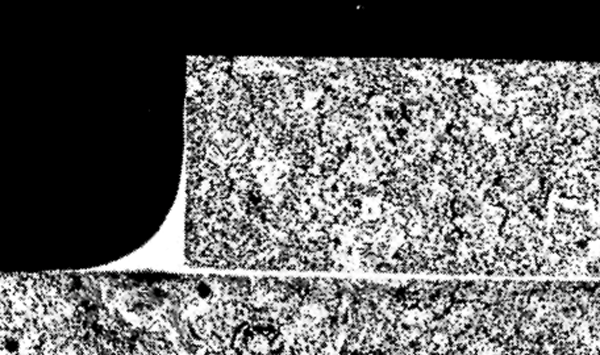 By comparison, look at the photo in Fig. 3, showing what can happen when the gap between the faying surfaces is poor. Note the voids and lack-of-fill that can result from such a situation.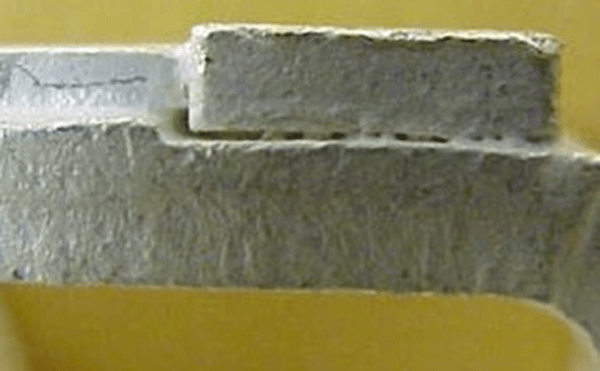 "Squareness" of butt-joint surfaces
Fig. 4 shows, in the upper left drawing, that if the brazed joint is to be one where the ends of the parts are to be butted-up against each other to form the joint that is going to be brazed, then those ends need to be square to provide as much faying surface inside the joint as possible. As can be readily seen in the drawing at the top right of Fig. 4, if the edges of the mating surfaces are rounded too much, or chamfered excessively in a deburring process, then the faying surfaces can be significantly reduced in size, thereby negatively affecting joint goodness/strength. Additionally, the surfaces inside a butt-joint should be close and parallel. Only then can a strong butt-joint be successfully produced.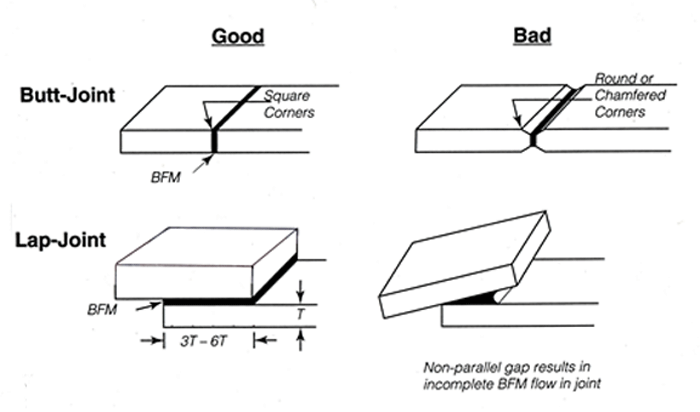 Once again, it is very important to remind the readers that all joint faying-surfaces need to be as parallel as possible (as shown in the lower left drawing for a lap-joint in Fig. 4). If the joint surfaces are not parallel, as shown in the extreme example in the lower right drawing in Fig. 4, then the brazing filler metal (BFM) may not be able to fill the joint at all, and then multiple braze runs may be required in order to "cast" enough BFM into the joint until it can be successfully filled. Good braze design and fit-up should allow the braze-joint to be completely filled the first time through the furnace.
Table 2 gives the recommendations for gap clearances at brazing temperature for each of the commonly used brazing filler metals (BFMs).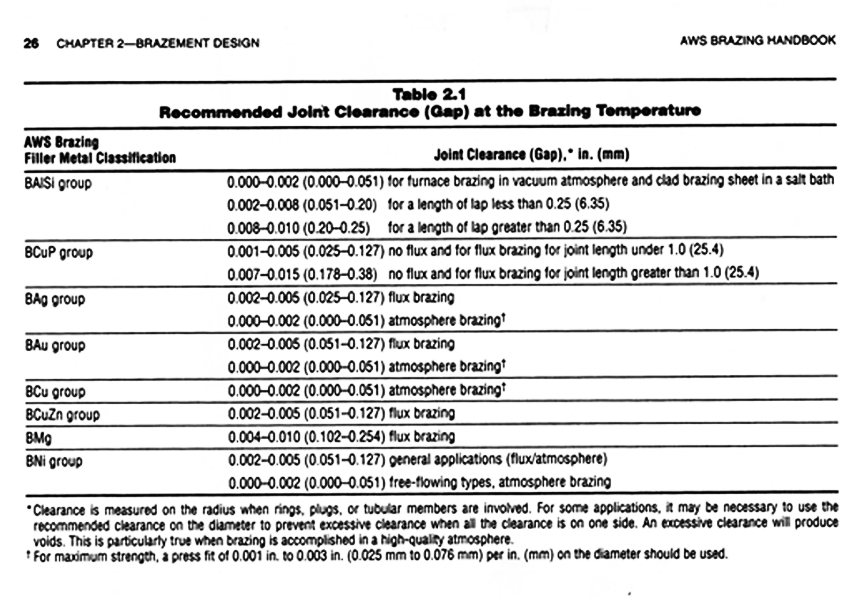 The reason why the gap clearances shown are those at brazing temp is because that is when the BFM is molten (liquid) and can flow into and through the joint by capillary action.
It is quite possible that room-temp clearances may need to be quite different (either tighter or looser) from those at brazing temp, to take into account the expansion of the base metals being joined, especially if the two mating parts are made from different metals. It is also possible that different mass of the same metal may similarly require a different room temperature clearance than that at brazing temp, to take into account the slower growth of heavier masses than a very light-weight mass of the same base-metal composition. It is very important, therefore, to NEVER assume that room temperature clearances are going to be perfectly fine for all your brazing needs! This topic of metal-expansion has been covered in previous articles.
Once again, looking at Table 2, it can be seen that when brazing in a furnace atmosphere, the suggested gap clearances at brazing temp for all metals are quite tight, i.e., typically about 0.000-0.002" (0.00-0.05 mm). The "zero clearance" (0.000") shown literally means metal-to-metal contact. Due to the normal surface roughness of the as-received metal (or as-machined, as-drawn, etc.), there will be enough "peaks and valleys" in each metal surface to allow molten BFM to flow between those mating surfaces, as shown in Fig. 5.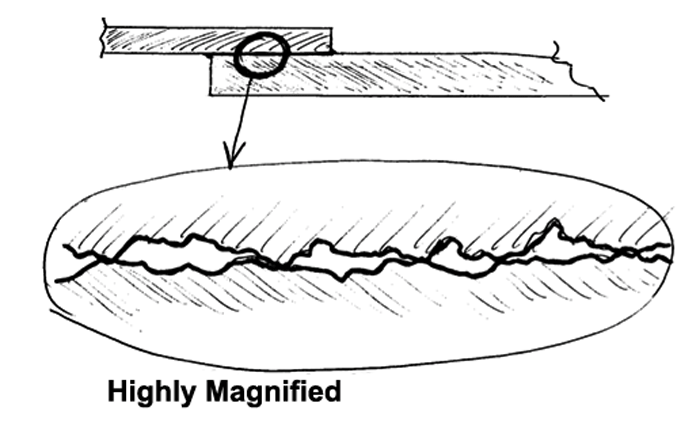 Once again, please note that the gap clearances shown in Table 2 are suggestions, not absolute requirements. Please note, too, that when flux is used in a brazing operation (such as torch-brazing or induction brazing in air), then additional gap-clearance is needed inside the joint to allow the very viscous brazing flux to flow between the mating surfaces of the joint and then be pushed out by the molten BFM.
Is a tighter gap desirable?
It has been shown in some of my previous articles that one of the clear benefits of tighter joint fit-ups is an increase in the joint (BFM) strength, both in tension and in shear, as the gap clearance gets tighter and tighter, as shown in Figures 6 and 7.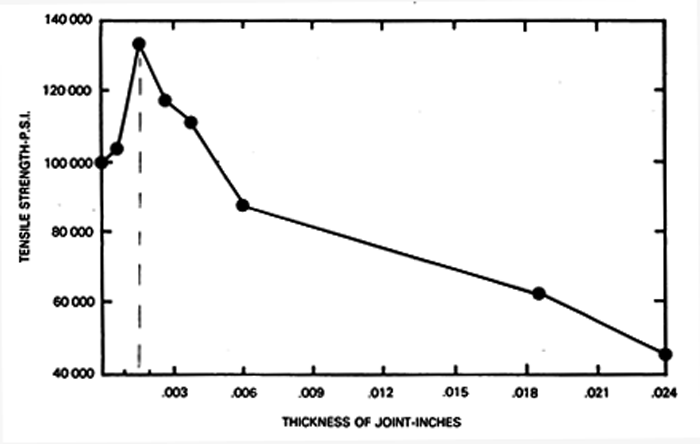 It should be noted (as discussed in a previous article) that the fall-off in strength shown below 0.0015" (0.040 mm) in Fig. 6 was only because of trapped flux in the torch brazed joints used in creating the data for Fig. 6, and does not, in any way, indicate that joints tighter (closer) than 0.0015" (0.040 mm) become weaker. Other laboratory brazing tests done in brazing atmospheres with no flux, as shown in Fig. 7, resulted in steadily increasing strengths, even at much tighter joint clearances than those shown in Fig. 6.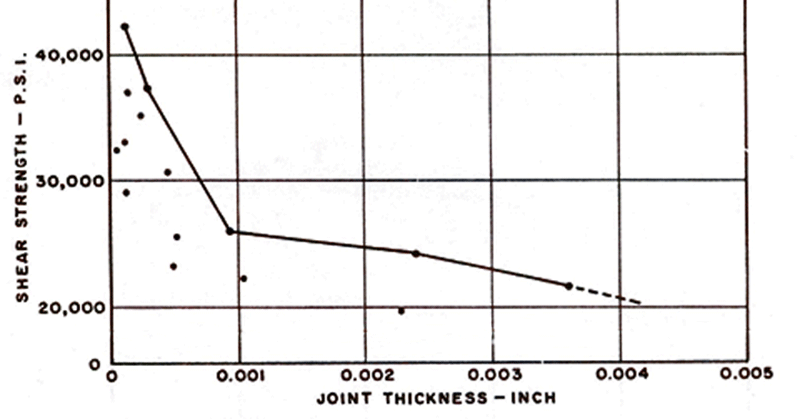 CONCLUSION. Gap clearance is indeed a very important brazing criterion that must be carefully controlled, since it can, in fact, have a significant impact on overall joint strength, fatigue resistance, and corrosion resistance of brazed joints (due to minimal exposure of BFM at joint edges), among other benefits.
IMPORTANT QUESTION: What is your company's attitude about this key topic of gap clearance in brazing? Does it prefer not to pay for anything closer than only "standard commercial tolerances" for parts, which could result in joint fit-ups that may not be tight enough for high-quality joints? Where multiple-layered components are being brazed, regular commercial tolerances may not be good enough when the "stack up of tolerances" for all joint components are taken into account. In my own experience, I've seen how poor joint fit-ups can lead to premature braze-failures in the field, or increased scrap during production at a number of brazing shops. I'm not saying that ALL brazing with loose fit-ups will not work adequately in service. But I have seen situations where that was the case. With well brazed, tight-joints, I have NEVER seen problems in the field, EVER!
So, what will you do in your brazing shop about this important topic of joint-clearance (gap-control)? Is it "good enough", or does it need to be improved?
NEXT MONTH: We'll look in more detail at surface roughness and its effect on joint fit-up and brazeability of parts when tight joint clearances are used.
---
DAN KAY BRAZING SEMINARS: 3-Day seminars provide intensive training in "The Fundamentals of Brazing", covering the brazing of materials ranging from aluminum to titanium to ceramics! FIND OUT MORE
Dan Kay – Tel: 860-651-5595: – Dan Kay operates his own brazing consulting/training company, and has been involved full-time in brazing for more than 40-years. Dan regularly consults in areas of vacuum and atmosphere brazing, as well as in torch (flame) and induction brazing. His brazing seminars, held a number of times each year help people learn how to apply the fundamentals of brazing to improve their productivity and lower their costs. Contact information for Dan Kay (e-mail, phone, fax, etc.), can be found by visiting his company's website at: http://www.kaybrazing.com/
To View a listing of all Dan's articles please click here
Read Dan Kay's Biography
© Copyright Dan Kay 2017