Braze-spatter is occasionally seen in furnace brazing and usually occurs when someone is using brazing paste. I have not personally seen it happen when solid forms of brazing filler metal (BFM) such as wire, sheet or solid rings are used. When braze-spattering does happen, it might look something like the weld-spatter shown in Fig. 1, or perhaps like the soldering spatter shown in Fig. 2.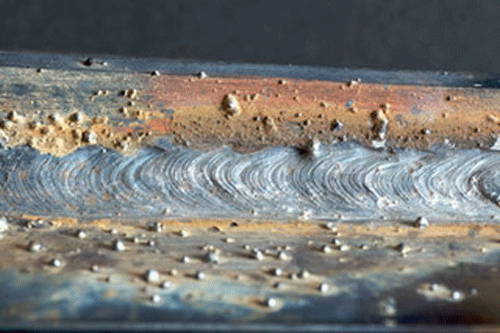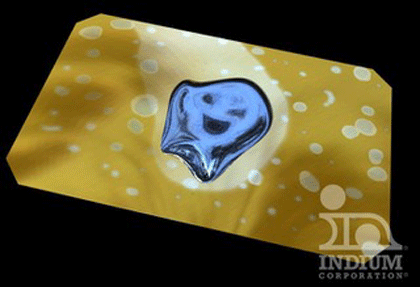 People are often surprised when they see braze-spatter on parts coming out of their brazing furnace and wonder if the spatter was due to careless application of the paste, or perhaps due to sloppy parts-handling by personnel in the brazing shop, etc., and fail to grasp that the vast majority of braze-spattering has to do with furnace heating rates in combination with the size of the brazing-paste bead that is applied to the joint area.
Look at the workers in Fig. 3 and 4 applying BFM-paste onto parts that are riding on a metallic-mesh belt moving into a brazing furnace at a constant speed. Are the workers applying the correct amount of BFM-paste to each part? Are those paste-beads too thick, too thin, etc.? Worker variation in paste-application can be a factor in whether or not you will see any spattering of BFM paste on the brazed parts.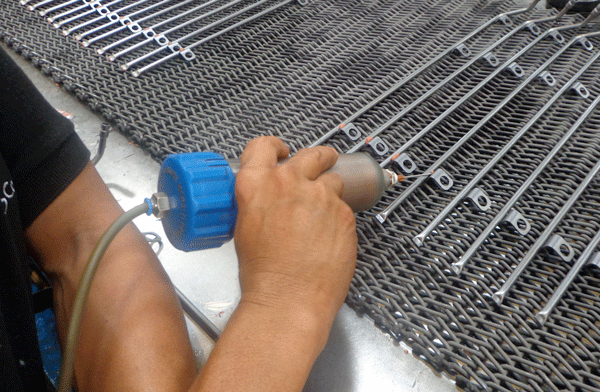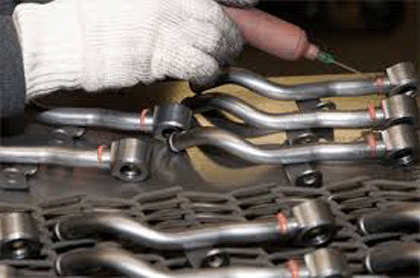 When I have looked at braze-spatter on parts, and then evaluated how the brazing paste is being applied to the parts, I've come to a few conclusions about the causes of braze-spattering:
1. Braze spatter does not seem to occur when solid BFM is used (rod, wire, or preform rings) when furnace brazing (or torch or induction brazing). Thus, braze-spattering only seems to happen when brazing-paste is being used. It is important to note, and understand, that most BFM-pastes consist of a blend of a water-based gel-binder as a carrier for a BFM powder.
2. Spattering seems to be related, too, to how much gel-binder is used in the BFM paste. BFM-powder to gel-binder ratios is usually expressed as a percent by weight ratios, such as 80/20, or 90/10. This means that the paste consists of 80-percent by weight of BFM powder, and only 20-percent by weight of gel-binder, or 90-percent metal by weight, etc. Obviously, since the metal is much, much heavier than the gel binder, then an 80/20 ratio brazing paste might actually consist of almost equal volumes of powder and gel-binder in order to meet the weight-ratio requirements. If someone is using a 60/40 ratio paste, then it's quite possible that there is a much greater volume of gel-binder than powder in that paste! All of that binder must completely volatilize if good brazing is to occur.
3. Spattering seems to be more prevalent when the thickness of the applied paste-bead is large.
4. Spattering seems to occur much more readily when very rapid heating rates are being used.
5. Spattering seems to be more prevalent if the size of the BFM powder grains is large (i.e., coarse mesh powder).
Notice that only one of the factors above relates to worker-variability, namely, item#3. Part of worker training should, in my opinion, involve training each person about the items in this article, so that the workers will not try to put on paste-beads that are too thick to properly dry, melt, and flow during the brazing process.
Let's look at some of these factors more closely.
Chemistry of gel-binder. As mentioned at the end of item#2 above, when a brazing paste is used it is very important that 100% of the gel-binder be volatilized during the brazing process. Because this is so important, most reputable BFM-paste manufacturers have developed their own proprietary binder-systems that volatilize readily and completely when they are heated during brazing.
Heating rate used when brazing. If the heating rate applied to the BFM paste is too rapid, the water-content in the paste-bead may quickly change from water to steam (vapor) and will push any and all BFM powder particles out of the way, as required, so as to be able to fully volatilize. Obviously, if the heating rate is too fast, then it stands to reason that this violent eruption of water-vapor from the BFM-paste can throw the BFM powder in the paste far away from the joint area, resulting in a lot of spattering on the metal surfaces near the joint. Thus, the speed of heating the BFM paste-bead is important.
Size of applied paste-bead. Additionally, if someone applies large, thick paste-beads to the joint area in order to feel confident that they have applied enough BFM paste to guarantee that the joint will braze, then those thick paste-beads can potentially be a real problem, especially during rapid heating of the joint. Here's why: as water evaporates from the heated bead of paste, drying proceeds from the outside to the center. With very thin paste-beads, drying occurs fairly quickly throughout the entire thickness of the paste-bead. However, with thick paste-beads it is quite possible for water to become trapped inside the center of a thick paste-bead when the outer-crust has dried, trapping moisture down inside the large bead. Then, when the temperature of the moisture in the center of the paste-bead reaches its boiling point, it will change to vapor, and this rapidly expanding vapor may violently push through the hardened outer crust of the large bead, throwing chunks of BFM away from the joint area.
Effect of power-mesh size on spattering. During BFM-powder atomization, as a molten stream of metal is poured through an atomizing nozzle it is rapidly quenched by a powerful stream of cold quenching gas, which instantly blasts the molten stream into billions of tiny droplets of varying sizes that quickly solidify into powder particles. These powder particles fall to the bottom of the atomizing tank, where they are gathered and carefully screened into a variety of different powder-mesh sizes. Interestingly, some of the larger-size powder particles can be hollow spheres, and when heated during a brazing process can actually explode. These "exploders" can cause BFM paste to be thrown over a wide area of the metal surface during brazing.
CONCLUSIONS: How can you prevent spattering of BFM on the surface of parts being brazed? Here are several things to watch for:
1. When using brazing paste, be aware of the ratio of BFM-powder to gel-binder, since most gel-binders use water in their chemistry, and water changes to steam when heated. The greater the volume of gel-binder used in the paste, the greater will be the amount of water present, and therefore the higher the risk of water-vapor eruption causing spitting and spattering of the molten BFM during heating.
2. To prevent the violent volatilization of water-vapor during brazing, use slower heating rates in your furnace. Nothing is gained by "rapid heating" other than to create the need for built-in furnace "holds" to allow for temperature stabilization throughout the furnace load. Slower heating-rates can prevent spattering of the BFM, and also help to eliminate the need for any "holds" on the way up to brazing temperature.
3. Keep the diameter of any applied BFM-paste beads as thin as possible, so that complete drying of the paste-bead (outside to center) during heating can be quick and thorough with no trapped moisture deep inside the paste-bead.
4. Try not to use large powder particle sizes when brazing. To prevent hollow-particle "exploders" in your BFM powder, it is recommended to use smaller mesh-size powders for your brazing. Since the mesh-size indicates the number of wires per linear inch/cm in the screen used, then the higher the screen-size mesh-number, the greater the number of wires per linear inch/cm. Traditionally, a 140-mesh powder or smaller is used in brazing. Thus, a 200-mesh screen will result in a finer/smaller powder size than a 140-mesh screen. The minus sign in front of the number means that the powder has gone through that particular size screen.
---
DAN KAY BRAZING SEMINARS: 3-Day seminars provide intensive training in "The Fundamentals of Brazing", covering the brazing of materials ranging from aluminum to titanium to ceramics! FIND OUT MORE
Dan Kay – Tel: (860) 651-5595 – Dan Kay operates his own brazing consulting/training company, and has been involved full-time in brazing for 50-years. Dan regularly consults in areas of vacuum and atmosphere brazing, as well as in torch (flame) and induction brazing. His brazing seminars, held a number of times each year to help people learn how to apply the fundamentals of brazing to improve their productivity and lower their costs. Dan can be reached via e-mail at dan.kay@kaybrazing.com, and his website can be visited at http://www.kaybrazing.com/
To view a listing of all Dan's articles please click here
Read Dan Kay's Biography
© Copyright Dan Kay 2019