To create strong tubular joints when brazing, it is very important that the joint has enough surface area inside the joint, i.e., between the faying surfaces, so that the molten brazing filler metal (BFM) can flow into and through the joint by capillary action.
Figure 1 shows a typical tubular joint, in which the inside, faying surfaces are parallel (gap-clearance is exaggerated for illustration purposes) and the two tubes have an overlap distance that meets the normal brazing requirement of 3T-6T overlap, where "T" is the wall thickness of the tube with the thinner wall thickness.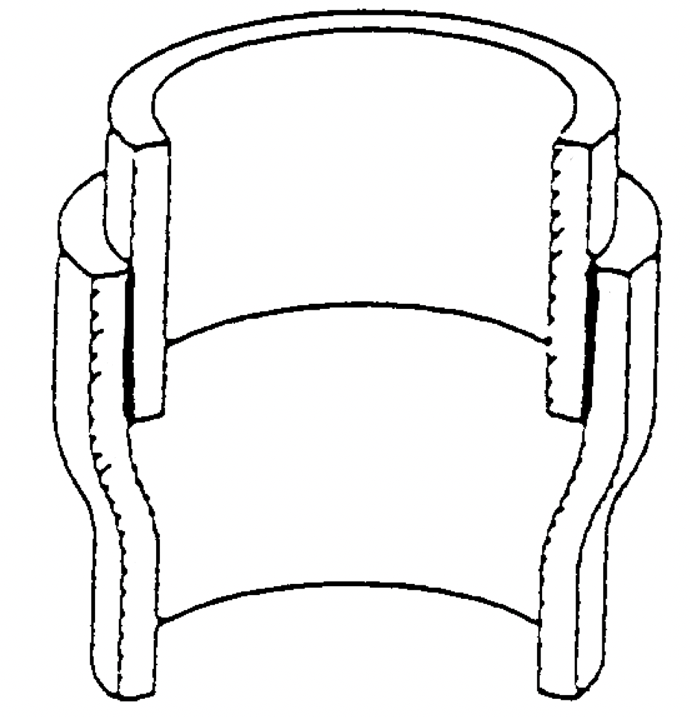 However, when the joint design isn't a straight tubular joint, but is, instead, a T-joint where the two tubes are perpendicular to each other, such as shown in Fig. 2, then how are those two tubes to be brazed together effectively?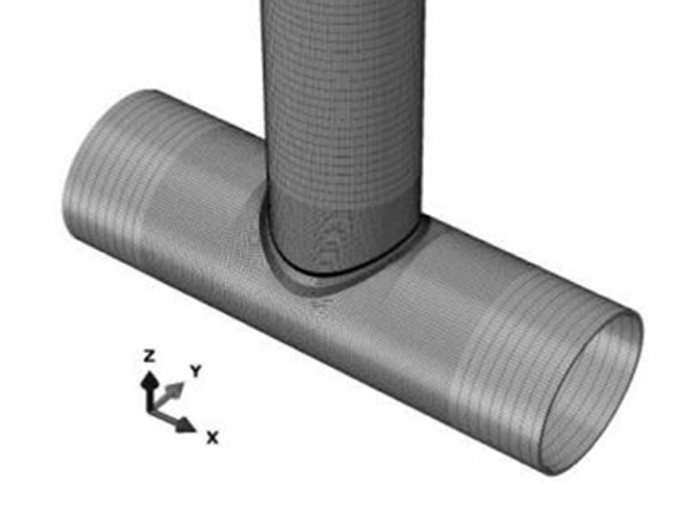 When designing such T-joints for brazing, many designers and production people seem to disregard this 3T-6T overlap braze-joint requirement, and merely drill or punch a hole through the tube side-wall and insert the other tube through the hole, such as shown in Fig. 3, erroneously believing that such a joint should always result in a strong brazed joint.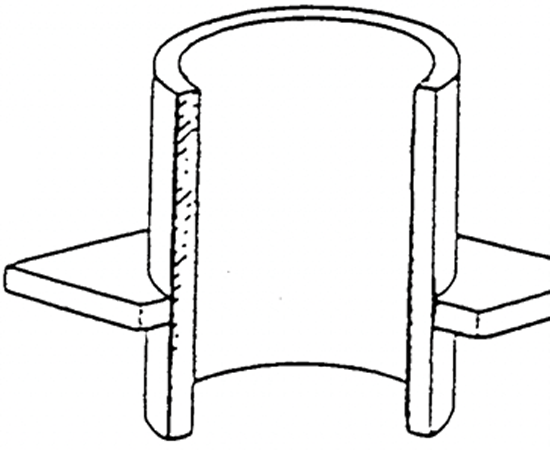 Unfortunately, that is simply not correct, especially if the hole in the tube is a punched hole, instead of a drilled hole. The tubular joint interface in Fig. 3 is a drilled hole so that the sides of the hole are parallel to the surface of the tube going through that hole. However, as can be clearly seen in the drawing, the amount of faying surface provided by the thin wall of the drilled tube is only about "1T", which is really not enough faying surface area to make a very strong joint.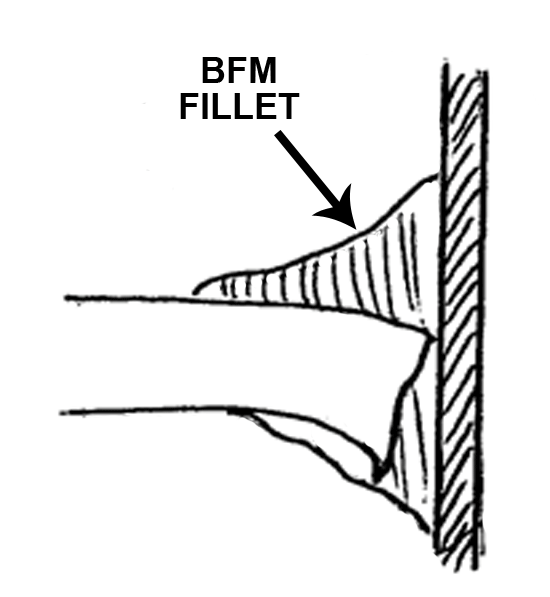 Fig. 4 shows what happens when the hole is punched rather than drilled. Notice that a punched hole is often bent downwards slightly, and may often have a burr on it. This can significantly hurt the ability of that joint to be brazed, forcing the brazing shop personnel to build up large fillets (castings) of BFM around the joint instead. These cast fillets can be porous enough to cause leakers through the joint when the part is placed in service.
Take a look now at Fig. 5, which shows a threaded-fitting that is to be brazed into a drilled hole in a tube. I took this photo in a production plant where they were actually trying to torch-braze these fittings into the tube-holes. Please notice the large open gap along the bottom of the inserted fitting that needs to be filled with BFM in order to seal the connection between the fitting and tube. I was very surprised to see such a joint configuration actually being used, but the engineers told me that they didn't know how to create a joint any other way. To join the fitting and tube, they had to use a braze-welding technique (which I discussed in last month's article). Using the braze-welding method, large BFM-fillets were deposited around the periphery of the joint, which took a number of circular passes around the joint to finalize. Unfortunately, as I just mentioned, large braze-fillets are castings, and some of them leaked when tested prior to shipment to customers and then had to be re-brazed or scrapped.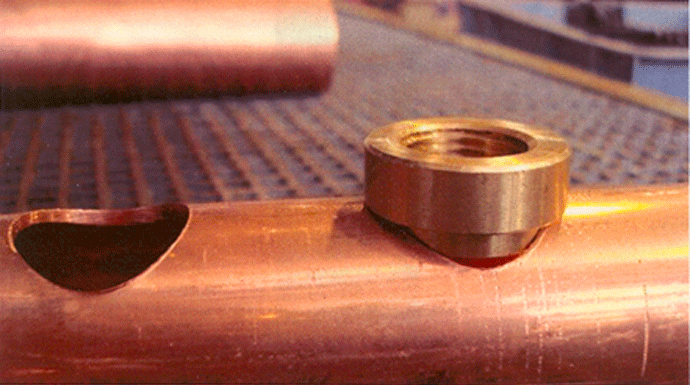 Such a process is what I call "weld-think" because people are then depending on the formation of large fillets to guarantee a good brazed joint. In the welding world, fillets are indeed required in order to join the two together to form a welded T-joint, as shown in Fig. 6.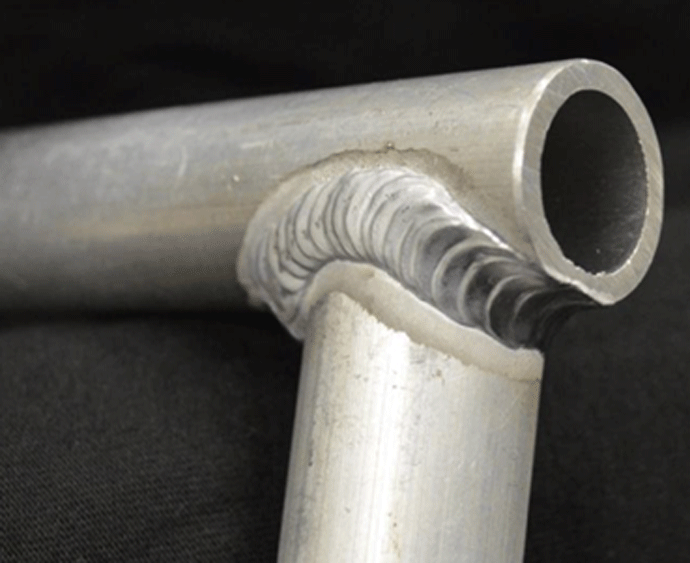 That may be good practice in the welding world, but it is not good practice in the world of brazing! Brazing depends on capillary action between parallel faying surfaces in order to achieve good sound, leak-tight joints.
Brazing, therefore, has different design requirements for such a T-joint. Once again let me repeat that when you are brazing, you need to create parallel faying-surfaces inside the joint which can allow capillary action to draw the molten BFM into and through the joint so that you are NOT depending on fillets to hold the two tubes together.
Fig. 7 shows what a proper, effective joint design should look like for making a T-joint. It can be seen that the tube wall is deep-drawn to create the needed faying surfaces into which another tube can be placed to create a proper joint for brazing.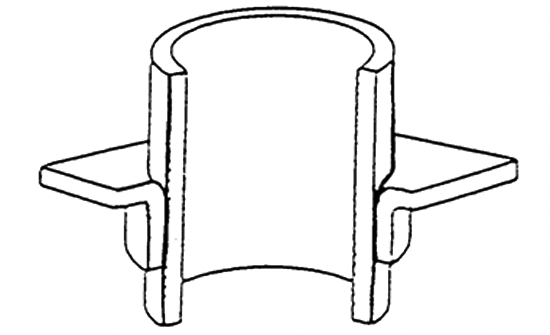 A number of years ago a very effective method was developed to create such faying surfaces for a tubular T-joint, and is known today as the "T-drill" technique. An excellent short-video showing how this T-drill process can be effectively used can be found by clicking on the following hot-link (or, if necessary, cut and paste the link into your favorite search engine). https://www.youtube.com/watch?v=oFpOL0VOZKU
When the T-drill process is used, it creates a hole in the side of a tube-like that shown in Fig. 8, and then draws the metal in the tube wall outwards to create excellent faying surfaces (about 3T, where T is the thickness of the tube wall) which can be brazed very well to create well-brazed, high-strength joints. This equipment is commercially available for a wide range of tube sizes, even small-diameter tubes down to approximately 5/16" (8mm) in diameter.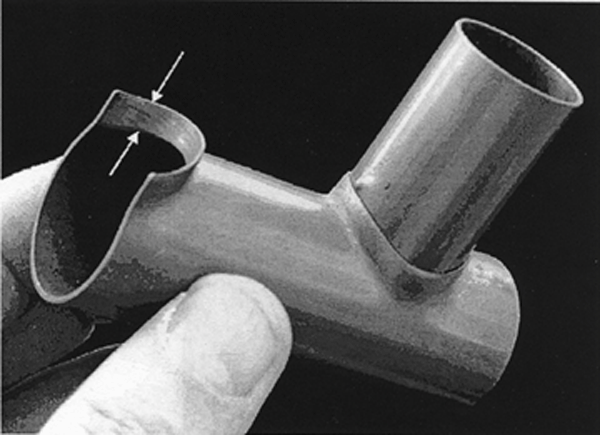 If the T-drill option is not readily available to you, then the use of a saddle-fitting is an excellent option to consider. As is shown in Fig. 9, one of the tubes is inserted into the round end of the saddle fitting, and then the saddle is fitted over the hole in the OD of the second tube. Both joints are then brazed at the same time to create a strong sound bound between both tubes. Some shops have used this saddle-fitting technique, but have created the saddle by flaring the end of one of the tubes so that it sits on the outside of the other tube and is then brazed in place.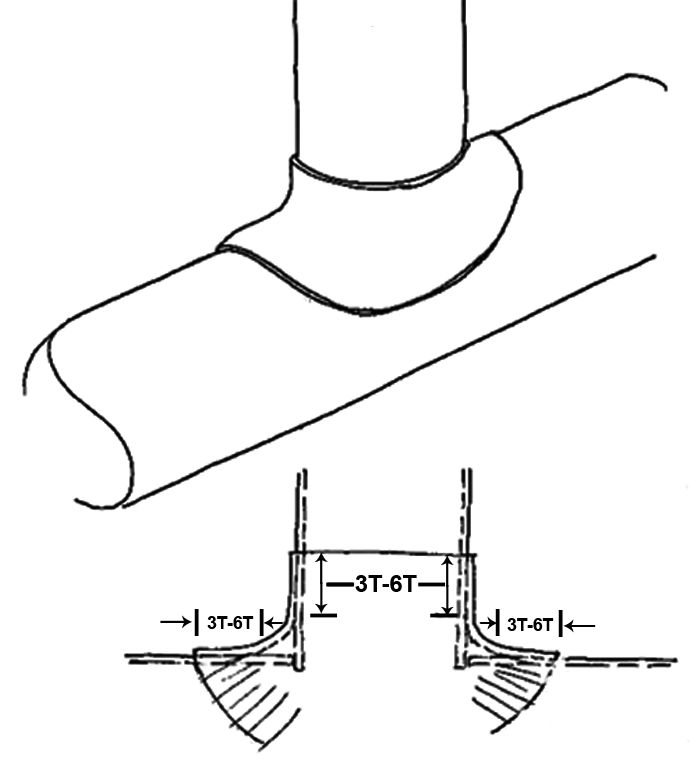 CONCLUSIONS: Remember that the goodness of any brazed joint really depends on the ability of the molten BFM to flow (by capillary action) into and through the joint's faying surfaces. This applies to tubular T-joints as well as any other kind of brazed joint. It is never wise to depend solely on braze "fillets" to create a brazed joint since braze-fillets are actually castings, which can have lots of casting imperfections in them and could lead to a number of leakers in service. ALWAYS try to create joints that have faying surfaces into which molten BFM can flow by capillary action! In tubular T-joints, this can be readily created by using a tool such as that uniquely provided by T-Drill, or by the use of flared saddle-joint fittings.
---
DAN KAY BRAZING SEMINARS: 3-Day seminars provide intensive training in "The Fundamentals of Brazing", covering the brazing of materials ranging from aluminum to titanium to ceramics! FIND OUT MORE
Dan Kay – Tel: (860) 651-5595 – Dan Kay operates his own brazing consulting/training company, and has been involved full-time in brazing for 50-years. Dan regularly consults in areas of vacuum and atmosphere brazing, as well as in torch (flame) and induction brazing. His brazing seminars, held a number of times each year to help people learn how to apply the fundamentals of brazing to improve their productivity and lower their costs. Dan can be reached via e-mail at dan.kay@kaybrazing.com, and his website can be visited at http://www.kaybrazing.com/
To view a listing of all Dan's articles please click here