We look now at the fourth of the seven important criteria that should be followed in order to ensure good brazing, namely, the proper choice of a brazing filler metal (BFM) to use for your application. You'll find that you have a number of possible options from which to choose but always bear in mind that the end-use application should always be the deciding factor when trying to decide on which BFM will be best for your current needs.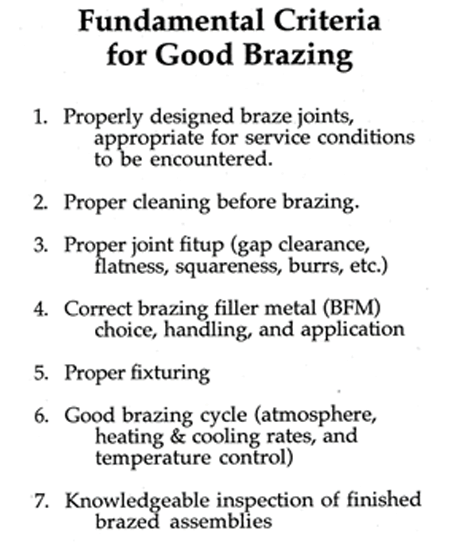 There are many different brazing filler metal (BFM) families, and so, for easier identification, an orderly arrangement, such as that shown in the American Welding Society's A5.8 Specification for BFMs in Fig. 1 helps to categorize these many alloys into groups that are more meaningful.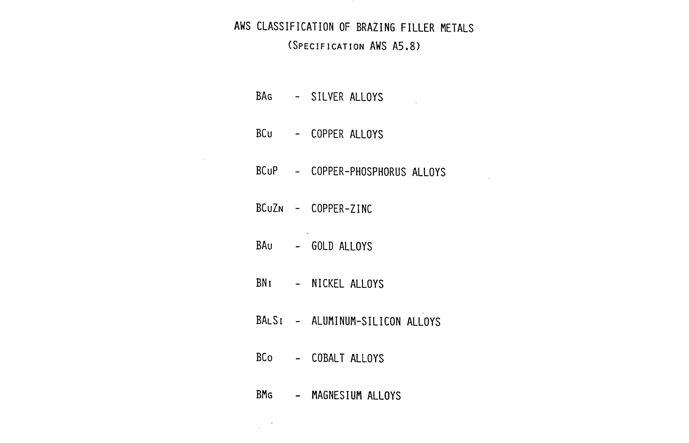 It is not the purpose of this article to discuss each BFM category, but rather to help the reader identify the many options out there for their use. Another family of BFM specifications commonly used in the aerospace industry is the Aerospace Material Specifications (AMS) published by SAE Int'l (the Society of Automotive Engineers). Each AMS spec covers only one specific BFM alloy composition. Thus, there will be many different AMS specs that are needed to cover the many possible alloy combinations for brazing. An example of one of the AMS specs is shown in Fig. 2.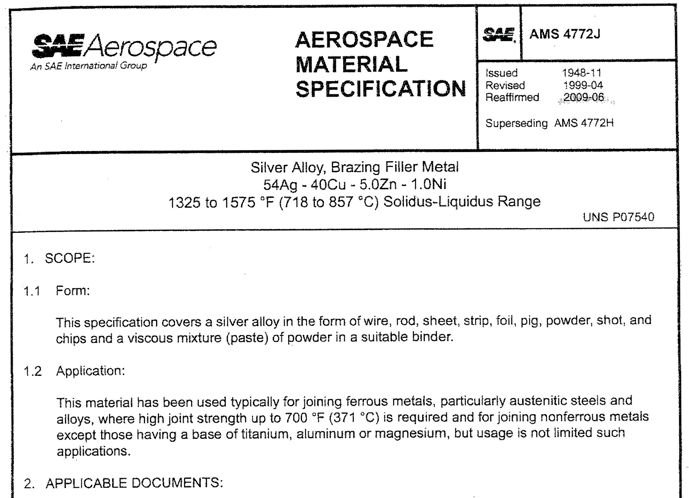 Additionally, many major companies generate their own specs for the BFMs they use so that they can put into their specs the specialized requirements that the BFM must meet for that company's specific needs.
Choosing the correct BFM to use is not always easy. For similar applications, it is not uncommon to find different companies using different BFMs, based on their own personal preferences or experience.
A tabular chart that can help people to narrow down the possible choices of BFMs for a specific combination of two different base-metals that are to be brazed together is shown in Table 2. To use this chart, select one of the metals to be joined from the listing of metals in the left-hand vertical scale, and then use the upper horizontal scale to select the other metal to be joined. In the box where those two choices meet you will find the specific BFM families are can be used for joining that base-metal combination.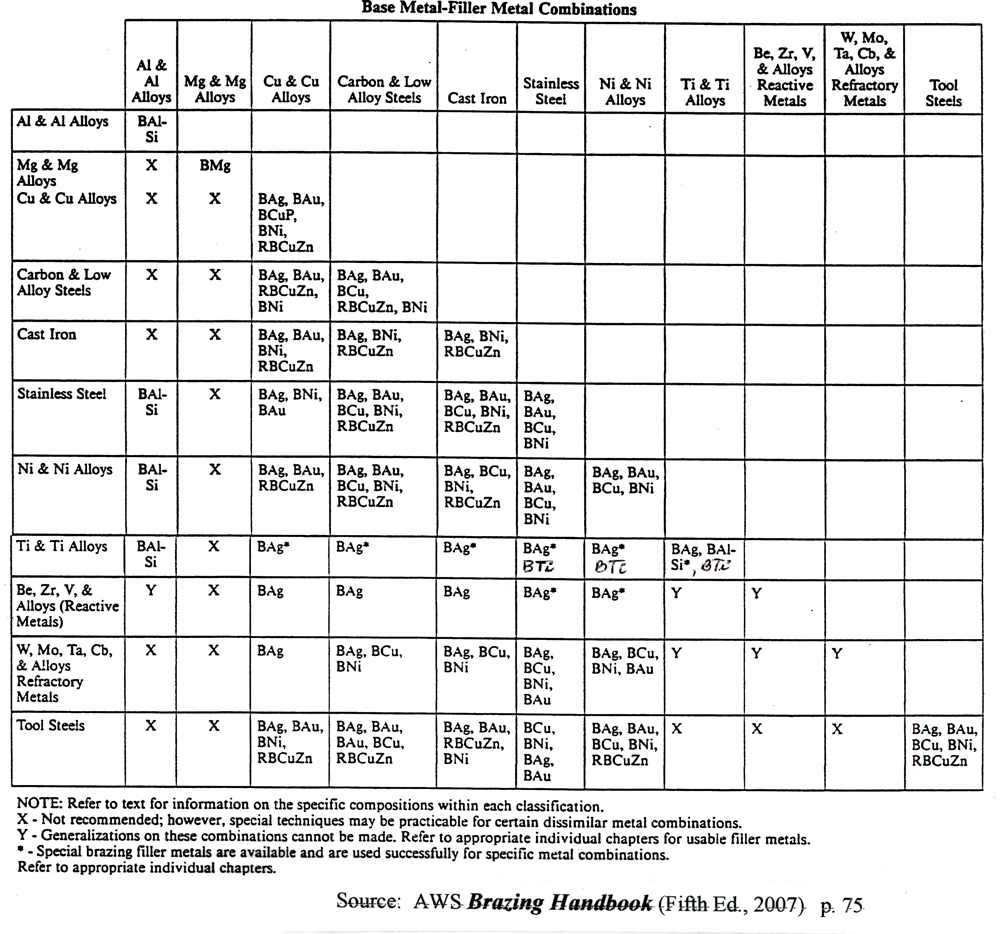 A question that immediately comes to mind when reviewing this chart, such as when you may wish to join stainless steel to stainless steel, is "which of the four types of recommended BFMs in that box should I use, BAg, BAu, BCu, or BNi?"
End-use service conditions. The answer must always be: it depends on the end-use service conditions that the part will encounter. If the part being brazed is a picture frame on a wall for use at room temp in an environmentally controlled room, then the end-use conditions are such that you would probably opt to choose the least-expensive BFM you could find, since the end-use service conditions are very mild and gentle. However, if the end-use is in a corrosive situation at high-temps around 1500F (800 C), then most precious-metal and copper-based BFMs would be ruled out, leaving the nickel-based BNi-BFMs as a logical choice to use for that base-metal combination.
Service temperatures. Notice that service temperature is one consideration that is important when selecting a BFM for a specific end-use application, since each family of BFMs may very well be unsuitable for use at certain temperatures in service. Table 3 shows a listing of temperature recommendations for many of the families of BFMs.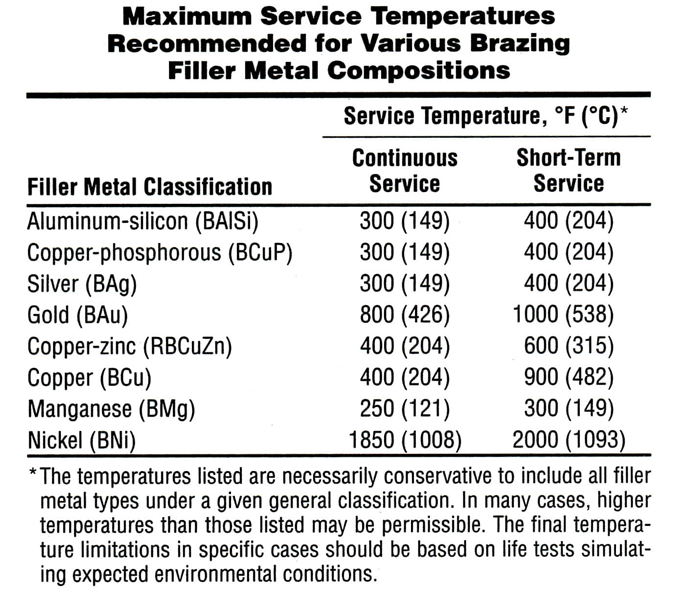 This chart is a conservative one, for safety purposes. But, amazingly, notice that the BNi-family of BFMs is head-and-shoulders above the rest when it comes to allowable service-temps. Thus its popularity for use in many high-temp aerospace applications.
Which specific BFM to use? Even when you have narrowed your BFM selection to one family, such as the BNi- family of BFMs for your specific end-use application, which one of the many BNi alloys available to you should you use? In reality, it now comes down to personal preference, since a number of the alloys in that BNi-family could, in fact, meet your end-use needs. It is not uncommon to find that different companies brazing almost identical parts for use in very similar end-use conditions will use a different BNi-alloy than the other company. There is nothing wrong with this. As mentioned, it comes down to personal experience and thus, personal preference. I've worked with major aero companies in which one of the aero companies used a BNi-5 BFM for an application, whereas the other aero company used the BNi-2 BFM for their somewhat similar application. When each was asked why they did this, they explained that their own personal experience with that particular alloy over the years led them to select that BFM for their needs. That's okay! You will generally find that you have a number of very acceptable BFMs in each of the BFM families that will work quite well for your application.
NEXT MONTH: We will look at BFM powder and paste, with some interesting guidelines about how to specify, and use them, properly.
---
DAN KAY BRAZING SEMINARS: 3-Day seminars provide intensive training in "The Fundamentals of Brazing", covering the brazing of materials ranging from aluminum to titanium to ceramics! FIND OUT MORE
Dan Kay – Tel: 860-651-5595: – Dan Kay operates his own brazing consulting/training company, and has been involved full-time in brazing for more than 45-years. Dan regularly consults in areas of vacuum and atmosphere brazing, as well as in torch (flame) and induction brazing. His brazing seminars, held a number of times each year help people learn how to apply the fundamentals of brazing to improve their productivity and lower their costs. Contact information for Dan Kay (e-mail, phone, fax, etc.), can be found by visiting his company's website at: http://www.kaybrazing.com/
To View a listing of all Dan's articles please click here
Read Dan Kay's Biography
© Copyright Dan Kay 2017