We return this month to our series on the essential criteria for brazing, to complete our current series on some fundamental issues about brazing filler metals (BFMs). As was discussed in my previous article on Essential Criteria for Brazing, if you are using BFM powder in your operations, it's essential to not only control the mesh size of the BFM powder you are using (covered last time), but also to know and specify the ratio of BFM powder to the gel-binder in the brazing paste.   The gel-binder is cellulose-type gel-like substance added to the powder to form a creamy blend of powder and gel that can be extruded from a cartridge through a dispensing tip.  So, whether you are using BFM powder directly, or are using a pre-formed shim/ring of BFM, or BFM in paste form, you must always ask yourself this simple question: "how many times can I fill the braze joint with the BFM that I am using?" Hmmm….   The obvious answer is "one time" only! No matter how good you are, you cannot cram any more BFM into the joint after that joint has been filled by the molten filler metal ONE time!
Let me help you quantify this in a bit more detail so that you can be sure that, when you apply the BFM to the joint, you will have applied the correct amount in order to achieve this simple goal.
Shown in Fig. 1 is an example of a brazed assembly that even though well brazed, does show the results of what happens when a little too much brazing filler metal (BFM) is applied to the joint.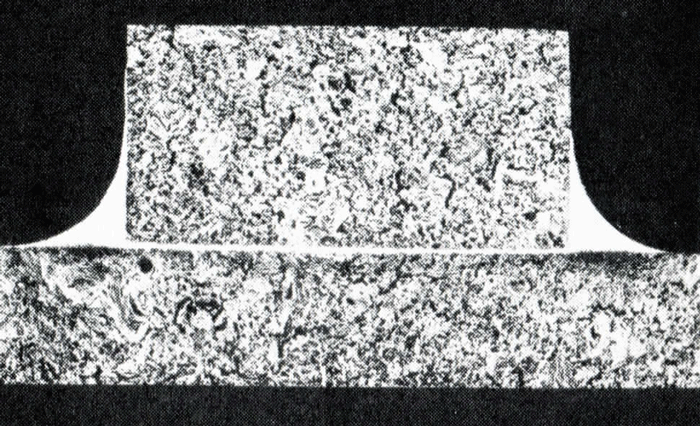 Notice that the joint is filled entirely, and because that joint can be filled only one time, all the extra BFM remains outside the joint in the form of large fillets.
People often apply too much BFM to the joint "to be safe" so that they won't get blamed for not putting enough BFM on the joint to complete the joint properly. This gives rise to the expression that is heard sometimes in brazing shops: "If a little bit of BFM is good, then more is better!" That kind of thinking is wrong.
As shown in Figs. 2 and 3, the amount of BFM to apply is such that when the BFM fully melts and turns to LIQUID, there will be enough LIQUID BFM to fill about 1.5 times (150%) the AVERAGE volume of the braze-joint!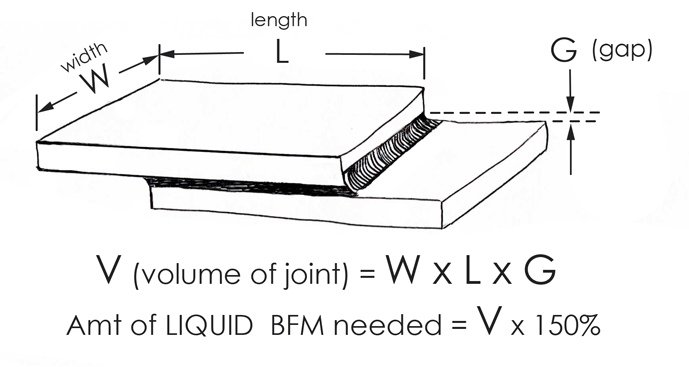 To calculate this volume, use the approximate max-gap that is expected for the joint. Thus, if the brazing gap is expected to be 0.002" +/- 0.001" (0.05mm +/- 0.025mm), then use 0.003" (0.07mm) as the thickness of the joint. Then, as shown in Fig. 4, allow for the fact that the joint may not be perfectly parallel, and that extra liquid BFM will be needed to fill in the surface roughness of the two faying surfaces inside the joint, and then a little bit of extra liquid BFM will be needed to form a very small braze meniscus (fillet) on the outside of the joint periphery.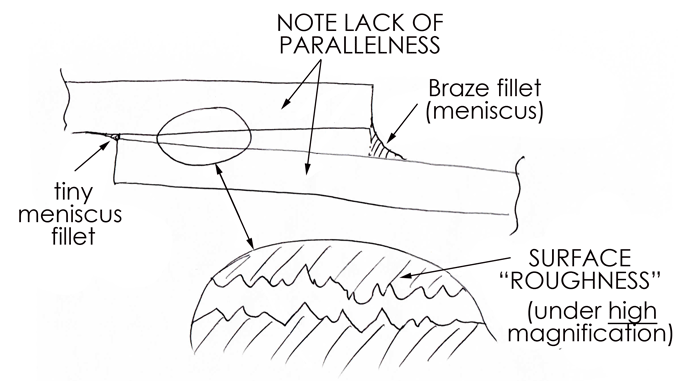 Use of solid metal preforms.
When solid BFM preforms are used (either as preformed-rings, or stamped preforms from solid BFM foil) as shown in Fig. 5, then the 150% calculation is easy to make, since the solid-BFM will melt into an equal volume of liquid. But, if you are using a BFM paste, then the calculation gets a little more complicated.

Use of BFM paste.
By definition, a brazing paste consists of BFM powder suspended in a gel-binder mixture. This allows the BFM to be extruded out of a cartridge (preferably with tapered plastic tip) using a dispenser-controller as shown in Fig. 6.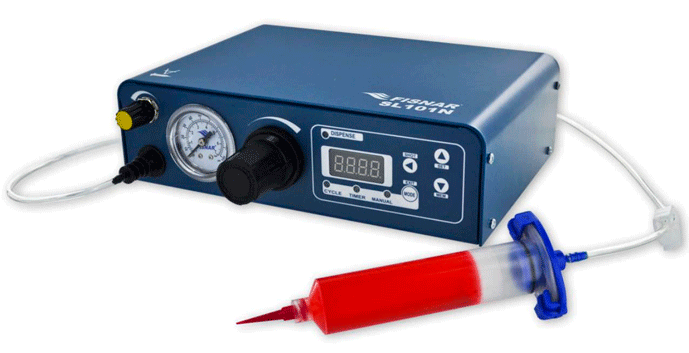 But, since the paste consists of both BFM powder and a gel-binder, then you will have to burn-off (volatilize) all the binder, and then melt the powder particles into a liquid before you can start to calculate the 150% of BFM liquid that is needed for the joint.
Again, we work with approximations. Let's assume that you are working with a paste that has an 80/20 ratio of powder to binder. People sometimes assume that this is the ratio of the volume of the BFM powder and binder. NO! The numbers given to you on each cartridge of BFM paste is a  WEIGHT percentage (ALWAYS BE SURE THE RATIO IS PRINTED ON THE LABEL OF EACH BFM CARTRIDGE). This weight percentage can be any number you need for your particular job.  Some people use a 90/10 ratio, others a 70/30 ratio, etc.  But please note, that since the BFM powder is much heavier/denser than the gel-binder, this weight-percent ratio (we're using 80/20 in our current example) might actually wind up being about a 50-50 ratio when the  VOLUME  of powder and gel-binder are considered!  Again, this 50-50 ratio is just a guess, an approximation (the actual ratio may be higher or lower)! So,  IF  the volume-ratio of BFM powder to gel-binder were about this number (50-50), then the amount of paste that would need to be applied to the joint would be double the 150% since half of that paste might be gel-binder that has to be burned-off (volatilized)!  Ponder that.
But it's not over yet! Once all the gel-binder is volatilized, you will then be left with only BFM powder. But, the powder is actually a mass of round particles sitting on top of each other in a pile! When those particles melt, and become liquid, they will occupy a much smaller space than when they were round solid particles. Let's assume for our calculations a "packing density" of about 50%, meaning that perhaps half the volume of the pile of powder is occupied by air, as shown in Fig. 7.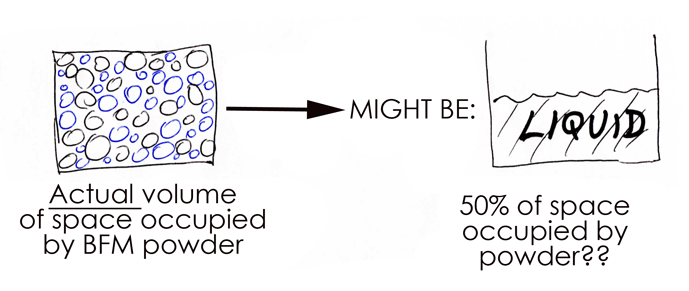 So, if we assume a 50% packing-density for the powder, then, when the powder melts down into a liquid, as shown in the right side of Fig. 7, we'll have to double our calculated number again to take that melting into consideration. So, in order to get the approximately 150% figure (representing the amount of liquid BFM we want after volatilizing out all the gel-binder and melting the powder down to a liquid form), we've had to double the 150% to 300% of the average volume of the brazed-joint to take into account the 50% of gel-binder we've volatilized, and now that this remaining powder will melt down into a liquid which may only occupy half as much space as the pile of powder from which it started, we have to double the number again to a total now of 600%! Wow. But look at what happens to this 600%: when we volatilize the gel-binder, the amount of material remaining is only half of this, so we're down to 300%. Then, when the remaining powder melts down from powder to liquid and the liquid only occupies about half the space of the powder, it reduces by half again, from 300% to only 150% of the average volume of the joint.    This is just what we wanted!
Thus, when dealing with pastes, the maximum amount of paste to add (by volume) is about six times the average volume of the brazed joint, knowing that when all is melted, you will, in fact, have enough liquid BFM equivalent to about 150% of the average volume of the joint to be filled. Nicely done!
CONCLUSIONS.
Be careful about the amount of BFM applied to any joint that is being brazed. Use the 150% guideline to help you, knowing that it will give you approximately what you need to not only fill the joint properly but also leave very small fillets on the outside of the joint. Otherwise, if you put on too much BFM, you could have a situation such as shown in Figures 8 and 9, where too much liquid BFM caused serious problems and rejects.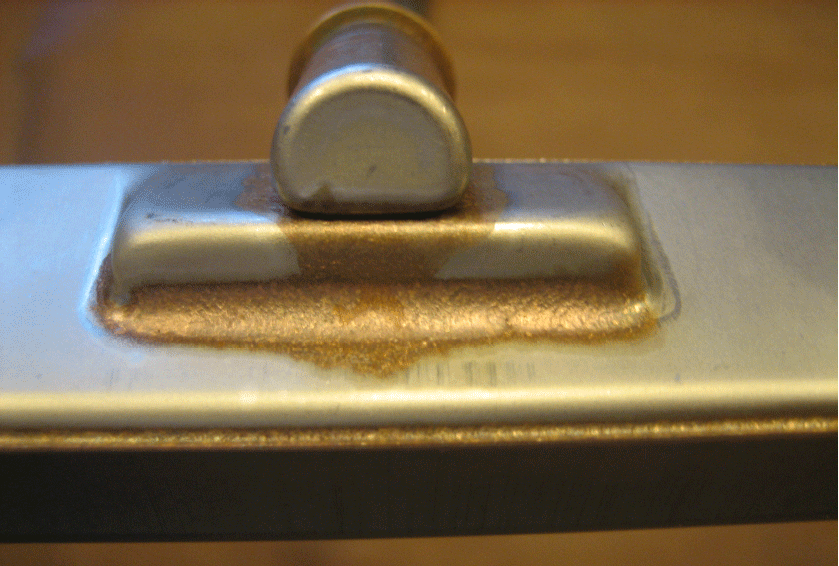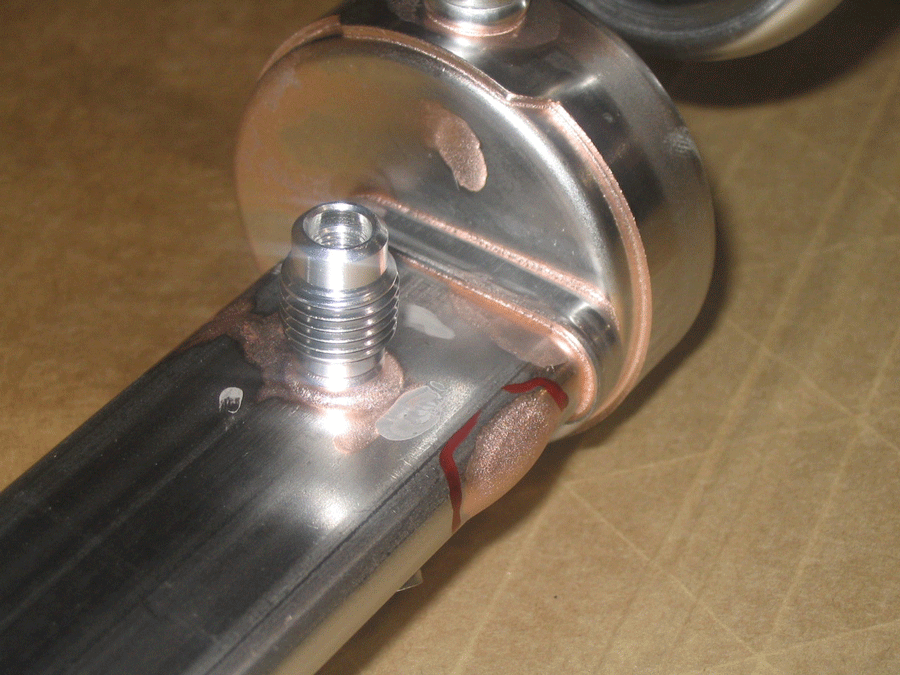 So, as can be seen in the calculations in Fig. 10, only a tiny amount of molten BFM is actually needed to make a good brazed-joint. Thus the conclusion that if a little bit of BFM is good, then LESS is probably better! Certainly, this "less" is often a lot less than people want to put onto a joint "to be safe".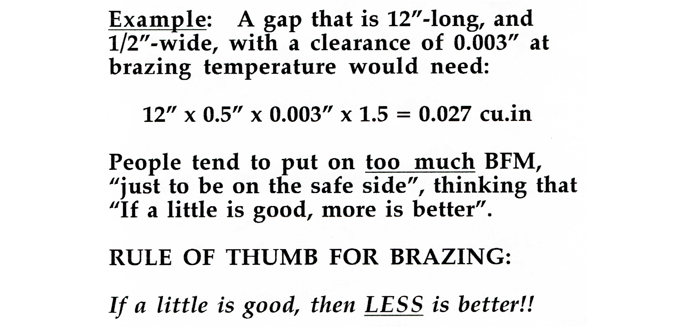 ---
DAN KAY VACUUM BRAZING SEMINARS: 3-Day seminars provide intensive training in "The Fundamentals of Brazing", covering the brazing of materials ranging from aluminum to titanium to ceramics! FIND OUT MORE
Dan Kay – Tel: (860) 651-5595 – Dan Kay operates his own brazing consulting/training company, and has been involved full-time in brazing for 40-years. Dan regularly consults in areas of vacuum and atmosphere brazing, as well as in torch (flame) and induction brazing. His brazing seminars, held a number of times each year help people learn how to apply the fundamentals of brazing to improve their productivity and lower their costs. Dan can be reached via e-mail at dan@kaybrazing.com, and his website can be visited at: http://www.kaybrazing.com/
To View a listing of all Dan's articles please click here
Read Dan Kay's Biography
© Copyright Dan Kay 2017