We look now at the fifth of the seven important criteria for good-brazing that are listed in Table 1, namely, the use of fixtures in the brazing process. Fixtures hold the parts being brazed, whether it is a metal vice holding parts for torch brazing, or a large furnace-grate on which parts are set for furnace-brazing, just to name two types of fixtures. The important thing to always remember about fixtures is that they usually represent a large mass of metal (the material most often used in fixturing) that absorbs a lot of heat and can thus significantly increase the brazing time needed to complete a braze.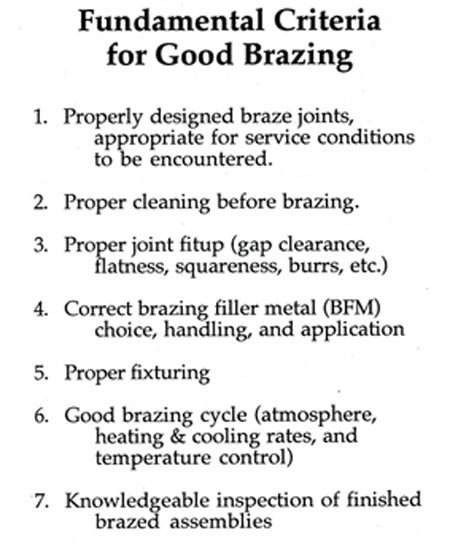 Fixturing
People often do not have a proper understanding of the role of fixtures in brazing. It can, in fact, have a significant effect on the performance and profitability of any brazing process, be it an operation performed by torch, induction, or furnace. I recently had someone tell me that when they had implemented the fixture-recommendations they learned from my brazing seminar that they had attended, the profitability of that brazing operation went up over 75%. Yes, fixturing is a very important topic that needs to be evaluated thoroughly and properly implemented to optimize your brazing operations.
Torch brazing example.
Shown in Fig. 1 is an example of a tubular assembly that was being torch-brazed. The assembly was being held in a vice for stability, and then the part was brazed. But it took a long time to complete the braze because the heat from the torch-flame was being conducted from the tubular part directly into the metal vice, and the vice became a huge heat-sink, stealing a lot of heat from the brazing process.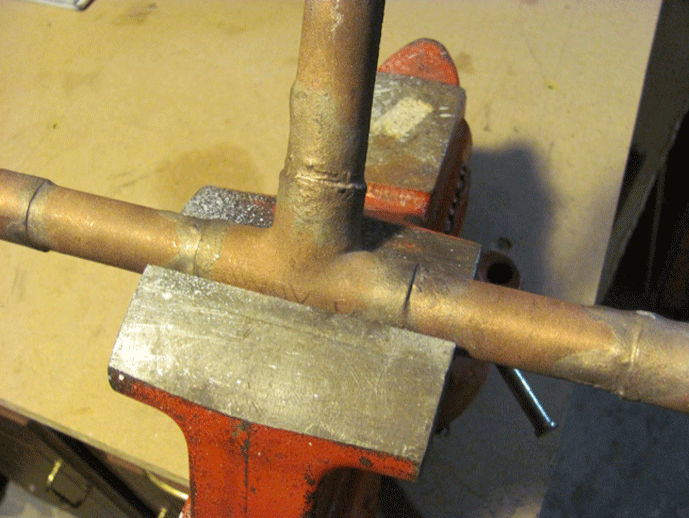 When a layer of insulation was then placed between each vice-face and a similar tubular assembly, the torch-brazing process was literally accomplished in half the time!
This simple illustration shows why it is important for people to take this topic seriously, and not just brush it off as if it were insignificant. Shops performing furnace-brazing can be some of the worst offenders in this respect. I have often heard from them: "Because the fixturing goes into the furnace, and therefore, isn't "stealing the heat" as a vice might do, we don't need to be worried about the amount of fixturing we use in our furnaces. Everything is heated and brought up to temp together."
Such thinking completely misunderstands the negative effect that all the fixturing inside the furnace has on operating costs and brazing-cycle time.
NOTE: THERE IS NO FREE RIDE! EVERY POUND (KILOGRAM) YOU PUT INSIDE THE FURNACE ABSORBS BTU'S (CALORIES) AS IT IS HEATED TO BRAZING TEMP. THEREFORE, EVERY BTU (CALORIE) USED TO HEAT FIXTURES IS COSTING YOU MONEY AND EXTENDING THE CYCLE TIME IN THE FURNACE!
What's the answer?
Simply this — keep the weight of any fixturing to an absolute minimum.  If you are using any "external fixtures", i.e., dead-weights, or some kind of metal assembly (such as metal bars, clamps, etc.)  to hold assembly components in proper alignment while they go through the furnace brazing cycle, try to redesign the assembly to eliminate the need for such extra fixturing, or keep the design and weight of such fixturing to an absolute minimum, if at all possible.
What method of fixturing is best?
The best method of fixturing is NO fixturing — try to make the assemblies "self-fixturing/self-jigging", i.e., design them so that they sit on top of each other in such a manner that gravity holds them in proper alignment. A few examples of this are shown in Fig. 2.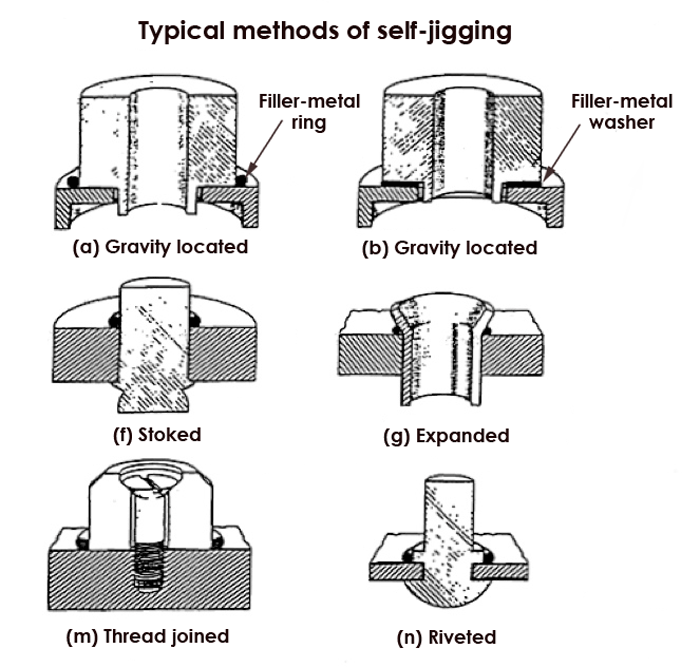 If gravity alone is not sufficient to hold the parts in proper alignment, then, as shown in Fig. 2, you might consider perhaps using threading to hold them together, or perhaps the parts might be riveted, or staked, etc., for proper alignment.
Tack-welding.
People often choose tack-welding as a method to hold parts together, and if the welds are tiny, it might work. But, if the tack-welds are large, as shown in Fig. 3, then problems can result. In this photo, the components of an automotive fuel-rail were being held together in proper alignment by large tack-welds. Note the oxidation around the welds.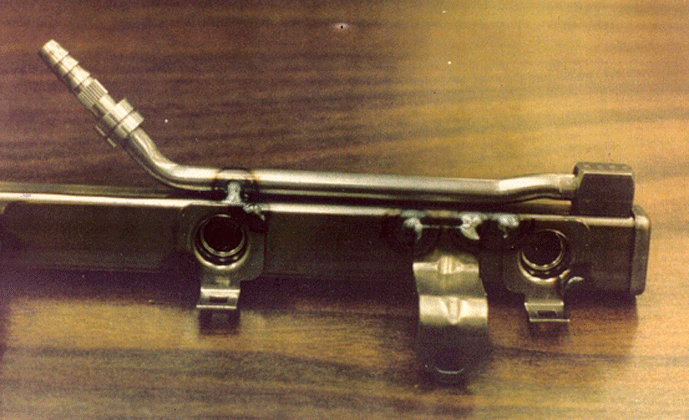 This oxidation also occurred underneath each of the flanges of the inlet ports in the fuel rail and resulted in a high number of leaking ports because of those trapped oxides.  BFM does not want to flow over, or bond to, oxidized surfaces.  If a surface to be brazed has oxides on it, the BFM will stay away from that area, and leakers through that "non-brazed" area can easily occur.
There are two reasons for this:
1. You cannot get enough furnace atmosphere to penetrate into the tight capillary space between the flange and the rail to effectively reduce (eliminate/remove) those oxides. Yes, the outside of the fuel-rail might look great after brazing, but the faying surfaces inside the joint between the flanges and rail will remain oxidized/dirty. Therefore the brazing filler metal (BFM) will not flow into that tight capillary space, and that's because:
2. Brazing filler metal (BFM) will not bond to, or flow over, oils, dirt, greases, or oxides! Any of them present in a joint to be brazed will prevent molten BFM from flowing into that joint area.
BRAZING JOKE: "Don't worry about cleaning the inside of the joint before brazing. The furnace will clean it up."
NO! The furnace will NOT clean it up. Instead, you'll be left with dirty or oxidized joints that will resist brazing. Thus, parts must be thoroughly clean and be kept that way during assembly so that clean faying surfaces inside the joint have a chance to properly braze.
If that's the case, then does that rule out tack-welding? In many cases, the answer will be "Yes". However, if you have a welding-expert who can make TINY tack-welds or TINY resistance spot-welds, then perhaps you can use that for fixturing parts together.
Small, hand-held, capacitive-discharge resistance spot-welders (CDRSW) have been around for a long time (such as those made by Unitek, as an example), and are able to make the smallest, tiny little welds that are barely visible to the naked eye. They are wonderful for braze-fixturing for many, many applications. But some people ask: are those CDRSW welds actually going to be strong enough?
ANSWER: The weld (any kind of weld) should just be strong enough to lightly hold the parts together through the brazing cycle. That's all! Why? Because it's the BFM in the joint that will make the assembly strong, not the fixture-welds! When properly brazed, the joint itself should have become stronger than either of the base-metals being joined!
Light-weight ball-tack fixturing.
As shown in Fig. 4, a stainless flange is shown (after brazing) that was held in place (for brazing) by using three (3) tiny BB's that were placed 120-degrees apart around the periphery of the joint using a modified CDRSW hand-held gun, with a small, vacuum-suctioned air hose attached to it to hold these tiny BB's in front of the tip of the gun. These specialized tools are very effective at holding parts together in proper alignment with a minimum of weight, and virtually no oxidation or distortion resulting from that tack-welding type of operation. Highly recommended.
Shell and Tube heat exchanger.
As shown in Fig. 5, typical shell-and-tube type heat-exchangers are the ultimate when it comes to self-fixtured components. In this photo, there are three plates, through which hundreds of holes have been drilled, and into which hundreds of tubes are placed. When placed into a furnace for brazing the tubes into those headers, it becomes easily seen that the components are self-supporting, and no external fixturing should be needed to keep proper alignment.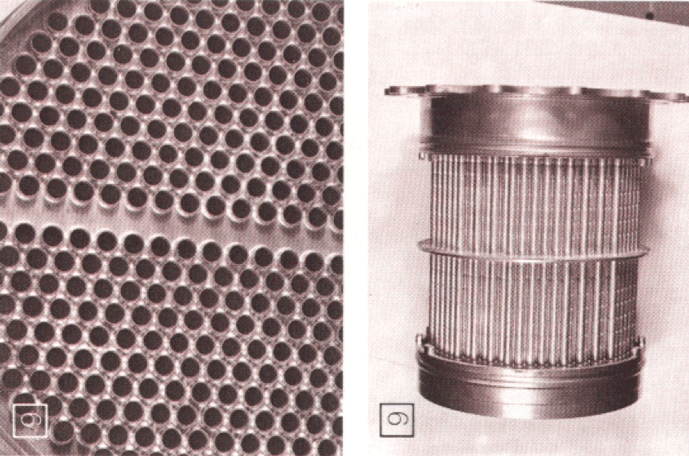 Staking / prick-punching.
When trying to center a tube or rod in the middle of another tube or fitting, the question is often asked about how to fixture the two components in order to keep the inner tube/rod centered in the outer tube/fixture. Otherwise, that inner tube/rod may drift off to one side inside the outer tube/fitting, resulting in uneven braze-clearance around the joint, as shown in Fig. 6.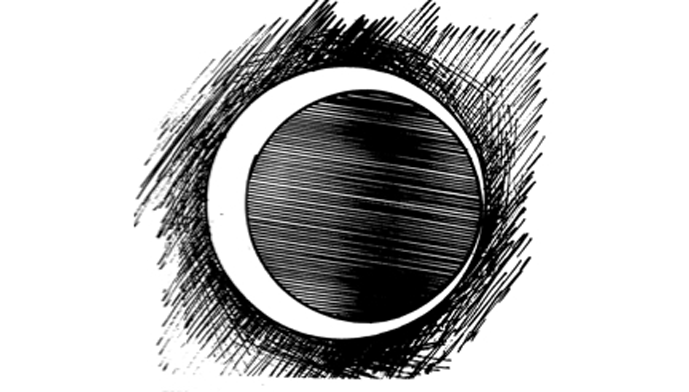 One method that has been very successfully used over the years to keep the inner member centered in the outer member is to use a prick-punch to move some of the surface metal of the inner member so that it fits more uniformly in the outer member tube/fitting. This is illustrated in Fig. 7, in which the prick-punch is used to "upset" the surface of the metal and cause it to "pile-up" a little bit around the punched hole.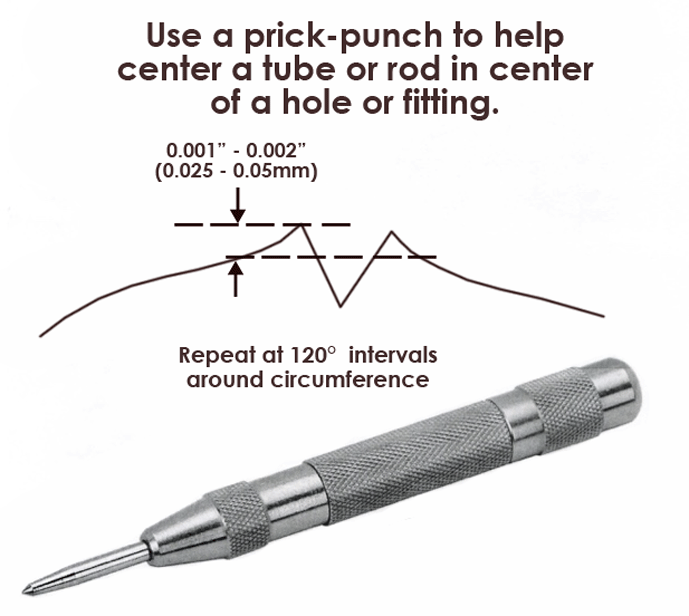 With practice, this mounded material can be controlled dimensionally quite easily, allowing three such "punches" (placed about 120-degrees apart around the periphery of the OD of the tube/rod) to keep that inner-tube/rod nicely centered in the ID of the outer member, and to do so without any type of external fixturing needed.
CONCLUSION:
It is important that parts be properly fixtured in any type of brazing set-up so that those parts can be brazed in a manner that will maintain proper alignment and orientation during the brazing process. However, it is VERY important to control any fixturing used for this process, so that the fixtures do NOT add any significant weight to the process or contact parts in a manner that steals a lot of heat from the parts being brazed. Therefore, the best method for such fixturing would be to eliminate the need for external fixturing entirely, if possible. A number of examples were reviewed in this article to illustrate fixturing methods by which proper alignment of parts can be maintained but without adding any significant weight to the process that would steal heat or prolong the brazing process.
In the articles in coming months, I will continue looking at this very important topic of fixturing, looking at many of the mistakes made by many brazing shops today re fixtures, furnace grates, baskets, etc., and ways by which those mistakes can be eliminated, and fixturing made far more effective and productive for today's brazing needs. Part of this will be to look at many of the materials used for fixturing, including metals, ceramics, and the new carbon-fiber-reinforced carbon (c/c) fixtures entering the market today.
---
DAN KAY BRAZING-TRAINING SEMINARS: 3-Day seminars provide intensive training in "The Fundamentals of Brazing", covering the brazing of materials ranging from aluminum to titanium to ceramics! FIND OUT MORE
Dan Kay – Tel: (860) 651-5595 – Dan Kay operates his own brazing consulting/training company, and has been involved full-time in brazing for 45-years. Dan regularly consults in areas of vacuum and atmosphere brazing, as well as in torch (flame) and induction brazing. His brazing seminars, held a number of times each year help people learn how to apply the fundamentals of brazing to improve their productivity and lower their costs. Dan can be reached via e-mail at dan.kay@kaybrazing.com, and his website can be visited at http://www.kaybrazing.com/
To View a listing of all Dan's articles please click here
Read Dan Kay's Biography
© Copyright Dan Kay 2017