Dan Kay's Biography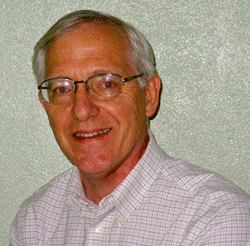 Dan Kay (BMetEng, MBA), operates his own brazing consulting/training company, and has been involved full-time in brazing for 35-years. He received his Bachelor of Metallurgical Engineering degree from Rensselaer Polytechnic Institute in 1966, and his MBA from Michigan State University in 1982.
Dan regularly consults in areas of vacuum and atmosphere brazing, as well as in torch (flame) and induction brazing. His brazing seminars, held a number of times each year around the world, help people learn how to apply the fundamentals of brazing to improve their productivity and lower their costs.
He spent seven years with Handy & Harman, where he not only taught their torch-brazing seminars, but spent a lot of time in the field helping customers solve both flame-brazing, induction-brazing, and furnace brazing problems. From there he went to Wall Colmonoy Corporation, where for fifteen years he worked closely with the late Bob Peaslee in high-temperature furnace brazing (both atmosphere and vacuum) using nickel-based brazing filler metals. Dan taught brazing seminars every year with Bob, while also successfully running, and overseeing, brazing plant operations, and international sales operations, along the way.
Dan can be reached via e-mail at: dan (at) kaybrazing.com, and his website can be visited at: www.kaybrazing.com