Which base-metal should I use for braze fixturing so that it will last the longest?
This question is not an uncommon one.  Although I have never personally seen any kind of chart showing an "expected life" for fixture materials, it is important that people understand that there are a number of factors that will control the "life expectancy" of any fixturing material used in brazing, and all of these factors relate to the service conditions that the fixtures will encounter during the brazing process.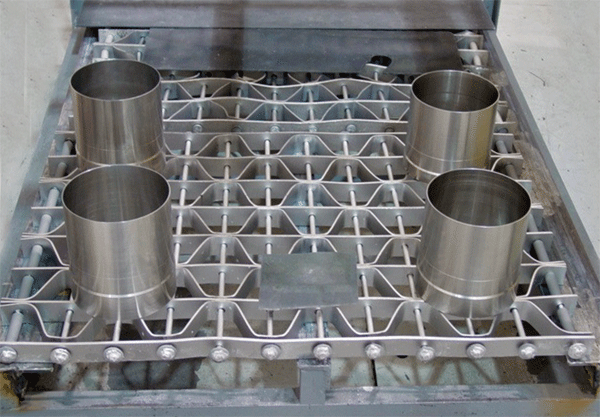 Whereas austenitic stainless steel fixtures may be fine for applications involving low to moderate temperatures, light loading, and slow heating and cooling situations, the use of high-temp super-alloys, such as Inconels, Hastelloy materials, and even ceramics, may be needed for the more aggressive brazing conditions.  Shown below is a table listing some commonly used fixturing materials, and how they compare to each other relative to elevated temperature strength and thermal shock resistance, using 304 stainless as the starting "standard".  As can be seen, the materials that can handle these situations better also have a higher price-tag associated with that fixture material (notice the exception with graphite).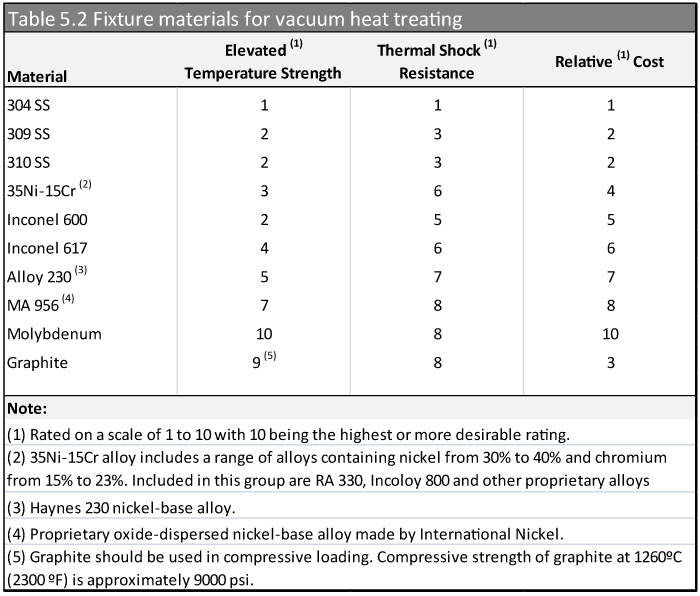 But, estimating an expected "life" (in months or years) of a fixture made from any of these materials would be very difficult, since the life of identical fixtures can vary extensively from brazing-shop to brazing-shop, depending on how they are used or abused. For instance, here's five typical reasons (there are more) as to why it's hard to put an "expected-life" on a brazing fixture: (1)  shop abuse,  (2) heating/cooling rates;  (3) temperatures used; (4) loading conditions used, and then (5) atmosphere quality, among others:
1.  Shop abuse is the phrase I use indicating how fixtures are stored and handled by various brazing shops.  Some shops are quite careful, and stack the fixtures neatly on shelves, keep them indoors, and handle them carefully, whereas other shops may literally throw fixtures on the ground, store them outside their factory walls where they can be affected by the weather, and hammer them with large hammers to bend them back into shape, etc.  Please note that the way the fixtures are handled and stored can dramatically affect fixture life.
2.  Heating and cooling rates can significantly impact all fixture materials since large temp-differentials can lead to significant distortion in the materials via thermal stresses. Thermally fatiguing the materials is very real in many shops, and will have a big effect on the life of fixtures.
3.  Brazing temperatures used will also affect the life of fixtures, since the higher the temp of a furnace cycle, the greater will be the metal expansion factors, potential grain growth issues, diffusion of brazing filler metals (BFMs) into fixtures, temperature-differentials, distortion potential, etc.
4. Loading conditions relate to the pattern of placing components onto the fixtures for brazing.  Evenly spaced, lighter-weight components will have a different effect than very heavy, massive parts crowded onto one side of a fixture, etc.   What will the thermal effects be on the fixture in each case?  Delta-T (temp-differentials) can be very significant when fixtures are unevenly loaded, thus leading to distortion (warpage), and subsequent early failure, etc.
5. Atmosphere quality.  How much oxygen is present?  Are any corrosive gases present?  Is there moisture in the furnace atmosphere? Is significant outgassing occurring during heating?  Each of these items can hurt the life of the fixture.
Normally, austenitic stainless is used for light-weight needs, and for when the furnace loading and cycles are at fairly low temp, evenly loaded, and atmosphere quality is very good (very little oxygen or corrosive gases present).   For more potentially "abusive" situations (thermally and/or chemically), you would tend to move up to the "super-alloy" fixturing materials (such as Inconel or Hastelloy materials) that are much more thermally stable and corrosion resistant, or perhaps even to certain ceramic materials.  But even that kind of a sequencing assumes careful handling, even loading, etc.  Obviously, rough handling would make ceramic fixtures much more shortly-lived than even basic austenitic-stainless fixtures!
Thus, it is hard to predict the "expected life" of fixtures, per se.  So much depends on the training of the workers doing the brazing in the shop, as well as the brazing cycles required.
---
Dan Kay operates his own brazing consulting/training company and has been involved full-time in brazing for 35-years. Dan regularly consults in areas of vacuum and atmosphere brazing, as well as in torch (flame) and induction brazing. His brazing seminars, held a number of times each year help people learn how to apply the fundamentals of brazing to improve their productivity and lower their costs. Dan can be reached via e-mail at dan@kaybrazing.com This e-mail address is being protected from spambots. You need JavaScript enabled to view it, and his website can be visited at: http://www.kaybrazing.com/
To View a listing of all Dan's articles please click here 
Read Dan Kay's Biography
© Copyright Dan Kay 2009