In this month's article, we continue to look at methods you can use to keep fixturing-weight down to a minimum, especially in furnace brazing, remembering once again that fixtures (baskets, frames, grates, dead weights, etc.) represent a large mass of metal (the material most often used in fixturing) that absorbs a lot of heat and can thus significantly increase the brazing time needed to complete a braze. Make it your job to significantly reduce the amount of fixturing-weight put into your brazing furnace.
In last month's article, I mentioned that someone increased the productivity of their brazing operations by over 75% when they implemented the fixturing recommendations  I made to them during the brazing-seminar they attended (the same recommendations I'm making in this article).
The heavy basket shown in Fig. 1 was used to hold some very light parts for furnace-brazing. The parts, which, as a group, only weighed a few pounds, required the use of a fork-lift truck because of the heavy weight of the basket used to hold them. The basket was too heavy to be lifted and carried by two men without significant risk of back injury. Why did they use this heavy basket? I was told it was the standard basket they used in their furnace for all their brazing, irrespective of the weight or size of the parts being brazed. These people were NOT taking into consideration the large amount of heat energy needed to heat the basket, which was significantly greater than the heat needed to braze the light-weight parts. Note, too, that those light-weight parts were hollow tubes onto which they wanted to braze a series of thin laminations.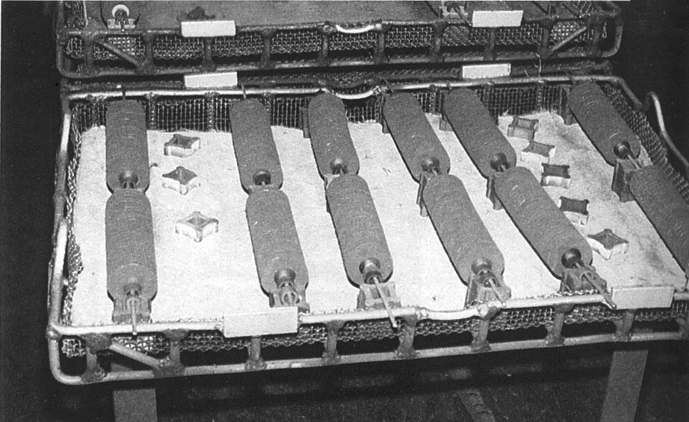 NOTE: THERE IS NO FREE RIDE! EVERY POUND (KILOGRAM) YOU PUT INSIDE THE FURNACE ABSORBS BTU'S (CALORIES) AS IT IS HEATED TO BRAZING TEMP. THEREFORE, EVERY BTU (CALORIE) USED TO HEAT FIXTURES IS COSTING YOU MONEY AND EXTENDING THE CYCLE TIME IN THE FURNACE!
Take a look at the fixture shown in Fig. 2.  This fixture was designed to hold some very light-weight automotive steel "barbs" that were being copper-brazed to a tubular fitting onto which rubber hose tubing would be clamped. I had the people stop loading the fixture so that I could get a photo of the set-up.
Yes, the design of the fixture is okay, with each vertical pin being able to hold one of the hollow "barbs" for brazing, thus enabling many brazed joints to be accomplished in a small amount of space.
But — the frame used was made from heavy, solid bar-stock, adding far too much weight to the brazing furnace. They claimed that the heavy-duty bar-stock was needed to try to prevent distortion of the rack during brazing. However, just the opposite is true — when heavy bar stock is used, it can result in more thermal distortion of the furnace rack than a lighter weight frame, such as one made from thin-wall tubing.
My recommendation: Make that frame-and-pin assembly from hollow steel tubing, thus significantly reducing weight and enabling better distortion control. The lighter weight also results in lower costs since much less weight has to be heated in the furnace.
In Fig. 3 you see a multi-level metal rack used to hold light-weight hollow steel domes that were being copper brazed. Here is another case where the weight of the rack is much more than is needed for successful brazing of the lightweight parts.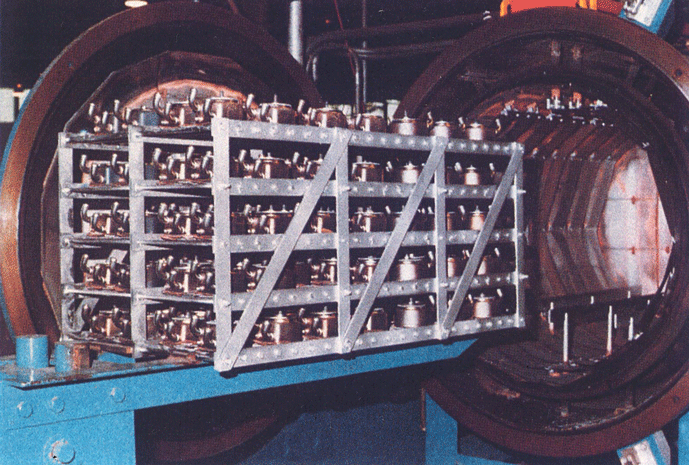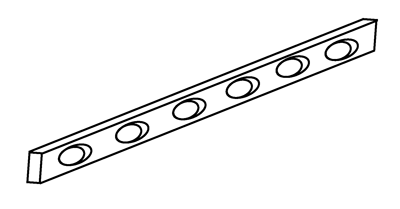 The steel frame of the rack in Fig. 3 can be made much lighter by drilling "lightening holes" in each of the bar-segments used to make that rack. It's similar to the arch-bridge concept in many ways, and the optimal size of the holes can be determined fairly easily by use of design software available to designers today.
CONCLUSION: It is VERY important to control all fixturing-weight used in furnace brazing so that the fixtures do NOT add any significant weight to the process. The appropriate use of tubing instead of heavy bar stock, the use of "lightening holes" in many of the bar/strip stock used in fixturing can save a lot of weight. Remember, every pound/kilogram saved represents increased productivity, since every pound/kilogram of metal you put into any furnace brazing process absorbs heat and costs money!
---
DAN KAY BRAZING-TRAINING SEMINARS: 3-Day seminars provide intensive training in "The Fundamentals of Brazing", covering the brazing of materials ranging from aluminum to titanium to ceramics! FIND OUT MORE
Dan Kay – Tel: (860) 651-5595 – Dan Kay operates his own brazing consulting/training company, and has been involved full-time in brazing for 45-years. Dan regularly consults in areas of vacuum and atmosphere brazing, as well as in torch (flame) and induction brazing. His brazing seminars, held a number of times each year help people learn how to apply the fundamentals of brazing to improve their productivity and lower their costs. Dan can be reached via e-mail at dan.kay@kaybrazing.com, and his website can be visited at http://www.kaybrazing.com/
To View a listing of all Dan's articles please click here
Read Dan Kay's Biography
© Copyright Dan Kay 2017