Furnace brazing is a common brazing process around the world, and I have witnessed many brazing furnaces in action in many countries – from here to mainland China. Furnaces are convenient for brazing since the parts to be brazed can be easily loaded into a batch furnace or onto the belt of a continuous-belt furnace. The operator depends on the various furnace parameters (temperature, time, ramp rates, atmosphere controls, etc.) to ensure that the job of brazing each component will be done reliably, correctly and identically for each part that is subjected to those brazing cycles in that furnace.
An interesting question I have often encountered over the years with furnace brazers is this: "How do I know if a particular gap-clearance will work in my brazing furnace?"
Please understand that each brazing furnace is unique and behaves in its own unique way. By this, I mean that even two furnaces of the same model number are not actually identical. Each one has its own personality, and the furnace operator needs to try to understand and work with each "personality."
Brazing clearances are very important for the proper flow of brazing filler metals (BFMs) into a braze joint. However, many production shops that build parts to be brazed utilize different standards for the clearances they allow for brazing fit-ups, and normal tool wear can often impact this to the chagrin of many brazing shops. Some brazing shops tend to "cross their fingers," so to speak, hoping that the gaps they are given will be successfully brazed since they really don't know what their furnaces are truly capable of. If someone were to tell them, "Hmm, these parts have a brazing gap of 0.007″ (0.178 mm). Can our furnace handle that?" The typical answer is often: "I'm not sure. Let's give it a try, and see what happens." That kind of answer is not good and not necessary.
You CAN find out what your furnace is capable of by using a special Vertical Test Specimen (VTS) in your furnace, along the lines of that which is shown in Figure 1 below. This VTS can be used in any furnace (batch-type or continuous), with any atmosphere (including vacuum), and with any base metal and BFM combination.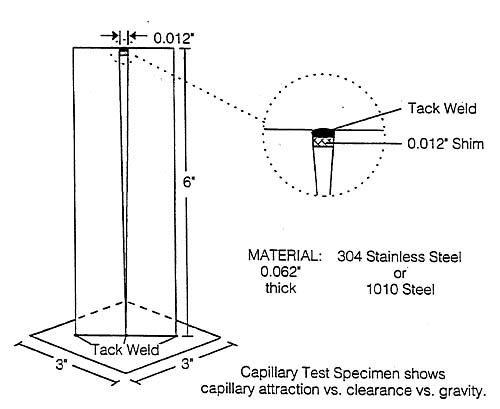 The VTS, which was developed by the late Robert L. Peaslee, provides a unique way to determine exactly what kind of braze clearances can be tolerated in your particular furnace with your particular base metals and BFMs. The shape of the VTS is such that when the filler metal is placed on the VTS at the base of the vertical "V" (where the gap clearance is "zero"), the BFM will melt during the brazing cycle and be drawn by capillary action vertically up the gap between the two angled legs of the specimen. The BFM flow will stop (capillarity is broken) when the gap between the legs becomes too great for the BFM to rise any further, according to the particular conditions of that furnace cycle (time, temp, ramp rates, etc.), atmosphere quality and BFM interaction with the base metal in that particular furnace run. Yes, they can vary in the furnace from cycle to cycle.
In Fig. 2, you can see the results of an actual VTS in which the base metal was Inconel 600 and the BFM was BNi-2. The VTS was brazed in a vacuum furnace at 10-4 Torr and held at a temperature of 1900°F (1040°C) for 15 minutes.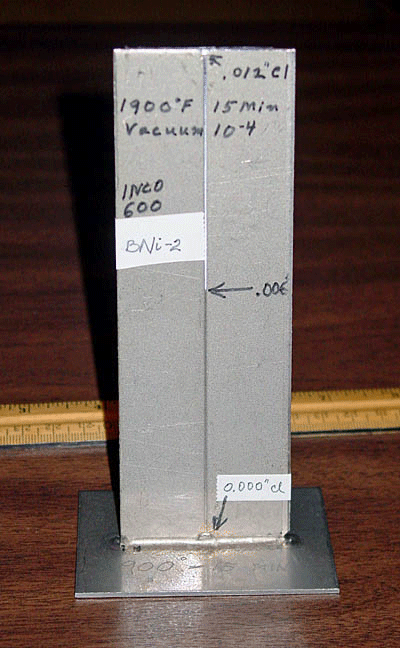 Note that the BNi-2 BFM was drawn by capillary action up into the vertical joint and was able to rise to a height where the gap was 0.006″ (0.15 mm) but no higher. Above that point, the gap was too large for the conditions noted in that furnace cycle.
Some people would respond to this by saying, "Great! I can braze parts together with a gap of 0.006″ (0.15mm). Wow!"
No, that's WRONG! At 0.006″ (0.15mm) in this actual test, capillarity could not continue beyond that gap clearance! So, if in your own samples the gaps are nominally about 0.006″ (0.15mm), you will probably have some portions of the joint that are a little less than 0.006″ (0.15mm) and other areas in the joint that are greater than 0.006″ (0.15mm). Consequently, some of those braze gaps will not be able to fill because they are too large.
How to Properly Interpret Results of the VTS
When you find out the maximum gap that can be tolerated in your furnace, via the VTS, for the particular base-metal/BFM combination you are using, you then know the MAX gap that your furnace will allow. Do NOT allow any of the parts you are brazing to have braze clearances that come close to that maximum amount!
RULE TO FOLLOW: Don't let any braze gaps exceed 50% of the clearance shown on the VTS for that furnace/base-metal/BFM combination! Train your people accordingly. Thus, if the VTS shows a particular BFM "breaks capillarity" at 0.006″ (0.15mm), don't allow any braze assemblies into your furnace that have braze-gaps larger than 0.003″ (0.08 mm). If you do this, you should NEVER have parts that do not braze fully and completely.
Making VTS Samples
The VTS material used must be the same as the base material being brazed.
The brazing filler metal (BFM) must be the same as that being used in that particular furnace run.
The dimensions of the VTS can be changed to suit your furnace needs or to your material availability. Please note that the specimen must have a base that will keep the two vertical members stable during the entire braze run, without the need for additional support to keep the legs of the specimen in the vertical position.
The two vertical legs are cut so as to allow a V-shape gap to be made, starting at the base with a "zero" gap (keep all tack welds as small and as clean as possible) and then steadily opening up to a gap at the top of at least 0.012″(0.30mm) but no greater than 0.020″(0.50mm).
The edges of the two strips inside the vertical joint should be square and clean (not just a sheared edge), since the BFM will be rising along those inner edges of the VTS to fill the variable gap.
---
Dan Kay – Tel: (860) 651-5595 – Dan Kay operates his own brazing consulting/training company, and has been involved full-time in brazing for 35-years. Dan regularly consults in areas of vacuum and atmosphere brazing, as well as in torch (flame) and induction brazing. His brazing seminars, held a number of times each year help people learn how to apply the fundamentals of brazing to improve their productivity and lower their costs. Dan can be reached via e-mail at dan@kaybrazing.com, and his website can be visited at: http://www.kaybrazing.com/
To View a listing of all Dan's articles please click here
Read Dan Kay's Biography
© Copyright Dan Kay 2010