In this month's article, we will look further at the placement of TC's in furnace brazing loads, and how, together with correct furnace heating/cooling rates, they can help to maximize uniformity of temperature throughout each brazing load and minimize any distortion of the components being brazed.
To have good control of any furnace-brazing process-run, you will need to know the temperature of the parts being brazed inside the furnace, and in batch-type furnaces this can only be done via well-placed thermocouples (TC's) throughout the furnace and in the load of parts being brazed.
For load-TC's it is my recommendation that brazing shops use at least three (3) Type-K or Type-N load-TC's in each furnace brazing run, and more if possible. As shown in Fig. 1, typical vacuum furnaces used for brazing will have a number of ports inside the furnace door into which a variety of load TC's can be plugged. Load TC's should be placed inside parts, on top of parts, at corners, etc., so as to get as complete a temperature profile of the load as possible. The greater the number of load TC's used, the more the control you will have.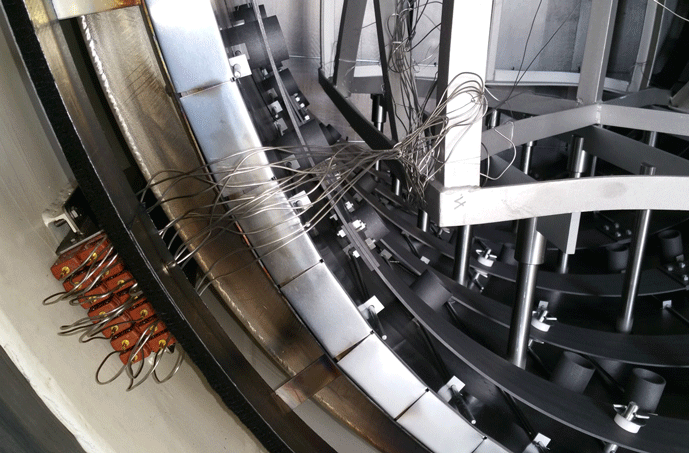 Connecting TC's to parts in the load
As a minimum, the tip of each load-TC should be firmly touching the part it is monitoring, as shown in Fig. 2a. These TC's can be held in position on the outside surface by wrapping them in place using wire, or even by lightly tack-welding them to the surface to hold them in place.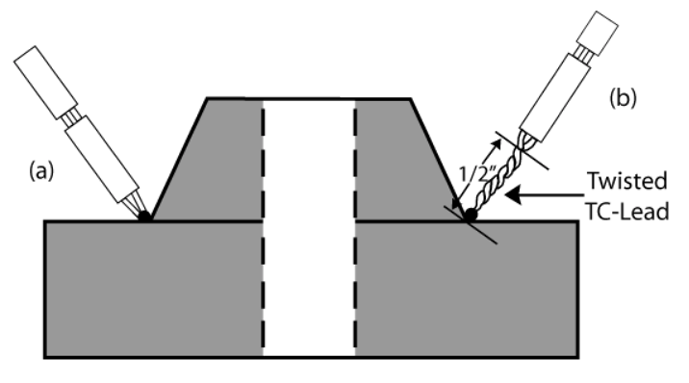 An important thing to understand about TC's, however, is to note that a TC measures the temperature at the point where the two TC-wires first touch each other. Thus, as seen in Fig. 2b, the twisted TC lead does not actually measure the temperature at the surface of the part it is touching, but actually measures the temperature almost ½" (12-mm) above that surface, i.e., at the point where the TC-wires first contact each other. Therefore, do not twist wires to make a TC. Instead, if you make your own TC's, you should weld or braze the ends of the TC-wires instead, as shown Fig. 2a.
IMPORTANT NOTE: You should only purchase and use calibrated thermocouple wire if you are making your own TC's.
Should you use more than one TC on a component?
When there is a significant difference in cross-sectional mass within a part (thin sections and very heavy sections within the same part), then TC's should be attached to both the heavy and thin section (of at least one of those parts in each load). This will allow you to measure the temperature differential (delta-T) between the thin and thick section of a single part and this information can help to prevent distortion of that component. Distortion in furnace brazing is primarily caused by large delta-T's within a component part, not by the delta-T in the whole furnace load. Therefore, in my opinion, it is vital that you control your brazing process by using more than one TC on at least one of the components in the load (the thin section and the heaviest section of that part).
The chart in Fig. 3 shows "yield-point" curves for several different metals. By this I mean that when the temperature difference (delta-T) measured by two different TC's placed in the same metal component is such that it is to the right of the curve for that particular metal, then that part will yield (distort). But when the measured delta-T is to the left of the curve, the metal can handle it, and the part will not yield (distort).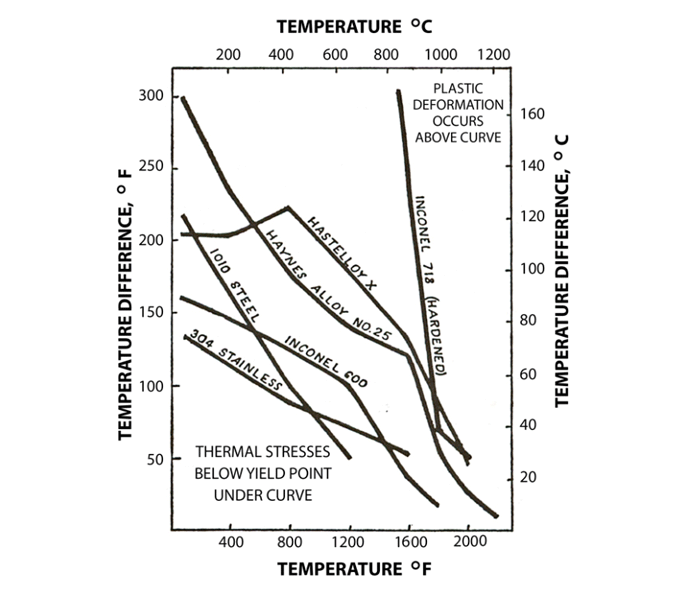 These curves are based on a limited amount of testing in one laboratory, but it is still worth noting and following the general conclusions that can be drawn from that chart. Note that as the brazing temp gets higher and higher, the amount of delta-T that can be tolerated in any given metal component gets less and less. These curves are particularly useful when the furnace is ramping up to brazing temp, and again when it is cooling back down to room temp. But, please note that this data would not have been possible without putting more than one TC on each of those parts, one on the surface, and another buried down inside, in order to measure the temperature difference in the part that caused the metal to yield (distort).
Burying TC's to get internal part-temps.
So, in order to get good internal temperature measurements of the parts being brazed, it is very desirable to be able to push some TC's down into the interior of the parts, as close to the center as possible, especially if brazing is taking place throughout the part, such as with heat-exchanger assemblies. But sometimes the load does not allow for such a TC insertion. In that case, a "dummy-block" of similar cross-sectional-mass should be used for this purpose, as shown in Figs. 4 and 5.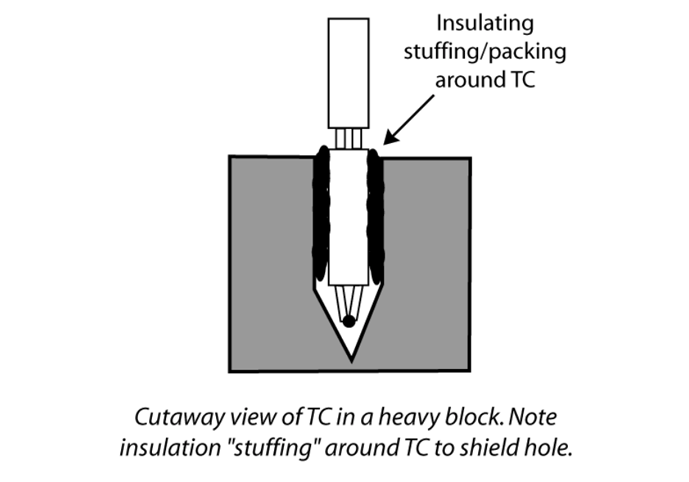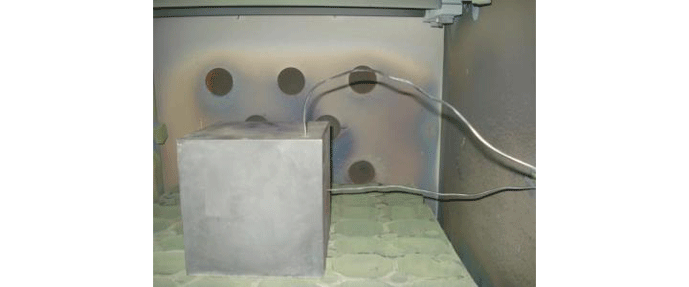 Don't bend TC's
Be careful when loading TC's into the furnace and attaching them to the parts for part-temp monitoring. TC's are sensitive structures, and if bent (cold-worked) their thermal accuracy can be altered. Therefore, be very careful not to bend (kink) TC wire when putting them onto parts in the furnace. This is important. Instead, make long curving loops of the TC wire in order to reach "hard-to-get-at" locations. Don't bend and twist the TC to reach that location, but instead, loop the wire in ways that will allow that location to be reached.
Can you comply with AMS 2750E?
Aerospace Material Specification (AMS) 2750E ("Pyrometry") is the current version of the spec that deals with temperature control in brazing and heat-treat furnaces today. If your shop is NADCAP certified or desires to be, then thermocouples need to be an important issue for you. I strongly urge you to contact the Performance Review Institute (PRI) in Warrendale, Pennsylvania, an organization originally set up to administer NADCAP and the effective implementation of AMS 2750. Contact them to learn about how they can help you to better understand the role of NADCAP in your plant and the important role of TC's in controlling your furnace brazing.
---
DAN KAY BRAZING-TRAINING SEMINARS: 3-Day seminars provide intensive training in "The Fundamentals of Brazing", covering the brazing of materials ranging from aluminum to titanium to ceramics! FIND OUT MORE
Dan Kay – Tel: (860) 651-5595 – Dan Kay operates his own brazing consulting/training company, and has been involved full-time in brazing for 45-years. Dan regularly consults in areas of vacuum and atmosphere brazing, as well as in torch (flame) and induction brazing. His brazing seminars, held a number of times each year help people learn how to apply the fundamentals of brazing to improve their productivity and lower their costs. Dan can be reached via e-mail at dan.kay@kaybrazing.com, and his website can be visited at http://www.kaybrazing.com/
To View a listing of all Dan's articles please click here
Read Dan Kay's Biography
© Copyright Dan Kay 2017