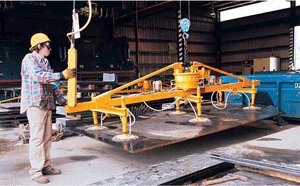 Fig. 1 Lifting with the aid of Suction Cups.
This month I'm going to take a step away from vacuum pumps and systems and write about general applications that use vacuum in the process. There may be some applications you have heard about and some, hopefully, that may be new to you. Whenever a vacuum (a pressure lower than the surrounding atmospheric pressure) is used in a process it will generally fall into one of the Five Main Reasons for using Vacuum. In some cases a process may use vacuum for two of the five reasons. This month I will discuss the first of these reasons, in no specific order.
1. To Provide a Working Force
First, a short explanation of the two vacuum measuring units used in this article.
We know that standard atmospheric pressure is 14.7 lbs. in-2 and that your real life atmospheric pressure varies up and down a few percentage points from the standard depending on a) weather conditions in your area and, b) your altitude above sea level.
Remember that "low" pressure is the same as "high" vacuum, and conversely "low" vacuum is the same as "high" pressure – but still below atmospheric pressure in the vacuum industry. I have written a small number and read many technical articles about vacuum and it is very difficult to ensure that these terms are consistent throughout.
In the example below we also have to understand that the vacuum measuring units read in opposite directions and we have to change one of them. Does that sound confusing? Yes it is.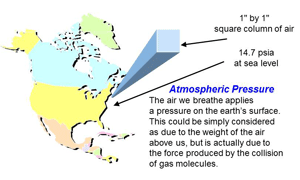 Fig. 2 Atmospheric pressure
Atmospheric pressure is the pressure developed by molecules of air colliding with each other, in a one inch square column of air reaching from sea level up into the sky. Another way of looking at it is the weight of the air molecules, 14.7 lbs., in that same one inch square column, giving 14.7 lbsf. in2. (Fig. 2) At atmospheric pressure the reading on the vacuum gauge would around 14.7 psia (pounds per square inch absolute is another way to indicate lbsf. in2 and sometimes easier to write) and as the vacuum level improves or rises, the pressure drops towards 0 psia. No vacuum system has ever been able to create exactly 0 psia – a perfect vacuum – but some scientific vacuum systems have created pressures lower than the pressure on the moon's surface.
The inches of mercury range, used by Torricelli in his mercury barometer (Fig. 3) has 30 inches of mercury column being supported by atmospheric pressure pushing on the surface of the mercury in the main container. This scale starts at 0" Hg at atmospheric pressure and rises to around 30" Hg at what is often called full vacuum or hard vacuum in some industries such as the refrigeration industry. Although standard atmospheric pressure is equivalent to 14.7 psia and 29.92 "Hg vacuum gauges will show scales of 15 to 0 and 0 to 30 respectively. These are not accurate scales and the numbers are rounded out. To allow us to compare the two scales we will turn the inches of mercury readings around.
Let's get back to the actual example of using vacuum to do work.
If your vacuum system is under any level of vacuum there is a pressure differential between the inside and the outside of the volume being evacuated. This pressure differential can be used to do work. (Fig. 1)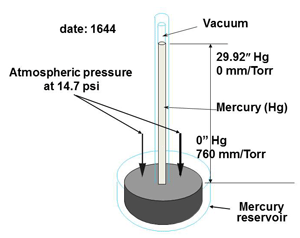 Fig. 3 Torricelli's mercury barometer.
In this application, the lifting frame has six suction cups and it appears that a sheet of thick steel is being lifted and moved. Let's "do the numbers" and see how much weight the suction cups may be able to lift. In the "rough vacuum" range vacuum readings are often stated using the 0 to 30 inches of mercury scale.  For this type of application a rough vacuum pump is used, i.e. a vacuum pump that can produce a vacuum between about 5" Hg and about 29 " Hg.
It is a wide range, the equivalent of from 635 Torr to 25 Torr on the vacuum gauges generally used in the vacuum heat treating industry, and there are a number of vacuum pumps that can produce a vacuum in that range. However, if the vacuum pump selected has to develop a vacuum of at least 26" Hg and also have a pumping speed requirement of 10 cfm, the selected vacuum pump may be an industrial style reciprocating piston pump similar to an air compressor. This type of vacuum pump is of the same design as a reciprocating air compressor but the valves are reversed. The pumping speed would be selected based on the number of suctions cups used, the number of lifting frames used at any one time and to allow for leakage if, for example, there is debris under the lip of the suction cup.
If the effective size, the inside diameter where it touches the lifting surface, of the suction cup is 6 inches, we can calculate the effective surface area that is available for lifting the product. For this example we can round out the numbers being used as a safety factor will be applied as we make our calculations.
A circle has an area of pi r2. For the six inch diameter suction cup this becomes 3.142 x 3 x 3 = 28.278 square inches. Let's use 28 square inches, times 6, which gives a total lifting area of 168 square inches.
Fig. 4 A vacuum "pick" for lifting small items.
Now we need to calculate the pressure differential between atmospheric pressure and the vacuum level inside the suction cup. To calculate this we need to convert the inches of mercury vacuum level stated above to psia and there is an easy ratio between them. One is 15 to 0 and the other is 0 to 30. This is a 2:1 ratio.
If the vacuum pump can evacuate its storage tank (receiver) to about 26" Hg, we have to assume some loss in the piping and vacuum hoses that connect the receiver to the suction cups. Let's say that loss is 2" Hg. So our effective suction cup vacuum is 24" Hg. Now we need to turn the reading around and convert it to psia.
30 – 24 = 6 and then 6 divided by 2 = 3 psia.
Atmospheric pressure is 15 psia so the differential pressure that can be used for lifting, in this example, is 15 – 3 = 12 psia.
Now we go back to the total lifting area supplied by the six suction cups and multiply it by the differential pressure. That gives the following:
168 x 12 = 2016 lbs. of lifting force, just over 1 ton.
Lastly we need to apply a safety factor to that number, as we don't want that steel plate falling on the operator's toes even if his shoes have steel toe caps! Perhaps a 60% safety factor would be used for this type of product, giving the suction cup frame a maximum lifting capacity of about 1200 lbs. The safety factors applied will vary depending on the weight, size, shape and surface finish of the part being lifted.
This example shows where vacuum, or more correctly a pressure differential created by using a vacuum, can lift a heavy weight. Vacuum lifters are used in the automotive industry to move windshields into position, in the printing industry to move sheets of paper, in the food industry to move bags or packages of product and many other industrial and scientific material handling applications. There are also applications where vacuum "picks" (Fig. 4) are used to pick up and move very light weight products such as integrated circuits (computer chips) and small electronic components.
The other four main reasons for using vacuum will be discussed in future articles throughout 2014.
Happy Holidays to all readers!
---
Howard Tring / Tel: (610) 792-3505 / E-mail: [email protected] / Web: www.vacuumandlowpressure.com
Howard Tring is the owner of Vacuum and Low Pressure Consulting, a company that supplies vacuum pump accessories such as reconditioned inlet traps and exhaust filters and new replacement elements for exhaust filters. Howard also offers on-site vacuum technology and oil sealed vacuum pump repair training and consulting services, customized to the needs of the client. Howard is a member of ASM International and the Heat Treat Society, the AVS, the SME, the SVC and the American Society for Training and Development.
Copyright December 2013, Tring Enterprises LLC – Comments on this article are welcome. I do not profess to know everything about any specific vacuum related subject. However, I have worked in the vacuum pump industry a long time and have seen good, bad and ugly. Please contact me with any comment or question. All messages related to the content of the article will be answered.