Please visit the Dayton Process BV Website here
All gas turbine engines require regular overhaul to ensure continued safe operation.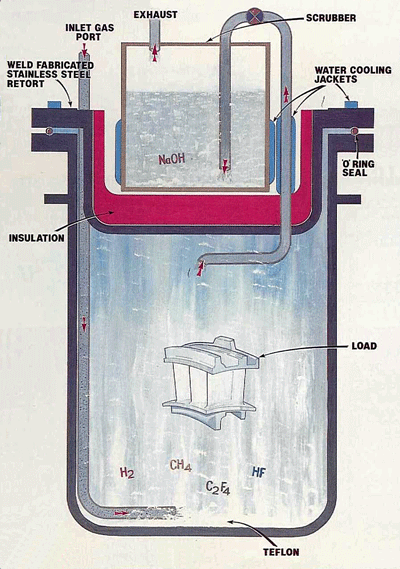 Engine overhaul decisions must be made on whether to replace deteriorated individual parts and assemblies with new components or to repair them. The ultimate decision depends on both technical and commercial criteria. That is, is there a technically sound repair available and, if so, is it economically favorable compared to the cost of a replacement component? Sometimes lack of availability of replacement components may override purely economic criteria.
The Dayton Process BV Fluorocarbon Cleaner manufactured by VAC AERO is one of the safest, most efficient and reliable systems for removing service oxides from superalloys.
During the Dayton Process BV Fluoride Ion cleaning process, Hydrogen Fluoride (HF) gas is produced inside a sealed retort so no transport or storage of dangerous HF gas is involved. Because the system does not require piping for HF gas the risk of HF leakage is minimized. The process also forms methane or CF4, which reacts with any moisture in the retort, making the process internally dry and eliminating inter-granular attack of the cleaned component.
The Dayton Process BV Fluorocarbon system comes with a unique Cycle Interpreter that provides a computer simulation of the effect of parameter changes. The Interpreter calculates the strength of the fluoride ion cleaning action and predicts the depth of the depletion – this innovative technology enables the development of cleaning cycles without costly "trial and error" experimentation. Maximum load weight per cycle ranges from 100 to 200 kg depending on the design of the loading rack.
For more informatio on the "Dayton Process BV" Fluoride Ion cleaning process click here.