Please visit the Dayton Process BV Website here
All gas turbine engines require regular overhaul to ensure continued safe operation.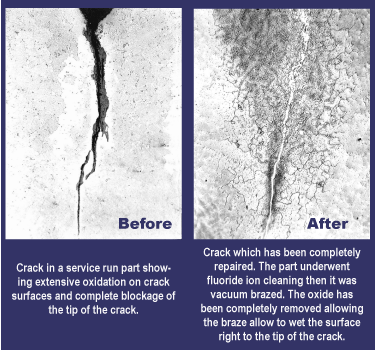 During engine overhaul, decisions must be made on whether to replace deteriorated individual parts and assemblies with new components or to repair them. The ultimate decision depends on both technical and commercial criteria. That is, is there a technically sound repair available and, if so, is it economically favorable compared to the cost of a replacement component? Sometimes lack of availability of replacement components may override purely economic criteria.
The Dayton Process BV Fluorocarbon Cleaner manufactured by VAC AERO is one of the safest, most efficient and reliable systems for removing service oxides from superalloys.
Seven reasons why you should consider the Dayton Process BV Fluoride Ion Cleaning System:
Gaseous cleaning of service-exposed turbine engine components (blades, vanes, casings, etc.) is considered the best approach to preparing these parts for repair by brazing or welding.
An effective halide cleaning unit is an essential prerequisite to the successful braze repair of turbine components from modern aviation gas turbine engines.
Of all the known cleaning processes and systems currently available, the Fluorocarbon Cleaning Process (FCP) is the most effective, most reliable and most attractive from health, safety and environmental aspects.
The FCP is a unique 'dry' process which completely eliminates the problem of associated GA.
It is the most effective process for the removal of surface and sub-cutaneous complex stable metal oxides from cracks, and free surfaces of nickel- and cobalt-based superalloy engine run components.
Controlled surface depletion of strong oxide forming elements like aluminum and titanium, actively promotes good braze wetting and infill of even the most complex superalloys.

This unique combination of cleaning and surface conditioning without attendant GA, makes the DAYTON FCP an ideal enabling process for the braze repair of today's generation of engine run superalloy turbine components

.
Choose from models that include:
Model DP-101 will clean up to 11 ft2 (1 m2) of component surface area in a single process cycle.
Model DP-102 will clean up to 33 ft2 (3 m2) of component surface area in a single process cycle.
Model DP-103 will clean up to 54 ft2 (5 m2) of component surface area in a single process cycle.