Details

Written by Dan Kay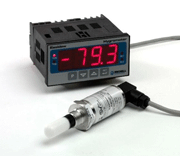 On a warm, moist day, our earth's atmosphere will contain a significant amount of moisture in it. During the night, when the sun has gone down, this atmosphere will become cooled, and will not be able to hold onto the amount of moisture (water) that it could when it was warm, and so, some of that moisture will condense out onto the grass in the form of "dew". Then, during the following day, when the sun heats the air up once again, the dew will evaporate from the ground.
It is well known that the warmer the gas, the greater will be the amount of moisture that gas can hold. At any given point in time, all gases will have what is called a "dewpoint". The "dewpoint" of any gas is the temperature to which that gas must be cooled to get the first droplet of moisture to condense out of that gas (assumed to be at one standard atmosphere of pressure). The less the amount of moisture in that gas, the cooler must be the temperature to which that gas must be cooled in order to get the first condensation to occur. Based on that fact then, it will be understood that the lower the dewpoint of a gas, the drier (lacking moisture) is that gas. by Dan Kay
Details

Written by Dan Kay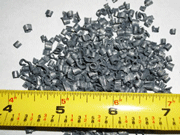 In last month's article, we looked at the use of titanium-"getters" when vacuum-brazing high-temperature base-metals that are very sensitive to oxidation. In this month's article, let's look at how magnesium (Mg) is used as a "getter" when vacuum-brazing at temperatures of only about 1000-1100°F (540-600°C), as needed for joining aluminum base metals.
Magnesium (Mg), often referred to simply as "mag", can be highly effective at gettering both oxygen and moisture that may be present in a vacuum-furnace atmosphere being used in aluminum-brazing operations. Aluminum (Al) reacts readily with oxygen to instantly form a tenacious Al-oxide layer on its surface. This Al-oxide layer is very stable, and, if mechanically removed, will quickly re-form. Thus, in real life, a layer of aluminum-oxide will constantly be present on the aluminum surface before, during, and after aluminum brazing. Dealing with that oxide layer has proven to be a challenge to many brazing shops over the years. by Dan Kay