VAC AERO is a leading vacuum furnace manufacturer and metallurgical service provider to aerospace and high-tech industries worldwide.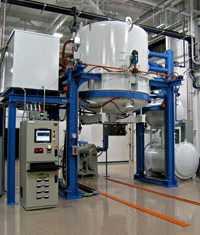 Vacuum Furnace Manufacturing
Advanced External Quench Vacuum Furnaces for Superior Processing!
VAC AERO is committed to building furnaces with the lowest cost of ownership achieved through superior design, top quality materials and high performance operation.
VAC AERO offers a complete line of heat treating and brazing furnaces, from small horizontal laboratory units to large, vertical models. All VAC AERO furnaces come equipped with the Honeywell HC-900 system "hybrid process control system".
VAC AERO furnaces operate worldwide in diverse applications in a variety of industries such as; turbine engine component manufacture and repair, medical bone implants, nuclear materials, tool and die manufacturing, research and other high-tech industries.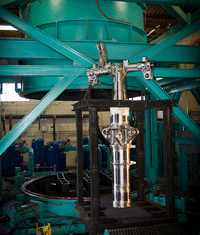 Heat Treating & Brazing Services
VAC AERO specializes in vacuum heat treating and brazing of advanced materials and holds numerous customer and quality system approvals from prime manufacturers in aerospace and other high-tech industries.
VAC AERO has the equipment and expertise to process a wide variety of materials including steels, superalloys, aluminum and titanium for such diverse applications as aircraft landing gear and structural parts, aero and land-based turbine engine components, nuclear components and a host of other specialized applications.
Since its founding VAC AERO has gained the trust of its customers thanks to its peerless dedication to service and to the delivery of the highest quality end product. Extensive knowledge and experience, coupled with a unique approach to understanding client's challenging processing needs and requirements has positioned VAC AERO as a leading metallurgical products and services provider worldwide.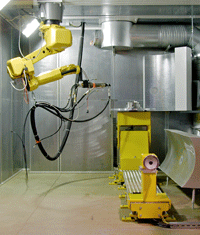 Coating Services
VAC AERO offers a variety of coating processes for protection and restoration of both new and service-exposed components. Services to the aerospace and high-tech industries include; plasma and HVOF spray coatings, inorganic paint and pack coatings as well as grinding and shot and glass bead peening.
VAC AERO operates two fully integrated state-of-the Art High Velocity Oxygen Fuel (HVOF) system based on a new generation Carbide Jet System. VAC AERO offers Coating services at it's Boucherville, Quebec, Canada plant.
VAC AERO is accredited to NADCAP and AS9100B standards for heat treating, welding and tensile testing and holds numerous customer approvals from major aerospace prime contractors. VAC AERO operates four heat treating and coating facilities in Canada.