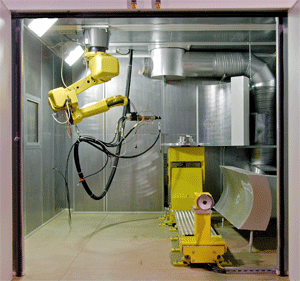 VAC AERO's high velocity oxygen fuel (HVOF) system based on a new generation carbide jet system.
VAC AERO's Boucherville, Quebec, Canada facility operates a fully integrated High Velocity Oxygen Fuel (HVOF) system based on a new generation Carbide Jet System (CJS).
The system's specially designed combustion chamber is fed by hydrogen, kerosene and oxygen fuel and optimized for spraying MCrAlY coatings on turbine engine components, tungsten carbide coatings on landing gear components and can perform many other coating applications. Precise combustion and fuel configuration settings control particle temperature and velocity to achieve optimal coating efficiency in less time and lower fuel consumption than other HVOF systems. The system was installed in a 13'X13'X 10' high (4X4X3 meters) soundproof booth.
The CJS torch is set in motion by a new Fanuc M20 robot with 8 axis movement (6 axes on the robot and 2 axes on a tilting turn-table integrated into and controlled by the robot). The torch's wide range of spraying temperatures prevents part overheating and an ID torch allows for spraying of parts with inner diameters as small as 6 inches (150mm).
This versatile system can also operate with the following HVOF torches:
Thermico CJS K5.2
Thermico ID Coolflow
Thermico ID Coolflow Mono
Praxair JP-5000
Deloro Stellite Jet Kote
Sulzer Metco Diamond Jet
The system is equipped with a CPF2 powder feeder that can achieve reproducibility in powder flow lower than 1% and accuracy of ±2%. It can also feed very fine (even nano) powder measured by mass-flow-controllers. The new HVOF system complements VAC AERO's existing plasma spray and inorganic paint coating capabilities. The company continues to invest in new special processing technologies to provide customers with a wider scope of services.
Additional Specs:
Flame Temperature: 400 – 2500 degrees Celsius
Flame Velocity: up to 2500 Meters/Second
Particle Temperature: 300 – 2200 degrees Celsius
Particle Velocity: 700 – 1200 Meters/Second
| | |
| --- | --- |
| | |
| The system is installed in a 13'X13'X 10' high (4X4X3 meters) soundproof booth | The spray lathe |
| | |
| The CJS torch is set in motion by a new Fanuc M20 robot with 6 axis movement | The torch's wide range of spraying temperatures prevents part overheating and an ID torch allows for spraying of parts with inner diameters as small as 6 inches (150mm) |