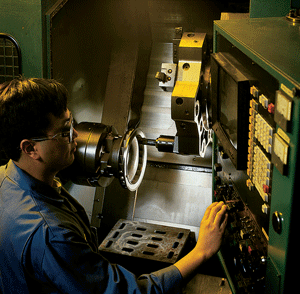 VAC AERO conforms to the highest level of standards employed by the industry.
VAC AERO's passion for excellence and dedication to quality is reflected in the comprehensive quality systems we maintain in all of our metallurgical service facilities. Our heat treating, brazing, and Coating operations are Nadcap and AS 9100 / ISO 9001:2008 accredited. Our TIG welding and tensile testing operations are also Nadcap approved.
VAC AERO's qualified metallurgists and mechanical engineers will assist you with all your metallurgical service needs.
Our production facilities operate metallurgical laboratories that are fully equipped for metallographic examination, standard and micro-hardness testing, decarburization and high-temperature oxidation inspection, tensile testing and complete dimensional inspection. Our qualified metallurgists, lab technicians, and inspection personnel prepare and adhere to documented procedures to ensure compliance with applicable standards strengthened through internal, external and technical audits.
Limited Liability
VAC AERO uses the Metal Treating Institute Statement of Limited Liability as the definitive statement of our position regarding conditions and limits of liability in accepting work for processing.
STATEMENT OF LIMITED LIABILITY
Following is a partial list of our Quality System Approvals:
Atomic Energy of Canada Ltd.
Bell Helicopter
Boeing Aircraft Company
Bombardier Aerospace
Canadian Forces
GE Aircraft Engines
Goodrich Landing Gear
Heroux-Devtek

Honeywell
Litton Systems
Lockheed Martin
Messier-Dowty
Parker-Hannifin
Pratt & Whitney
Rolls Royce
Siemens Westinghouse
Following is a list of VAC AERO's Coating, Heat Treating & Brazing (PDF) Certificates & Approvals in that you can download as required.
ONTARIO CERTIFICATIONS & APPROVALS
Total Quality Package (ONTARIO CERTIFICATIONS & APPROVALS)
QUEBEC CERTIFICATIONS & APPROVALS
Intertek AS9100:D / ISO 9001:2015 Certificate / Quebec Coatings
Intertek AS9100:D / ISO 9001:2015 Certificate / Quebec Heat Treatment
NADCAP Heat Treating Certificate – St. Laurent, Quebec
NADCAP Heat Treating Scope of Accreditation – St. Laurent, Quebec
Code Éthique VAC AERO Montréal
Controlled Goods Certificate (ONTARIO & QUEBEC)