Thermal Spray, Inorganic Paint & Pack Coatings
1365 Newton St., Boucherville
Quebec – Canada – J4B 5H2
Tel: 450-449-4612  /  Fax: 450-641-6590
The Quebec Coatings division provides coating services to customers in North-America. VAC AERO is a leader in thermal spray coating technologies and solutions for both new part applications and for the restoration of service-damaged components. Thermal spray coatings are applied using robotically-controlled manipulators for maximum coating integrity. VAC AERO has extensive capabilities for robotically-controlled thermal spray (plasma, HVOF, wire, flame) as well as pack aluminide coatings. Specialty coating processes include HVOF MCrAlY coatings as a less expensive alternative to vacuum plasma spray, plasma-sprayed thermal barrier coatings, abradable coatings for gas path seals in turbine engines and high-density WC coatings for replacement of chrome plating.
Here is a detailed list of our Heat Treating, Brazing and Coating service capabilities.
METALLURGICAL SERVICES CAPABILITIES
VAC AERO Coatings division operates state-of-the-art equipment.
COATING DIVISION EQUIPMENT LIST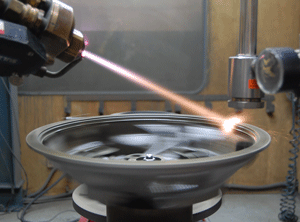 VAC AERO'S Coatings Division offers a variety of coating processes for the protection and restoration of new and service-exposed components. VAC AERO can help you select the right coatings for your specific application.
High-quality coating solutions require a commitment to ongoing research and investment in state-of-the-art equipment. That commitment has been central to the growth of VAC AERO's coating operations since we first started offering these services to the aerospace and commercial sectors in 1968.
Complex problems like oxidation and corrosion protection for components that are exposed to harsh service environments demand solutions that use the right combination of coating material and application technique. VAC AERO's thermal spray coatings are applied using robotically controlled manipulators for maximum coating integrity, product performance and durability.
Coating Solutions & Innovations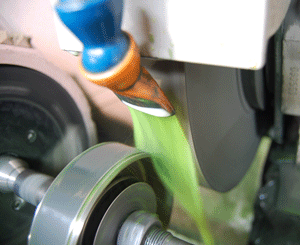 VAC AERO continually introduces new innovations in coating development. Some of our most successful coating innovations include:
WC-Co coatings applied by HVOF as an environmentally-friendly alternative to chrome electro-plating on high strength steel aircraft structural components.
Development of an abradable coating for gas path seals in turbine engines to prevent blade tip wear.
Application of MCrAlY coatings by HVOF to produce deposits with properties similar to those found in coatings applied by more expensive vacuum plasma spray.
Component restoration by air plasma spray application of base metal and braze alloy powder mixtures, followed by vacuum fusing.
Dimensional restoration using pure metals and alloys.
Wear resistant tungsten carbides for electrolytic hard chrome replacement and chromecarbides for higher temperature environments.
High temperature protection against oxidation and hot corrosion using MCrAlYs, and diffused aluminide.
Clearance control for sealing surfaces using low temperature abradables: Ni/Graphite, Al/Polyester and high temperature abradables: MCrAlY/BN/Polyester.
Thermal barrier protection using metallic bond coats with ceramic top coats for combustor applications.
Inorganic paints for corrosion resistance and aerodynamics on compressor components.
We offer the following coating and surface engineering solutions:
Air-Plasma Spray
High Velocity Oxygen Fuel (HVOF)
Inorganic Paint Coatings
Flame Spray
Pack Aluminide Coatings
Shot Peening
Grinding
INORGANIC PAINT COATINGS
VAC AERO offers high-temperature corrosion and oxidation resistant coatings for ferrous alloys, INCULDING:
Basic base coating
Double base coating
Basic base coating hardened
Double base coating hardened
Basic base coating hardened with sealer
Double base coating hardened with sealer
VAC AERO Certificates & Approvals
The Quebec coatings division maintains a comprehensive quality system and is AS 9100 / ISO 9001:2000 accredited