Efficiency, Durability, Ease of Maintenance and Return on Investment are the Cornerstones of VAC AERO's Hot Zone Designs!
Apart from building hot zones for its new furnaces VAC AERO specializes in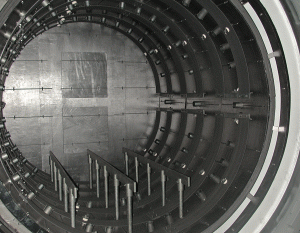 hot zone repair or replacement for all major brands of vacuum furnaces. Replacement hot zones are constructed using state of the art manufacturing technology and materials for years of reliable service. Both graphite-based and all-metal heat shield construction is available. All hot zone materials and new designs are fully tested in our own heat treating facilities before being offered to our customers.
VAC AERO's graphite-based hot zone designs continue to perform reliably under the most demanding thermal processing conditions.
VAC AERO's hot zones contains the following design features:
Modular Design
VAC AERO hot zones have unitized construction for easy removal and maintenance.
Hot Zone insulation package mounted on a stainless steel support ring.
Support rings are designed in a modular fashion for easy installation and maintenance.
Stainless steel construction ensures a longer service life than mild steel hot zone supports.
Construction
Lightweight design with low thermal mass and inertia for faster quenching and long life.
Lightweight curved graphite elements constructed in easy to replace segments.
Elements designed to withstand impact damage and braze alloy spillage.
Graphite elements are far more durable than molybdenum elements.
Graphite Felt Blanket
VAC AERO uses layers of graphite felt blanket as the core of the insulation package. Compared to graphite board used by some manufacturers, the blanket is far easier to install and maintain, it won't break and it doesn't wear at the edges like board so there is no risk of heat loss due to gaps developing in the insulation.
Carbon Composite Insulation Package
VAC AERO is a pioneer in the use of carbon composite materials in vacuum furnaces and continues to develop new innovations.
Layer of durable carbon composite at the hot face of the insulation package.
Reflective graphite foil bonded to one face ensures radiant heat is efficiently directed to the load.
Composite is resistant to mechanical impact or braze alloy spillage.
Composite can be easily patched or replaced if it does get damaged.
Radiation Shields: (Graphite-based Construction):
The standard graphite-based insulation package consists of three layers of carbon felt with an inner facing of graphite foil bonded carbon composite for added protection and enhanced reflectivity.
The heat shield package is supported by a stainless steel assembly that also acts as a manifold to distribute the quenching gas uniformly throughout the workload.
Radiation Shields (All-Metal Construction):
For ultra-clean processing applications, VAC AERO also offers an all-metal hot zone construction.
The standard all-metal insulation package consists of two layers of pure molybdenum sheet backed by three layers of stainless steel sheet.
The heat shield package is supported by a stainless steel assembly that also acts as a manifold to distribute the quenching gas uniformly throughout the workload.
SPECIFICATIONS:
Work Load Size (horizontal models): Standard sizes from small laboratory units up to 54" wide x 54" high x 72" deep. Larger models available.
Work Load Size (vertical models): Standard sizes up to 84" diameter x 84″ high. Larger models are also available.
Heating Elements: Customer's choice of lightweight curved graphite, pure or lanthanated molybdenum strip.
Hearth: Constructed with quickly removable hearth rails of pure molybdenum designed to support uniformly distributed loads of up to 4000 lbs at 2400°F.
For Hot Zone rebuilds Please Call Us at (905) 827-4171 OR