DUAL LOOP FURNACE COOLING SYSTEM
The optional Dual Loop Furnace Cooling System is designed to protect the furnace chamber and other critical components from corrosion and lime build-up that may cause clogging or hot spots. The system provides an economical, low maintenance supply of coolant while occupying minimum floor area.
One side of the system consists of a closed loop that delivers treated coolant to the furnace. The other side is an open loop that uses raw water to remove heat from the furnace coolant through a plate/frame heat exchanger. The Dual Loop Furnace Cooling System is available in several sizes with capacities designed to accommodate VAC AERO's complete line of furnaces.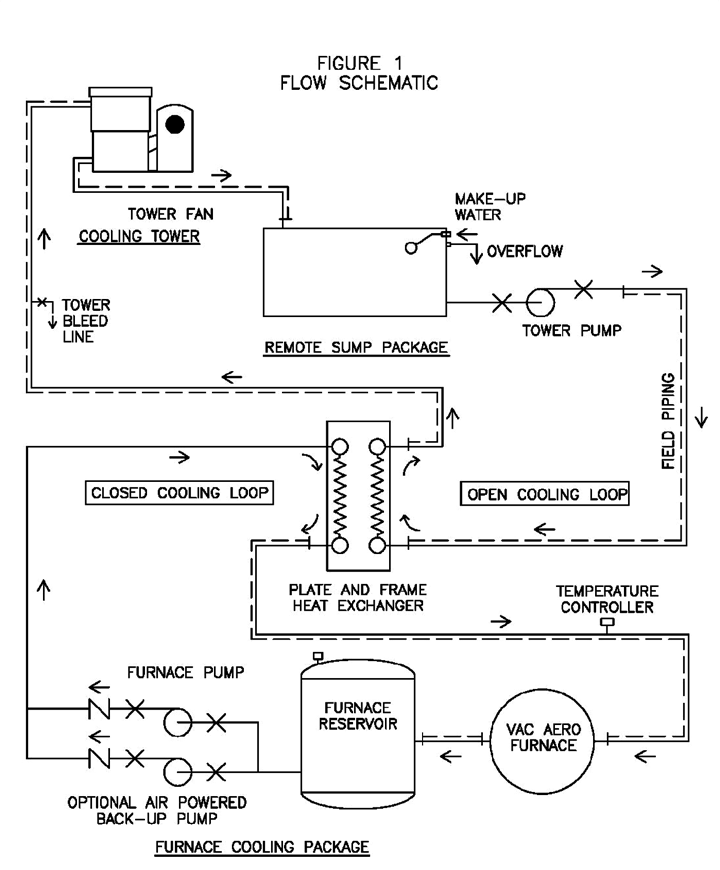 The principle of operation is as follows:
Coolant from the furnace reservoir is pumped in a closed loop through one side of a liquid/liquid heat exchanger and into the furnace.
Heated coolant from the furnace is returned to the furnace reservoir.

Cooling water from the remote sump reservoir is pumped through the other side of the liquid/liquid heat exchanger where it extracts heat from the furnace coolant. The heated cooling water is pumped to a cooling tower where it is cooled by evaporation. The cooling water is then returned to the remote sump reservoir through a gravity feed.

A float valve maintains a constant level in the remote sump reservoir by periodically inletting make up water to offset evaporative losses.
A thermostatic control prevents the water temperature from dropping lower than a preset temperature by turning on the cooling tower blower only when required.
The major components of the Dual Loop Furnace Cooling System consist of the following:
Ready-to-install Furnace Cooling Package with reservoir, pump, heat exchanger, valves and gauges mounted and connected on a single
structural steel base. Optional air or natural gas powered back-up pumps are available.
Remote Sump Package including reservoir, tower pump, valves and gauges.
Evaporative cooling tower with corrosion-resistant shell.
Electrical Control Package in NEMA 12 enclosure for operation of entire cooling system. Controls can be configured to operate with 480V/3Ph/60Hz, 575V/3Ph/60Hz or 380V/3Ph/50Hz.

Download Auxialiary System product sheet