Yesterday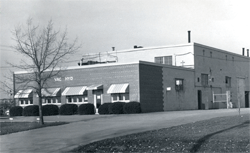 Friday, November 6, 1959: Under the direction of Ross Pritchard the company opens for business as Canadian Vac-Hyd Processing Ltd., a subsidiary of Detroit, Michigan-based Vac-Hyd Processing Corporation. With two employees, the company provides atmosphere heat treating services to the local aerospace industry from a 2,500 sq. ft. leased facility in Oakville, Ontario, Canada.
1963: The company builds a 6,500 sq. ft. facility on the site of its current Oakville location. The workforce expands to 18 employees. 1967: The company opens a new 5,000 sq. ft. facility, headed by Jack Hooper, near Montreal, Quebec, Canada.
1968: The Oakville plant expands its facility to 9,700 sq. ft. and adds a salt bath heat treating capability. Workforce expands to 27 employees.
1969: The Montreal plant moves to a new 9,700 sq. ft. facility and adds a plasma spray capability for use in repair processes for turbine engine components.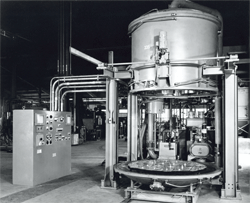 1971: The company's first vacuum furnace is installed in the Oakville plant.
1974: A second plant is built on the Oakville site to house the Furnace Manufacturing operations and a growing Turbine Component Overhaul business, increasing the total production space to 16,200 sq. ft.
1975: The parent company, Vac -Hyd Processing Corporation, is sold to a Dutch firm. The company begins offering its own line of furnace equipment. The Furnace Manufacturing Division sees rapid growth in the sales of its vacuum furnaces around the world along with new capabilities to provide technology transfer and training based on its commercial heat treating and brazing experience.
1976: The Montreal plant installs its first vacuum furnace.
1978: A group led by Ross Pritchard purchases Vac-Hyd Processing Corporation's interest in Canadian Vac-Hyd Processing Ltd. Shortly there¬after, the company's name is changed to VAC AERO Internationallnc. Since then, VAC AERO's performance is consistently strong, each new decade adding significantly to the company's growth.
1979: VAC AERO engineers design and build the company's first vacuum oil quench furnace, installed in the Oakville facility. The vacuum oil quench process becomes one of the most environmentally friendly methods for heat treating aircraft landing gear components.
Landing Gear Heat Treatment Throughout the Years



Salt Bath
1984-1990: The company continues to grow and now offers to a global customer base such diverse products and services as heat treating and brazing, furnace manufacturing, repair and overhaul of gas turbine engine components, electron beam welding, manufacture of precision brazed assemblies, CNC machining, and a variety of coating processes.
1990: VAC AERO builds and commissions the company's second vacuum oil quench furnace. The unit is the world's largest of its kind and uses state of the art control technology. By this time, VAC AERO has over 80 customer approvals for processing of aerospace components.
1998: VAC AERO installs a large bottom-loading high pressure gas quench furnace and begins an extensive research program with a local university to study high pressure gas quench phenomena. The company employs more than 100 people in over 70,000 sq. ft. of production space.
2001: VAC AERO purchases a 35,000 sq. ft. building in Boucherville, Quebec. The new site is used for a major expansion ofthe company's Thermal Spray Coating operations and soon employs more than 30 people.
Horizontal Vacuum Furnace Design Over the Years
2002: In response to the increasing global demand for its products, the Furnace Manufacturing Division moves into a newly purchased 10,000 sq. ft. facility at 1339 Speers Road. A large gantry-style water quench furnace for heat treating titanium truck beams is installed in Plant 2.
2003: VAC AERO forms a new company, VAC AERO Kalisz Sp. z o.o., in Kalisz, Poland. This facility supplies heat treating and brazing, plasma spray and metallurgical laboratory services to the burgeoning aerospace industry in Poland.
2005: VAC AERO commissions its third and largest vacuum oil quench furnace. VAC AERO operates three of the world's largest vacuum oil quench furnaces, all designed and manufactured by the company's Furnace Manufacturing Division. The largest of these furnaces can process loads up to 72″ in diameter by 126″ high.
2006: VAC AERO forms a joint venture with Hightemp Furnaces in Bangalore, India. The company is known as Hightemp VAC AERO Pvt. ltd. and offers thermal processing services and the manufacture of vacuum furnaces to the Indian market.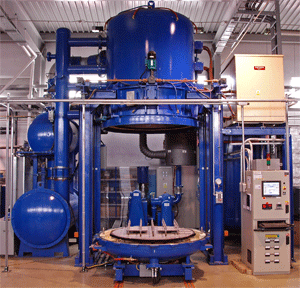 2009: VAC AERO's Oakville Thermal Processing Division has undertaken a major re-organization effort to further improve production efficiency. The project includes building renovations for expansion of manufacturing space combined with equipment relocations and new equipment additions to improve part flow and reduce turn-around times.

2011: To keep up with the growing demand for its advanced thermal processing technology, VAC AERO has built a fifth vacuum oil quench furnaces in its Oakville heat treating operations.
Beyond Today
VAC AERO's four plants in Quebec and Ontario, Canada employ more than 200 dedicated men and women who are focused on building quality vacuum heat treating furnaces and providing the best in specialized vacuum heat treating, brazing, and coating services to a global customer base.