Because So Much Is Riding On Us!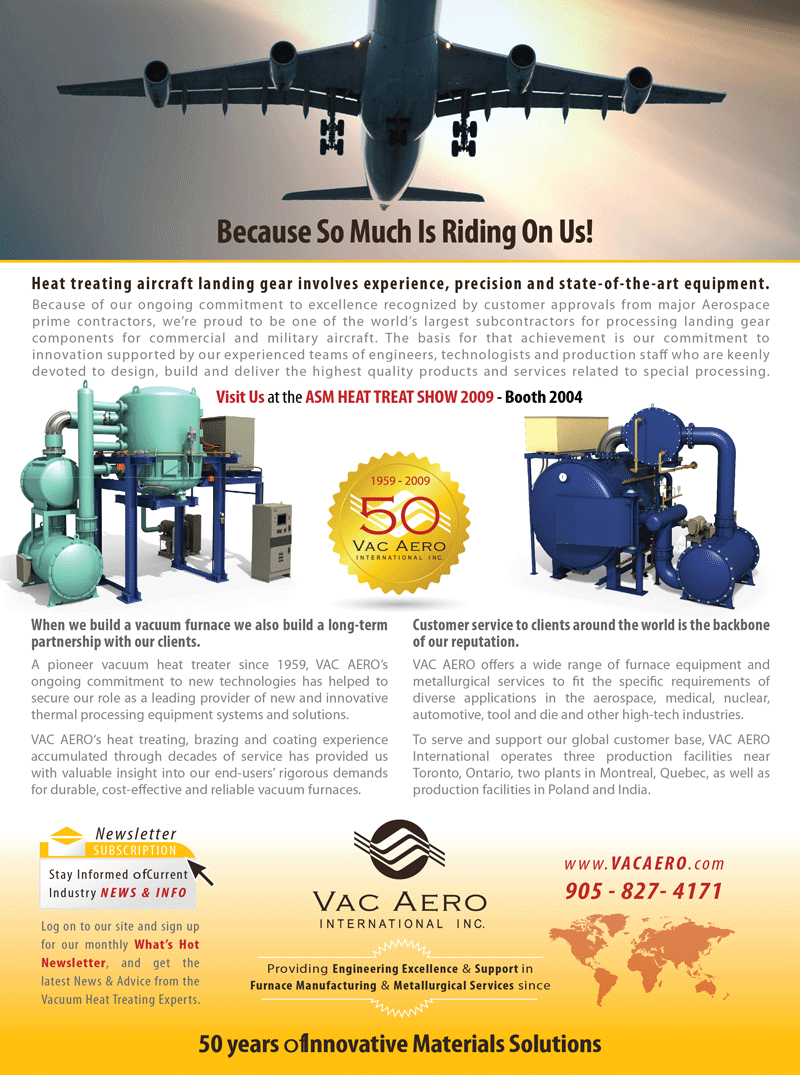 Heat treating aircraft landing gear involves experience, precision and state-of-the-art equipment.
Because of our ongoing commitment to excellence recognized by customer approvals from major Aerospace prime contractors, we're proud to be one of the world's largest subcontractors for processing landing gear components for commercial and military aircraft. The basis for that achievement is our commitment to innovation supported by our experienced teams of engineers, technologists and production staff who are keenly devoted to design, build and deliver the highest quality products and services related to special processing.
When we build a vacuum furnace we also build a long-term partnership with our clients.
A pioneer vacuum heat treater since 1959, VAC AERO's ongoing commitment to new technologies has helped to secure our role as a leading provider of new and innovative thermal processing equipment systems and solutions. VAC AERO's heat treating, brazing and coating experience accumulated through decades of service has provided us with valuable insight into our end-users' rigorous demands for durable, cost-effective and reliable vacuum furnaces.
We Set the Gold Standard!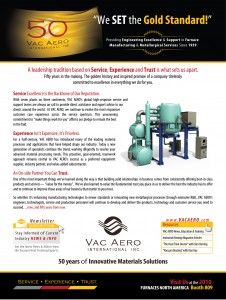 A leadership tradition based on Service, Experience and Trust is what sets us apart. Fifty years in the making. The golden history and inspired promise of a company tirelessly committed to excellence in everything we do for you.
Service Excellence Is the Backbone of Our Reputation.
With seven plants on three continents, VAC AERO's global high-response service and support teams are always on call to provide direct assistance and expert advice to our clients around the world.
Experience Isn't Expensive, It's Priceless.
For a half-century, VAC AERO has introduced many of the leading material processes and applications that have helped shape our industry. Today a new generation of specialists continue the trend, working diligently to resolve your advanced material processing needs.
An On-side Partner You Can Trust.
One of the most important things we've learned along the way is that building solid relationships in business comes from consistently offering best-in-class products and services— "value for the money".

The Properties You're Looking For…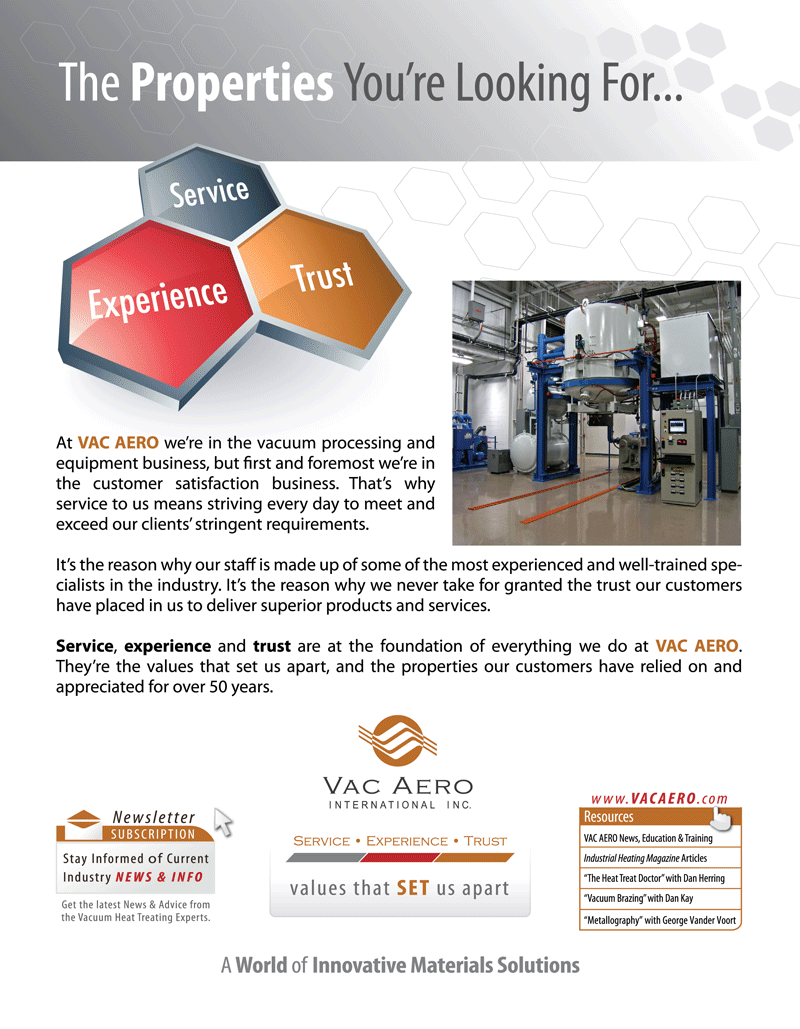 Heat treating aircraft landing gear involves experience, precision and state-of-the-art equipment.
At VAC AERO we're in the vacuum processing and equipment business, but first and foremost we're in the customer satisfaction business. That's why service to us means striving every day to meet and exceed our clients' stringent requirements.
It's the reason why our staff is made up of some of the most experienced and well-trained specialists in the industry. It's the reason why we never take for granted the trust our customers have placed in us to deliver superior products and services.
Service, experience and trust are at the foundation of everything we do at VAC AERO. They're the values that set us apart, and the properties our customers have relied on and appreciated for over 50 years.

Maximize Uptime & Profits!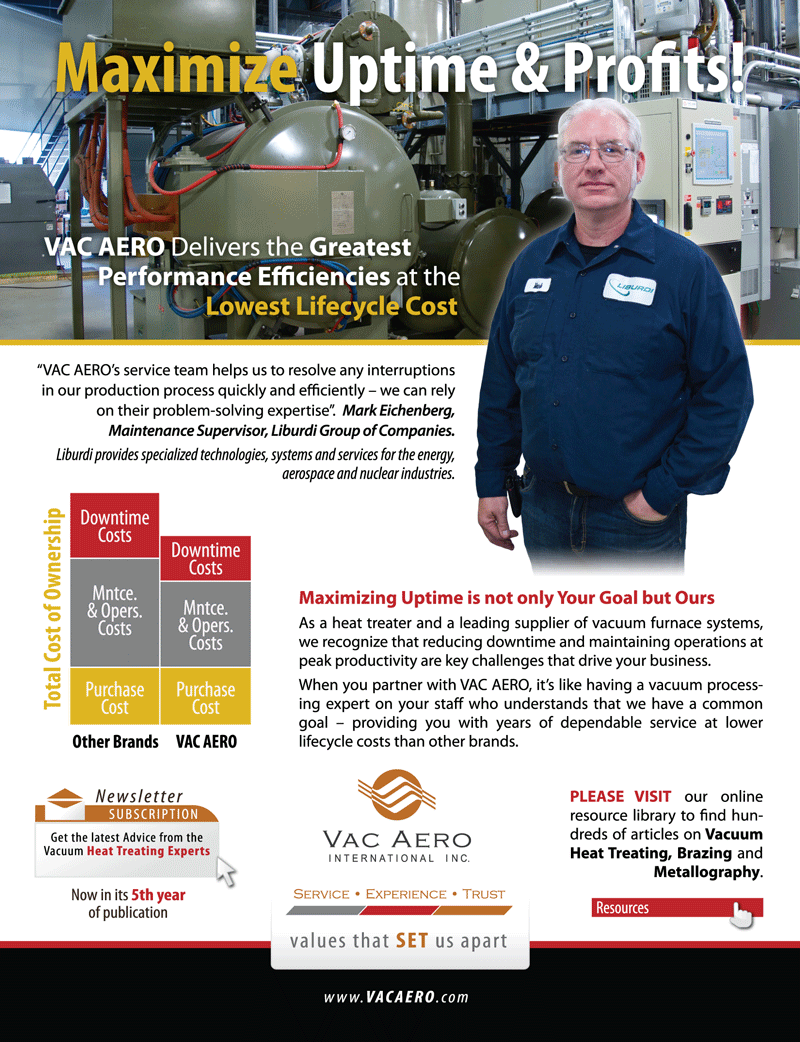 "VAC AERO's service team helps us to resolve any interruptions in our production process quickly and eciently – we can rely on their problem-solving expertise".
Mark Eichenberg, Maintenance Supervisor, Liburdi Group of Companies.
Liburdi provides specialized technologies, systems and services for the energy, aerospace and nuclear industries.
Maximizing Uptime is not only Your Goal but Ours .
As a heat treater and a leading supplier of vacuum furnace systems, we recognize that reducing downtime and maintaining operations at peak productivity are key challenges that drive your business.
When you partner with VAC AERO, it's like having a vacuum processing expert on your staff who understands that we have a common goal – providing you with years of dependable service at lower lifecycle costs than other brands.
Please visit our online educational and training resources library to find hundreds of articles on Vacuum Heat Treating, Brazing and Metallography.