Specialty coating services to the aerospace and high-tech industries include; plasma and high-velocity Oxy-fuel (HVOF) spray coatings as well as inorganic paint and pack coatings.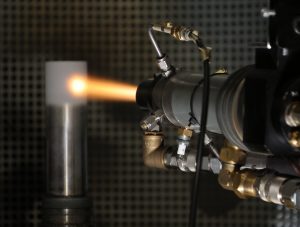 VAC AERO's Coatings plant is located in the heart of Montreal, Quebec aerospace community.
VAC AERO's Coating Division specializes in plasma and flame-coating services for wear, erosion, corrosion, and thermal protection applications and is equipped for applying a variety of protective coatings for gas turbine engine and airframe components, hot section thermal barrier coatings for combustion and afterburner liners, and abradable seal coatings in high and low-compressor casings.
High-quality coating solutions require a commitment to ongoing investments in state-of-the-art equipment. That commitment has been central to the growth of VAC AERO's Coating operation since 1968. VAC AERO offers a variety of coating processes for the protection and restoration of both new and service-exposed components and is equipped to accommodate parts of all sizes.
VAC AERO Quebec facility operates a fully integrated state-of-the-Art High-Velocity Oxygen Fuel (HVOF) system based on a new generation Carbide Jet System. New types of coating processes for the protection and restoration of both new and service-exposed components are offered primarily to customers in the aerospace and power turbines industries.
VAC AERO continually introduces new innovations in coating development. Some of our most successful coating innovations include.
Application of MCrAlY coatings by HVOF to produce deposits with properties similar to those found in coatings applied by more expensive vacuum plasma spray.
Clearance control for sealing surfaces using low-temperature abradables: Ni/Graphite, Al/Polyester and high-temperature abradables: MCrAlY/BN/Polyester
Component restoration by air plasma spray application of base metal and braze alloy powder mixtures, followed by vacuum fusing.
Development of an abradable coating for gas path seals in turbine engines to prevent blade tip wear.
Dimensional restoration using pure metals and alloys
High-temperature protection against oxidation and hot corrosion using MCrAlYs, and diffused aluminide
Inorganic paints for corrosion resistance and aerodynamics on compressor components
Thermal barrier protection using metallic bond coats with ceramic top coats for combustor applications
WC-Co coatings applied by HVOF as an environmentally-friendly alternative to chrome electro-plating on high strength steel aircraft structural components.
Wear-resistant tungsten carbides for electrolytic hard chrome replacement and chrome carbides for higher temperature environments
VAC AERO Certificates & Approvals
VAC AERO's passion for excellence and dedication to quality is reflected in the comprehensive quality systems we maintain in all of our metallurgical service facilities.