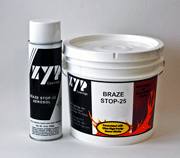 As the name of this product-type indicates, a brazing "stop-off" is supposed to be something that "stops" molten brazing filler metal (BFM) from flowing into areas where it is not supposed to be, thus keeping it "off" surfaces that are supposed to remain clean and free from the presence of any BFM.
First of all, brazing filler metals (BFMs) do not like to bond to (or flow over) dirts, greases, or oxides. The presence of any of these contaminants on the surface of parts to be brazed can literally prevent the BFM from flowing over surfaces on which any of these contaminants are located. By Dan Kay
Next month: As aluminum-brazing continues to grow, some folks are asking: "Can I use available furnace time in my aerospace vacuum furnace to perhaps do some aluminum brazing?" Let's look at why that is a VERY bad idea!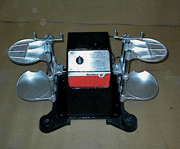 This is Part 2 of the article Shelf-Life and Expiration-Dates for Brazing Paste
Brazing paste is not difficult to make yourself. All you need is some brazing filler metal powder, a gel-binder, and a paint-shaker. Sound easy enough? Let's see...
First, procure the desired brazing filler metal (BFM) in powder form from one of the BFM manufacturers.· I show a listing of such manufacturers on my website at http://www.kaybrazing.com/sources.htm, and each company's name is a "hotlink" to that company's webpage. By Dan Kay
Next Month: In next month's article, we'll consider brazing stop-offs, and how they are correctly and incorrectly used in many brazing shops today!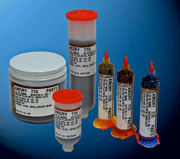 People in the industry have asked me if I know of an industry standard dealing with the topic of brazing-paste shelf-life, or whether or not there is a particular rule of thumb that I could suggest to them about handling the issue of brazing-paste shelf-life and expiration-dates. Their primary concern in asking such a question centers around the usability of brazing paste that may be older than the recommended shelf-life given by the paste manufacturer. In vacuum brazing this question may carry additional implications of potential furnace contamination by the gel-binders used in the so-called "expired" paste.
Answer: There is no "industry standard" that I am aware of to which someone could go for any guidelines about shelf-life or expiration-dates of brazing-pastes. Each manufacturer uses different criteria for setting their own shelf-life or expiration dates for their brazing filler metal (BFM) pastes, with a number of manufacturers having stopped showing an expiration date on their paste containers altogether, but instead, merely show a "date-of-manufacture". It used to be common to find an expected shelf-life printed on the containers, but because of rejections of good BFM paste, merely because of a printed date on the container, some manufacturers have stopped doing that. By Dan Kay
Next Month: In next month's article, we'll consider brazing stop-offs, and how they are correctly and incorrectly used in many brazing shops today!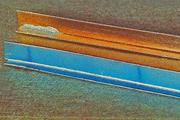 When nickel brazing Inconel 718 base metals in a vacuum furnace some of the difficulties experienced with the brazing include base metals that come out of the furnace dark and discolored, and the brazing filler metal doesn't wet the surfaces well. In this article we will explain why this is happening, and what can be done about it?
This is not an uncommon problem with a variety of base metals containing small amounts of titanium and/or aluminum. Both titanium and aluminum will easily oxidize, and once those oxides are formed they cannot be easily removed in a standard vacuum-furnace atmosphere. Yes, vacuum is an "atmosphere" in normal production environments since the level of vacuum in the furnace during typical brazing is such that there is, relatively speaking, a goodly number of air molecules still in the furnace, including moisture in that air. Of course, moisture represents the presence of oxygen, which can indeed react with either titanium or aluminum to form very tenacious titanium oxides and aluminum oxides on the surface of the base metal, which will inhibit or prevent brazing filler metal (BFM) flow. By Dan Kay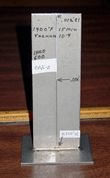 Furnace brazing is a common brazing process around the world, and I have witnessed many brazing furnaces in action in many countries – from here to mainland China. Furnaces are convenient for brazing since the parts to be brazed can be easily loaded into a batch furnace or onto the belt of a continuous-belt furnace. The operator depends on the various furnace parameters (temperature, time, ramp rates, atmosphere controls, etc.) to ensure that the job of brazing each component will be done reliably, correctly and identically for each part that is subjected to those brazing cycles in that furnace.
An interesting question I have often encountered over the years with furnace brazers is this: "How do I know if a particular gap-clearance will work in my brazing furnace?" Please understand that each brazing furnace is unique and behaves in its own unique way. By this, I mean that even two furnaces of the same model number are not actually identical. Each one has its own personality, and the furnace operator needs to try to understand and work with each "personality." By Dan Kay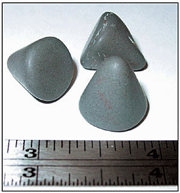 Trying to braze materials from outside suppliers that are not compatible with your brazing process and trying to meet customer's unrealistic specifications can create headaches in the braze shop that are not necessary, and can be alleviated by working closely with suppliers and customers to make effective brazing a shared goal.
Over the years, many brazing shops have experienced brazing problems (leakers and nonwetting surfaces, for example) due to "unknown" variables that crept into their brazing operations, resulting in the failure or rejection of many brazed assemblies. An evaluation of these situations often shows that some of the subcomponents of the brazements (such as brackets, fittings, etc.) come from outside suppliers, and the brazing shop is not aware of details of the manufacturing processes used by the suppliers to make the components that subsequently will be brazed. As a result, many shops are caught up in trying to fix the problem by trying to determine what is wrong with their own in-house brazing operations, often leading to frustration because no cause can be identified. In many such cases, this is due to incorrect assumptions about the sources of the problem. By Dan Kay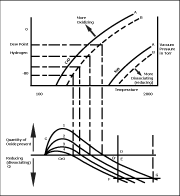 Let me make two important statements right at the start: 1. Surface-oxidation of metals will prevent effective brazing. 2. Brazing filler metals (BFMs) do not like to bond to, or flow over, oils, dirt, greases, or oxides on metal surfaces.
Thus, if any of the surface contaminants just mentioned are present on the metal surfaces to be brazed, effective brazing will not occur. Surface-oxidation is a common source of problems in commercial brazing. Parts to be brazed must be cleaned BEFORE assembling the parts for brazing, and then must be kept clean during the brazing process. One very effective tool that brazing engineers and shop personnel must understand and learn to use is the famous "Metal / Metal-Oxide Equilibrium Curves" published in 1970 in the AWS Welding Journal. By Dan Kay