Heat Treating, Brazing, Laboratories & Engineering Services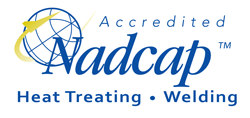 1371 Speers Rd., Oakville
Ontario – Canada – L6L 2X5
Tel: 905-827-4171 / Fax: 905-827-7489
Equipment & Capabilities
Here is a detailed list of our Heat Treating, Brazing and Coating services capabilities.
METALLURGICAL SERVICES CAPABILITIES
VAC AERO operates more than forty vacuum, controlled atmosphere and air-circulating furnaces capable of heat treating parts up to 70" diameter and 156" long.
METALLURGICAL SERVICES EQUIPMENT LIST
The Thermal Processing Division provides heat treating and brazing services to aerospace, nuclear, telecommunications and other high-tech industries.
A world leader in vacuum heat treating and brazing of superalloys, titanium and other advanced materials in vacuum processing, VAC AERO holds numerous processing and quality system approvals from prime manufacturers and is one of the world's largest subcontract heat treater of aircraft landing gear components.
Thermal processing services include the following:
High Temperature Vacuum Heat Treating & Brazing
Vacuum Oil Quenching
High Pressure Inert Gas Quenching
Interrupted (Ausbay) Quenching
Controlled Atmosphere Heat Treating
Gas Nitriding
Hydrogen Annealing
VACUUM HEAT TREATING
Inert Gas Quenching Furnaces
Normalizing, annealing, hardening, stress relieving, sintering, in cold wall vacuum equipment.
Horizontal furnaces to 30″ high x 36″ wide x 48″ long.
Vertical furnace sizes to 60″ diameter x 98″ high.  Equipped for inert gas partial pressure operation or in vacuum as low as 5 x 10-5 mm Hg at temperatures to 2400°F.
Fast inert gas quenching using external heat exchanger and blower. Quench pressures up to 10 bar.
Oil Quenching Furnaces
Vacuum or partial pressure nitrogen atmosphere heat treating of high tensile steel components of 4130, 4140, 4330M, 4340, 300M, Hy-Tuff alloys. Sizes to 70″ diameter x 126″ high.
FURNACE BRAZING
Vacuum, hydrogen, and argon brazing of carbon steels, low alloy steels, stainless steels, super high temperature alloys and titanium using silver, copper, nickel, and gold brazing alloys and special formula braze materials. Sizes to 42″ diameter x 50″ high.
ATMOSPHERE HEAT TREATING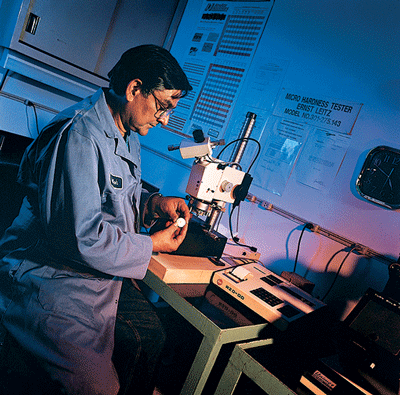 Air Atmosphere – Water Quench Furnace
Solution heat treating in air to 1600°F followed by water quenching between 40-60°F. Furnace size 61" dia x 156" long.
NITRIDING & MALCOMIZING
Gas nitriding and malcomizing using the two stage floe process.Work load sizes up to 42" diameter x 50" deep.
WELDING
TIG welding of high strength steels, stainless and heat resistant alloys.
LABORATORY SERVICES
Metallographic laboratory fully equipped for photomicroscopy, de-carburization and high temperature oxidation analyses and microhardness survey.  Tensile testing facility approved by Nadcap.
ENGINEERING & TECHNICAL SUPPORT
Engineering and training services for design and implementation of thermal processing techniques.  Specializing in advanced vacuum brazing application and equipment operation and maintenance.
The Ontario thermal processing division maintains a comprehensive quality system and is Nadcap approved and AS9100 Revision C / ISO 9001:2000 certified for heat treating services to the aerospace industry.