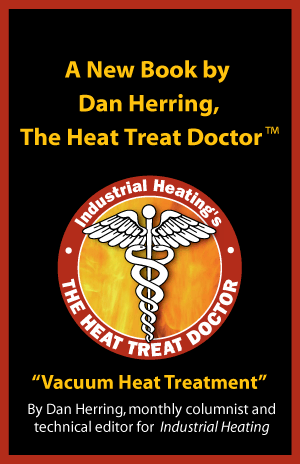 Daniel H. Herring, "The Heat Treat Doctor"® is an active member of the engineering, materials and metallurgical community. His undergraduate work was done at the University of Illinois (1971) and graduate work at the Illinois Institute of Technology (1974). Credentials include a Research Associate Professorship at the Illinois Institute of Technology/Thermal
Processing Technology Center and Consulting Technical Editor and monthly columnist for Industrial Heating Magazine.
Prior to forming his own business in 1995, Dan spent over twenty-five years working for several furnace equipment manufacturers. He has have held key positions in metallurgy, engineering, international marketing, sales, research and development, and new product and business development.
The author of over five hundred (500) published papers and four (4) books, the most recent of which is Vacuum Heat Treatment released in 2012. "The Heat Treat Doctor" is a frequent lecturer at local, national, and international conferences and is dedicated to advancing the state of the art in the thermal processing field. Dan is an active member of a number of Technical Societies including ASM International and APMI International and is a member of the American Gas Association (AGA) "Hall of Flame".
The HERRING GROUP, Inc. specializes in solving heat treating problems in industry and offers services in Consulting (heat treatment & metallurgy), Technology (industrial education/training, & process/equipment assistance), Marketing (marketing studies & new product launches), and Business Management (focused problem solving/lean, green & agile manufacturing) in the Heat Treating and Sintering Industries.